Washington Football Team: The Fight Was Between Them, Not In Them
First, it was momentum swinging wildly and violently for the Washington Football team. Then, it was the players themselves.
Sunday night brought to a close a devastating 15-day stretch for Washington. When they took the field at home on Dec. 12 against the Dallas Cowboys, they were riding high on a four-game winning streak that brought them to 6-6 and presented them a chance to make a real race of the NFC East.
But they lost that Sunday afternoon, then got hit with Covid-19, had their next game moved back to last Tuesday, and proceeded to get literally run over by the Philadelphia Eagles to drop to 6-8 and virtually out of postseason contention.
And then, finally and with finality, Washington took the field in Arlington, TX, Sunday night and proceeded to get blown out in the first half in staggering fashion.
And that's when the emotions of another brutal Beltway season, one that held, if for a moment, such promise, and now was left in smoldering ruins on the turf at AT&T Stadium, exploded into anger for the whole world to see.
In one cringe-worthy moment caught by NBC cameras and broadcast around the world, Washington defensive tackle Jonathan Allen threw a roundhouse punch at fellow defensive lineman Daron Payne and had to be separated.
College teammates and 'brothers' in the trenches, Allen and Payne made for unlikely combatants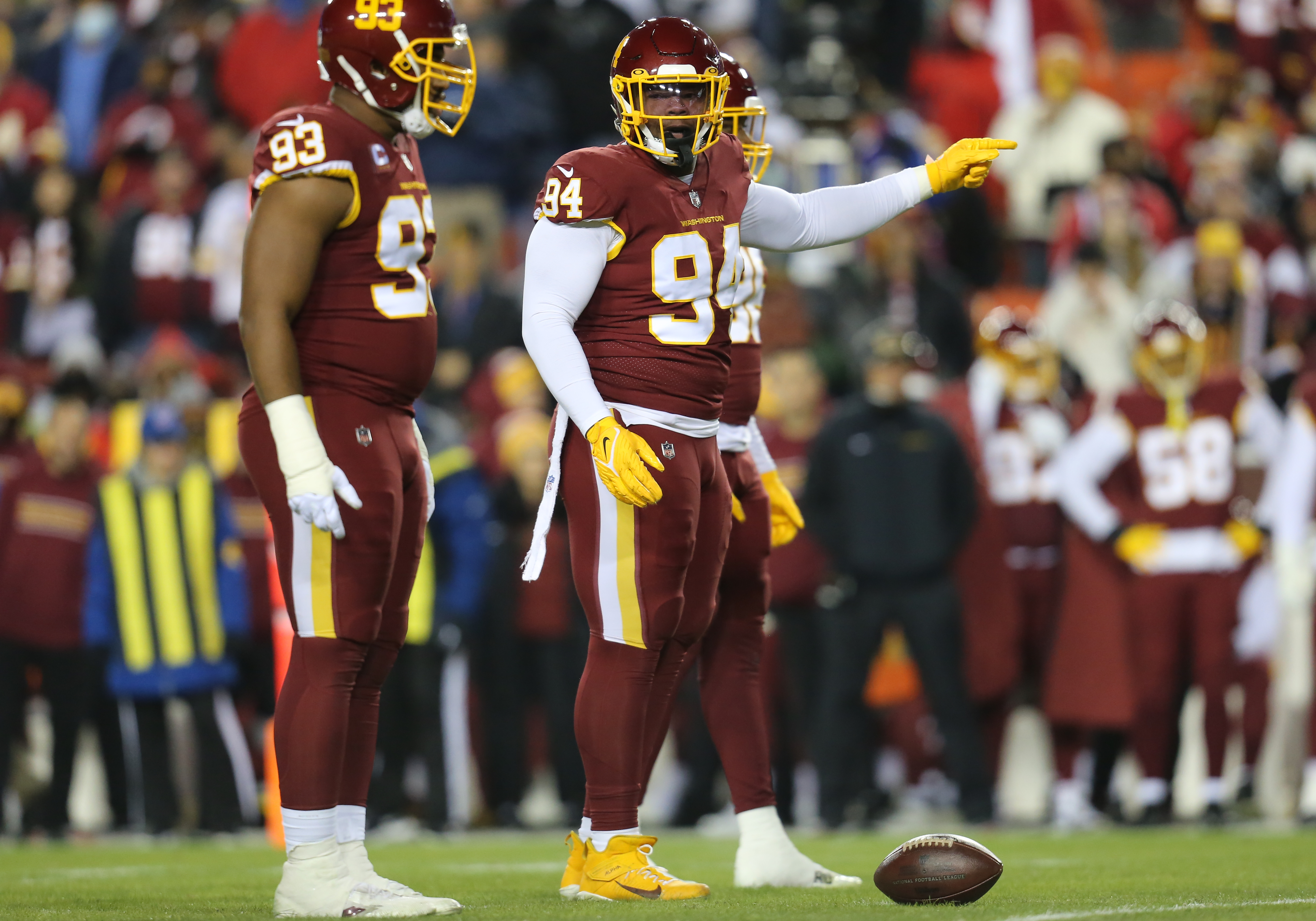 Washington was trailing 28-7 in the second quarter – it would eventually be 42-7 at the half in a horrendously one-sided contest – when Allen and Payne, seated next to each other, suddenly came to blows.
It was as unlikely a pair of combatants as you could imagine in the NFL. Allen and Payne have only played for one college team, Alabama, and one professional team, Washington, and the only reason they haven't been teammates for every season since Allen arrived at Alabama in 2013 is that they left the Crimson tide in different years.
But after their two college seasons together, they have been NFL teammates since 2018. And as Payne would say after the game, the two are football brothers. And we all know what can happen when the younger brother antagonizes the older one at just the wrong moment.
After Dallas scored on an eight-play, 75-yard drive to go ahead 28-7, Allen and Payne, wearing Nos. 93 and 94, always linked, started a discussion that was basically Payne talking to an unresponsive Allen. Soon Payne stood up and jabbed his finger into Allen's face. Whatever point Payne was trying to make, Allen responded by rising from his seat and taking a full right-handed swing at Payne. The two were immediately separated, but the look on Sunday Night Football was not a charitable one.
"I don't think it takes a rocket scientist," Allen said after the game. "If you look at how that game went, emotions are high, things are high, things happen."
Washington was absorbing one of the worst defeats in the history of the rivalry with the Dallas Cowboys
Even after the fracas was contained, Payne continued to show signs of agitation, but eventually, cooler heads prevailed, and so did the Cowboys, 56-7. It was just the second time in franchise history that Dallas scored eight touchdowns in a game.
"Just a little brotherly disagreement; maybe the wrong place, wrong time, but it happened," Payne said.
An incredulous reporter asked Payne how such good friends, longtime teammates, could allow themselves to come to blows in the middle of a nationally-televised game.
"You got brothers? You all fight don't you? S*** happens."
Payne is right about that. Intrasquad squabbles are as commonplace in training camp as water bottles and taped names on helmets. But what happened Sunday night was not some hot, August practice with no cameras around, when players competing for jobs can sometimes come to blows.
Even the Cowboys know a little about that, like when backup quarterback and legend in his own mind Clint Longley threw a sucker punch at Roger Staubach, of all people, during training camp in 1975. Longley was promptly traded.
Washington coach Ron Rivera was not planning anything so dramatic if anything at all. He said he was informed of what happened after the game and spoke to both players. Most important, Rivera said there would be no disciplinary action.
"I talked with them, and as far as I'm concerned, that's where it's going to stay," Rivera said. "What my players say to me is nobody's business."
At 6-9, Washington's playoff chances aren't technically over, so they have no choice but to move forward
The brawl might have been just a tempest in a teapot in terms of the actual fight. Only one punch was thrown and it didn't land with any force. But the exchange revealed the extent of the frustration that has enveloped the team since the start of its three-game losing streak.
After winning four in a row heading into Week 14, being 6-9 and all but mathematically eliminated from postseason contention is not a place any of them expected to be. And falling behind by 35 at the half on Sunday night after an embarrassing loss to the Eagles five days earlier, and it was obvious the team had not just thrown hands, but thrown up their hands.
"Frustration, wanting to win," Rivera said of the altercation.
With two games left, Washington still has something to play for, no matter how remote their chances of grabbing a Wild Card spot may be, although the New Orleans Saints kept the door open by losing Monday night.
"When something happens on the field, you never let it carry into the locker room," Allen said. "Things get heated, we fix them, we sit down as grown men and we move on. I'll take full responsibility for my actions and so will Payne."