Washington Football Team's Impressive Turnaround Gives Taylor Heinicke Half a Million Reasons to Smile
It's a bird. It's a plane. No, it's the Washington Football Team clinging on to an NFC Wild Card spot after rattling four straight victories. Somehow, someway, Ron Rivera's team has jumped back into the playoff hunt after a terrific stretch as quarterback Taylor Heinicke continues to show why he could be the long-term solution in DC.
As Heinicke and Washington fight for a playoff spot, the quarterback has earned half a million dollars in bonuses and more could be coming his way if this continues.
The Washington turnaround has been quite the sight to see after a brutal start to the season
Washington had dropped four straight games at the start of November and sat at 2-6.
Then came the bye week, and they haven't lost since. They started it off with a massive upset over Tom Brady and the Tampa Bay Buccaneers, which head coach Bruce Arians was not happy with.
After that, they topped the Carolina Panthers, Seattle Seahawks, and Las Vegas Raiders to move to an even .500 record and catapult into the Wild Card race.
The defense has buckled down, Antonio Gibson has responded, and Heinicke has played well enough to keep this team afloat. Heinicke has seven touchdowns in the four-game streak with just two interceptions and has thrown for 200 or more yards in three games.
Nobody saw this coming, and the path for a playoff spot is clearer than it has been all season for Washington.
Taylor Heinicke's bank account continues to grow with each victory
Heinicke is sitting back smiling even more after the four-game winning streak has them in playoff contention again. With each victory, he earns $125,000 in incentives.
In the last four weeks alone, he has earned half a million dollars and can make much more if he stays on the field and leads them to victory.
After Heinicke impressed in the playoff game against the Buccaneers, they had no choice but to give him a contract. Then, Ryan Fitzpatrick landed on Injured Reserve after the first game, Heinicke became the starting quarterback.
Now, he is blowing past the contract value that they signed him for and it is looking more and more like a steal of a deal.
Heinicke's contract was incentive-laden considerably, but he is earning it with his stellar performance. He has tossed 18 touchdowns and 11 interceptions while throwing for 2,809 yards on the year. It also helps that the Washington Football Team has the 9th most rushing yards per game and the 6th best time of possession in the NFL.
That is a recipe for success, and Heinicke is holding up his end of the bargain and earning some nice cash in the process.
Will Taylor Heinicke be the team's starter in 2022?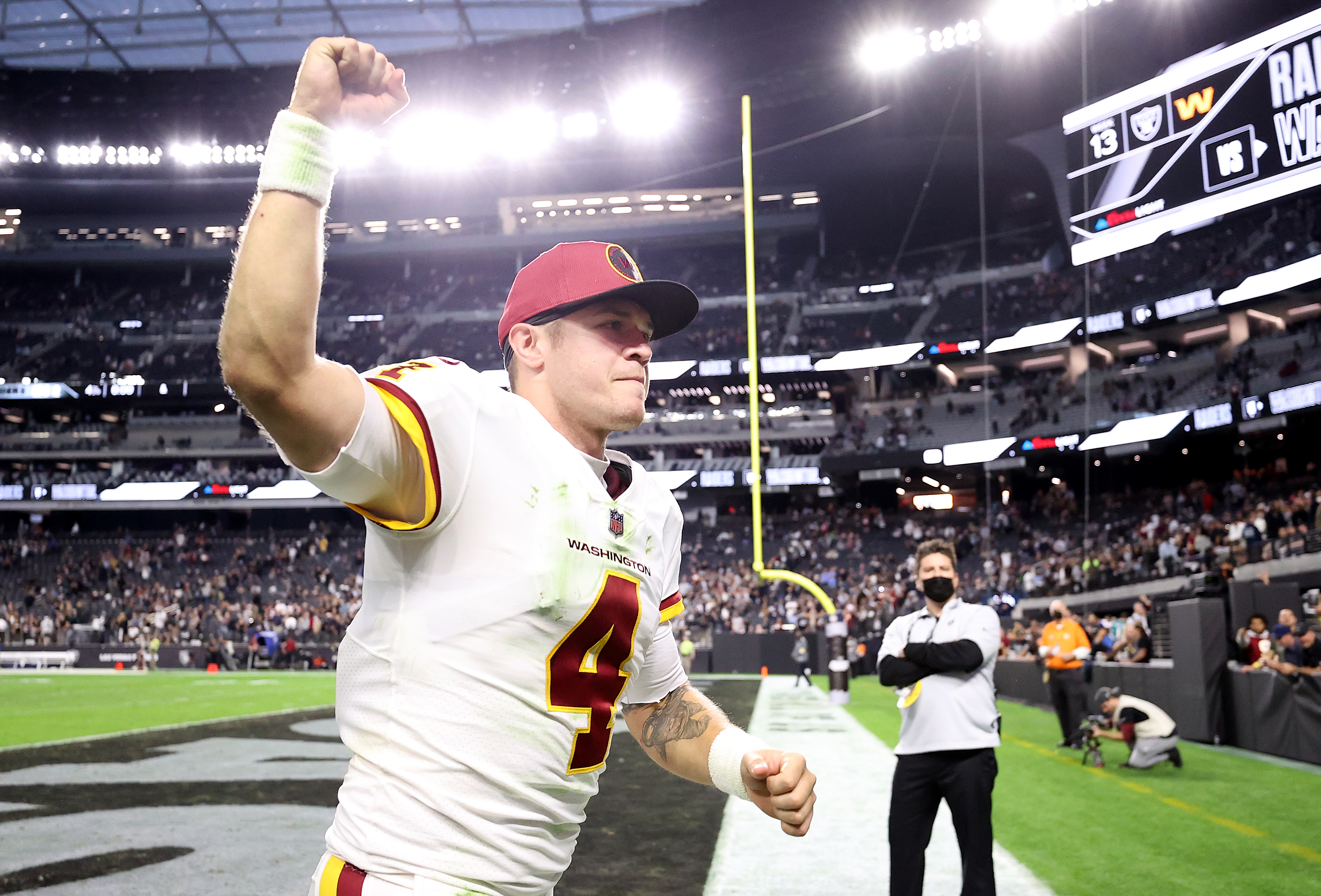 After Washington passed on a quarterback in the 2021 NFL Draft, eyebrows were raised again. Fitzpatrick was brought in as a bridge, although nothing was waiting on the other side of said bridge.
Heinicke has taken control of the job, but for how long?
Will Heinicke be the guy in 2022 for Washington? That is a huge question. On the one hand, why not? On the other, Rivera can't wait around too long.
Indeed a quarterback will be taken in the 2022 NFL Draft, although there was a broad assumption that they would select somebody this past year. The free-agent quarterback market is shaping up to be a busy one, not to mention Russell Wilson, Deshaun Watson, and probably Jimmy Garoppolo all available via trade.
Heinicke has played well enough to merit consideration for the starter job in 2022 and potentially beyond. It will be hard to say no if he can lead them into the playoffs this season, especially on such a cheap contract.
For now, Heinicke will continue to earn some nice bonuses with every victory and Washington's playoff hopes are more prominent than ever.
Stats Courtesy of Pro Football Reference