What the Washington Football Team's Plan of Attack Must Be for the 2022 NFL Offseason
Coming off an unlikely playoff appearance the year prior, the Washington Football Team hoped for an even better 2022 season. Building around Ron Rivera's strong defensive scheme, Washington dreamed of vaulting themselves toward the top of the NFC East as consistent contenders alongside the Dallas Cowboys.
Unfortunately for Washington, such a scenario never played out. Washington limped its way to a losing season, the franchise's fifth in a row as Rivera & Co. finished 7-10, good for third in the NFC East.
If the Football Team, which will finally and thankfully be getting a new name in February, is serious about getting back to the postseason in 2022, profound change must occur. They can't just roll out the same roster and expect things to magically improve.
Biggest offseason questions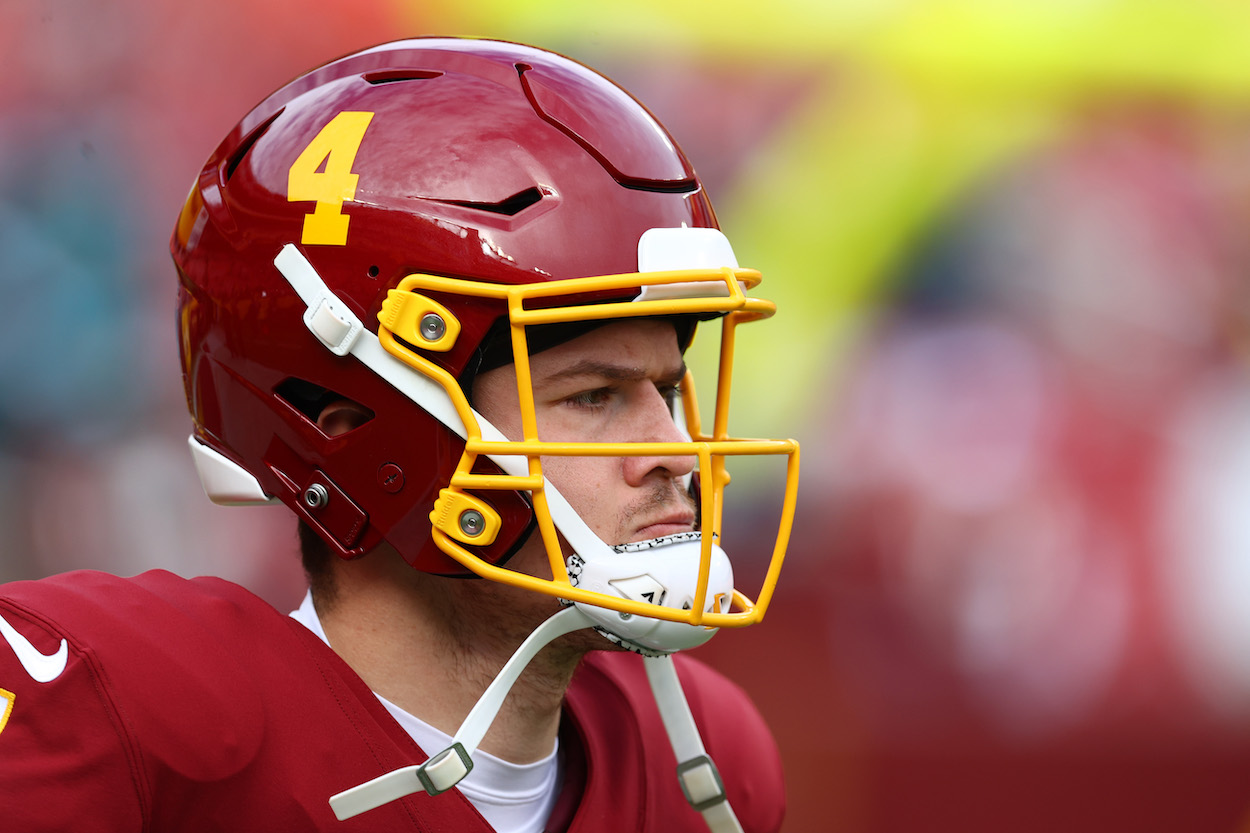 As is the case with most routinely lousy football teams, Washington's most crucial offseason question is connected to its quarterback position. Their recent offseason signing of Ryan Fitzpatrick didn't even last a game before falling victim to a season-ending injury. Backups Taylor Heinicke and Kyle Allen weren't good enough to guide Washington to a winning record in Fitzpatrick's absence.
The Washington locker room and fan base have seemingly grown quite fond of Heinicke. However, the brutal reality of the situation is that he's not someone who should be trusted to start 17 games under center. He's undoubtedly a plus backup to have on the roster, but the days of him being viewed as a long-term answer are long gone. He ranks outside the top-20 in passer rating and quarterback rating — you'll be hard-pressed to find any teams who experienced significant success with a QB of that standard.
Several offseason rumors connected the Football Team to Mac Jones. However, Ron Rivera ultimately went in a different direction, investing in the defense on draft night. He likely regrets that decision and may have an opportunity to amend his mistake and select a different promising rookie QB this spring.
The Football Team could also poke around the trade market. Cleveland Browns starter Baker Mayfield could soon be making his way onto the trade block. He's a significant upgrade compared to Heinicke.
Top free-agency decisions
Key free agents: Brandon Scherff (G), Ryan Fitzpatrick (QB), J.D. McKissic (RB)
Washington doesn't have too many pending free agents to worry about, which is always good news for a team needing a significant roster reshaping. However, starting right guard Brandon Scherff is set to hit the open market, and the Football Team would be wise to pay him a large sum of money to remain in town.
Scherff has been the Football Team's best offensive lineman for several seasons. He's currently playing on an $18 million franchise tag — a good indicator of how much Washington values his services.
Offensive line talent is at a premium in the NFL. Losing Scherff would be a significant hit to a Washington O-Line that's only recently started to find its stride in terms of production. This spring, Ron Rivera should have zero issues offering his starting RG a hefty multi-year deal.
The before-mentioned Fitzpatrick should be let go with little thought. Unfortunately, the signing didn't work out. However, such is life in the NFL.
The last pending free agent worth mentioning is running back J.D. McKissic. He's been a solid backup behind Antonio Gibson — worthy of a small extension.
2022 NFL Draft needs and potential targets
Top picks: First round (own), second round (own), third round (own)
Draft needs: QB, LB, S, WR
The Football Team only has three picks in the first three rounds of the 2022 NFL Draft, which isn't ideal considering the roster's state at the moment. Rebuilding teams typically like four to six picks in the top 100.
Regardless, Washington will have a top-10 pick this spring, which puts them in a favorable position to land a new franchise quarterback. Kenny Pickett, Malik Wills, Sam Howell, and Matt Corral are promising prospects who would immediately slot in as QB1 for Washington.
Moving past the quarterback debate, the Football Team would be wise to invest picks into linebacker, safety, and wide receiver. Last year's first-round pick, linebacker Jamin Davis, is coming off a concerningly poor rookie season, leading some to believe Ron Rivera is looking to replace him altogether this offseason. The team doesn't have a starter at free safety penciled in for the 2022 season — another position Rivera could look to fill early in the draft.
Last, Washington could use another weapon on offense alongside Terry McLaurin. The recent Curtis Samuel signing was disappointing due to injury, and Washington shouldn't hinge their offensive success on him returning to the lineup 100% next year. The worst thing the Football Team could do for a rookie QB is not give him enough weapons at WR.
1 player on each side of the ball who must step up in 2022
Speaking of Curtis Samuel, Washington desperately needs him to bounce back in 2022. They signed him to be a legitimate WR2 last offseason, and he failed to live up to expectations during his debut season in the D.C. area. He was an extremely versatile weapon in 2020 for the Carolina Panthers. The Football Team needs him to get back to that form next season.
On the defensive side of the ball, the Washington Football Team could use a better 2022 from fan-favorite defensive end Chase Young (believe it or not). Before his season-ending knee injury, Young only had a measly 1.5 sacks through nine games. That's unacceptable production from a guy labeled a generational talent coming out of college.
Young's knee rehab only adds further pressure to the situation. He needs to find a way to perform better next season while simultaneously getting healthy.
All stats courtesy of Pro Football Reference.