Washington Football Team HC Ron Rivera Warns Joe Judge After His Puzzling 'Clown Show' Rant: 'Talk About Your Own Team'
The New York Giants and Washington Football Team will be playing a meaningless game in Week 18, at least as far as NFL playoff implications go. However, Giants head coach Joe Judge added a sliver of intrigue with his recent comments. Ron Rivera isn't having any of it and quickly responded to the man on the opposite sideline for the season finale.
Washington Football Team HC Ron Rivera responds to Joe Judge's recent rant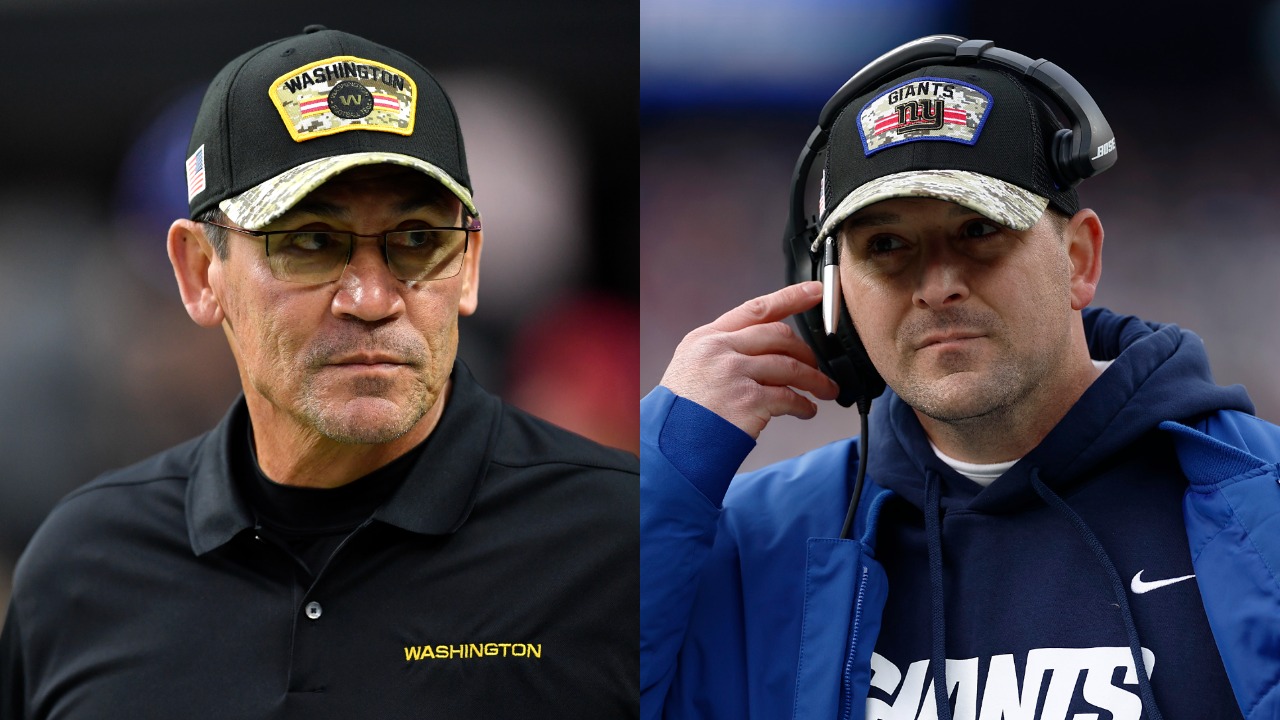 Joe Judge is finishing up just his second season as the head coach of the New York Giants, but it's been a rough ride. He's building up a reputation for making confusing statements, and he made another one after the recent loss to the Chicago Bears in Week 17.
After the disappointing showing, Judge addressed the media and made some puzzling remarks about his team while throwing shade at the Washington Football Team.
"This ain't a team that's having fistfights on the sidelines," Judge said per NJ.com. "This ain't some clown show organization or something else, ok? We're talking about the foundation built. The toughest thing to change in the team, the toughest team to change in the club is the way people think."
Judge appeared to be referencing a sideline spat between WFT defensive linemen Daron Payne and Jonathan Allen during the Week 16 Sunday Night Football loss to the Dallas Cowboys.
Washington Football Team head coach Ron Rivera didn't take too kindly to Judge's comments, so he fired back at the Giants' headman.
"To be upfront about it, it disappoints me," Rivera said per Pro Football Talk. "Because for somebody to make a comment like that and not really know the circumstances of the situation we've gone through. There's reasons why things happen, and to take a shot at people when people are going through what they're going through."
WFT defensive back Deshazor Everett was involved in a tragic car accident that killed his girlfriend. Defensive end Montez Sweat recently lost his brother to gun violence. Ron Rivera suggests Joe Judge mind his business.
The Giants' head coach has bigger fish to fry
Ron Rivera gave Joe Judge some valuable advice after hearing his "clown show" rant.
"If you don't know and understand other people's teams, talk about yourself," said the Washington Football Team head coach. "Talk about your own team. That's what's fair."
Judge suggested that he wasn't directing his remarks at Washington. However, optics are important, and it certainly appeared to be a cheap shot. The problem is that the New York Giants head coach has been all talk and no action in 2021.
The second-year coach delivered several rants throughout the season. However, the on-field product has still been mediocre at best.
New York has posted back-to-back losing seasons under Judge, with a combined 10-22 record. The Giants haven't won in a long time. Their last winning season came in 2016. The former New England Patriots assistant coach probably means well. However, his words will continue to fall on deaf ears if he doesn't turn this thing around soon.
There's a good chance the front office will bring Joe Judge back for another year, but he's done little to instill confidence in himself moving forward.
Both teams have issues, but New York's are worse
The New York Giants and Washington Football Team are finishing the 2021 NFL season in a disappointing fashion. The Giants are 4-12, and Washington is 6-10 heading into the season finale.
Both teams are out of playoff contention. Although Ron Rivera and Joe Judge each have their work cut out for them in the offseason, New York has more questions heading into 2022.
The Giants should have several concerns after their abysmal 2021 campaign. There's so much uncertainty from the top-down. If Judge isn't the right guy for the head coaching job, it's fair to point the finger at general manager Dave Gettleman as well.
Gettleman has been running the show since 2018, but the team has yet to make any considerable progress under his direction. He traded Odell Beckham Jr. He drafted Daniel Jones with the No. 6 overall pick in 2019. Gettleman is also the man who hired Joe Judge.
None of the above moves have panned out for the Giants. Someone must face the music, and the general manager should be the first in line.
As for the personnel, the roster features several solid pieces that could be building blocks over the next few years. Rookie wide receiver Kadarius Toney, safety Xavier McKinney, and defensive end Quincy Roche have shown flashes.
The futures of Daniel Jones and Saquon Barkley are up in the air, though. New York used high draft capital to take both players. Availability has been the issue for Barkley while Jones has yet to prove he can be the guy at quarterback.
The Giants lack a clear direction heading into 2022, which is a huge problem. It's easy to throw stones, but Joe Judge is living in a glass house right now.
All stats courtesy of Pro Football Reference.