The Washington Football Team Suffered a Crushing Loss to Their D-Line, and It Places Intense Pressure on Chase Young to Wake up
Exiting the 2020 season, the Washington Football Team were feeling pretty good about their defense. They finished the year third in expected points contributed by the team, won the NFC East, and even gave Tom Brady and the Tampa Bay Buccaneers a run for their money during the Wild Card Round.
With critical pass-rushers Chase Young and Montez Sweat a year older and a year more experienced, the expectation was the Football Team's defense would only be better in 2021.
How very wrong everyone was.
The Washington Football Team's defense is struggling
While there's plenty of time for WFT to flip the narrative on their defense this season, early results have been less-than-promising. They rank 28th in NFL in expected points contributed by the defense — a catastrophic regression from where they were last year.
It's hard to pinpoint exactly why the Football Team's defense has regressed so dramatically. The roster is essentially the same, and Ron Rivera is still the team's head coach. Rivera is well-known around the NFL for his elite defensive scheme, making his team's current struggles that much more confusing.
Washington is 2-6 after eight weeks of football and is quickly tumbling out of the NFC playoff picture despite being the reigning NFC East champions. To make matters worse, their defense is now dealing with the dreaded NFL injury bug.
DE Montez Sweat fractured his jaw
According to Ian Rapoport and Grant Paulsen, Football Team edge rusher Montez Sweat suffered a fractured jaw during the team's Week 8 loss to the Denver Broncos. Sweat doesn't need to undergo surgery. However, he has to avoid physical contact for at least a month and will even need to alter his diet slightly.
Common sense suggests Sweat will be placed on injured reserve sometime soon due to the amount of time he's expected to miss.
Through the Football Team's first eight games, Sweat was their most productive defensive end. His 4.0 sacks led all Washington DEs and only trailed DT Jonathan Allen for the team lead (6.0). Losing Sweat is a massive blow for a defense that was already struggling.
Pressure now diverts to Washington Football Team DE Chase Young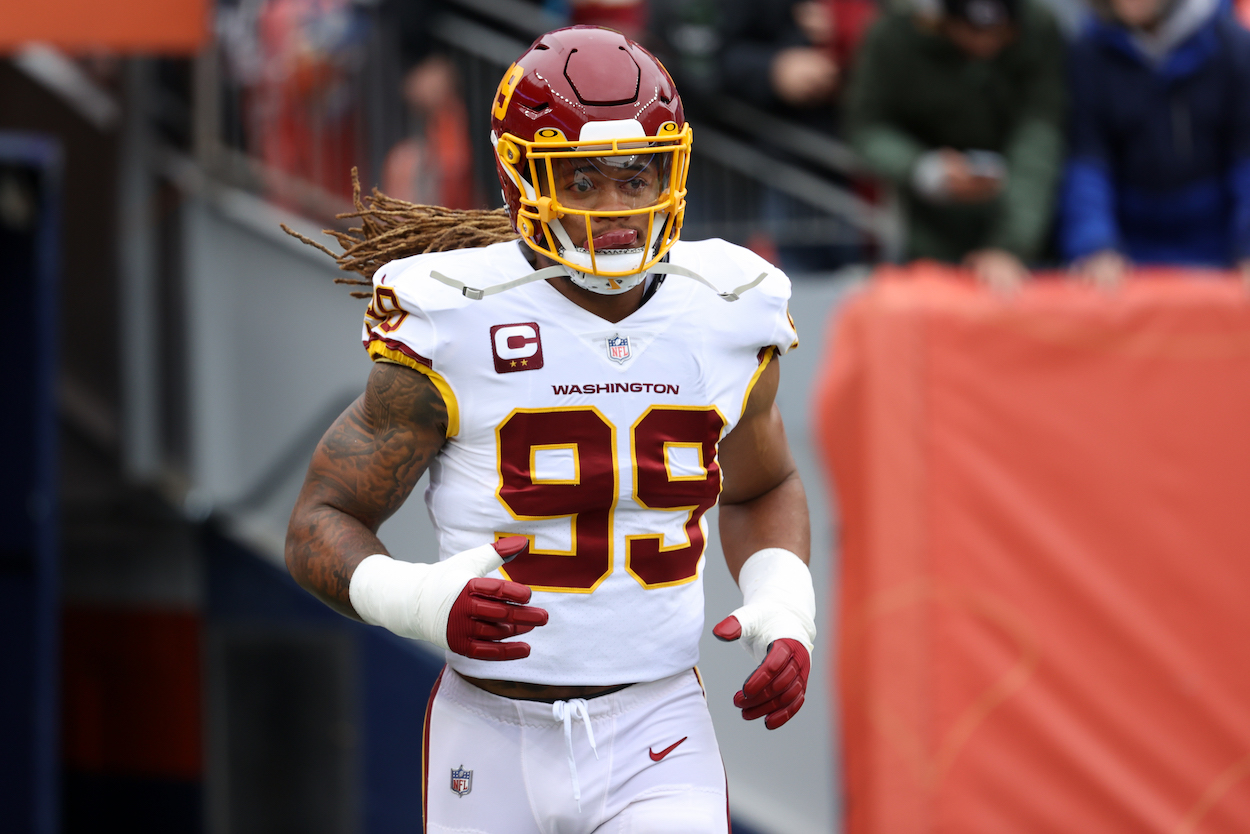 With Sweat now out for at least a month, the Football Team will need to find production from other members of their defensive line. Allen and Daron Payne should be able to hold things down at defensive tackle, while former No. 2 overall pick Chase Young is the one who needs to pick up the slack on the outside.
Young exploded onto the scene as a rookie in 2020. He racked up 7.5 sacks and was a huge reason Washington found themselves in the postseason at year's end. His constant ability to get in the backfield and cause chaos painted the picture of someone who had multiple double-digit sack seasons in his near future.
Fast forward to 2021, and Young is struggling to live up to expectations. He's only recorded 1.5 sacks up to this point, and his quarterback hits (4) and tackles for a loss (3) totals are equally disappointing. Young's lack of sustained production is one of the top reasons Washington's defense is regressing so rapidly.
With Sweat out of action for the foreseeable future, the time for Young to step up and reinforce the notion that he can be a franchise pass-rusher is now. After all, that is why the Football Team drafted him over a potential franchise quarterback like Justin Herbert. Washington needs Young to start living up to the hype again.
All stats courtesy of Pro Football Reference.
RELATED: Cowboys WR CeeDee Lamb Shockingly Accused a Vikings Defender of Viciously Attacking Him During Sunday Night Football: 'Man Was Choking the F*** out of Me'