Washington Football Team Head Coach Ron Rivera Owes His 'Riverboat' Mentality to John Madden and a Car Accident
For much of his career as an NFL head coach, Washington head coach Ron Rivera has had a reputation for aggressive decision making. That was not always the case, however. Early in his career with the Carolina Panthers, he had hit a brick wall and needed to change his thinking. That's when he asked for help and got it from one of the greatest coaching minds in NFL history — John Madden.
Ron Rivera has a shaky start as head coach of the Carolina Panthers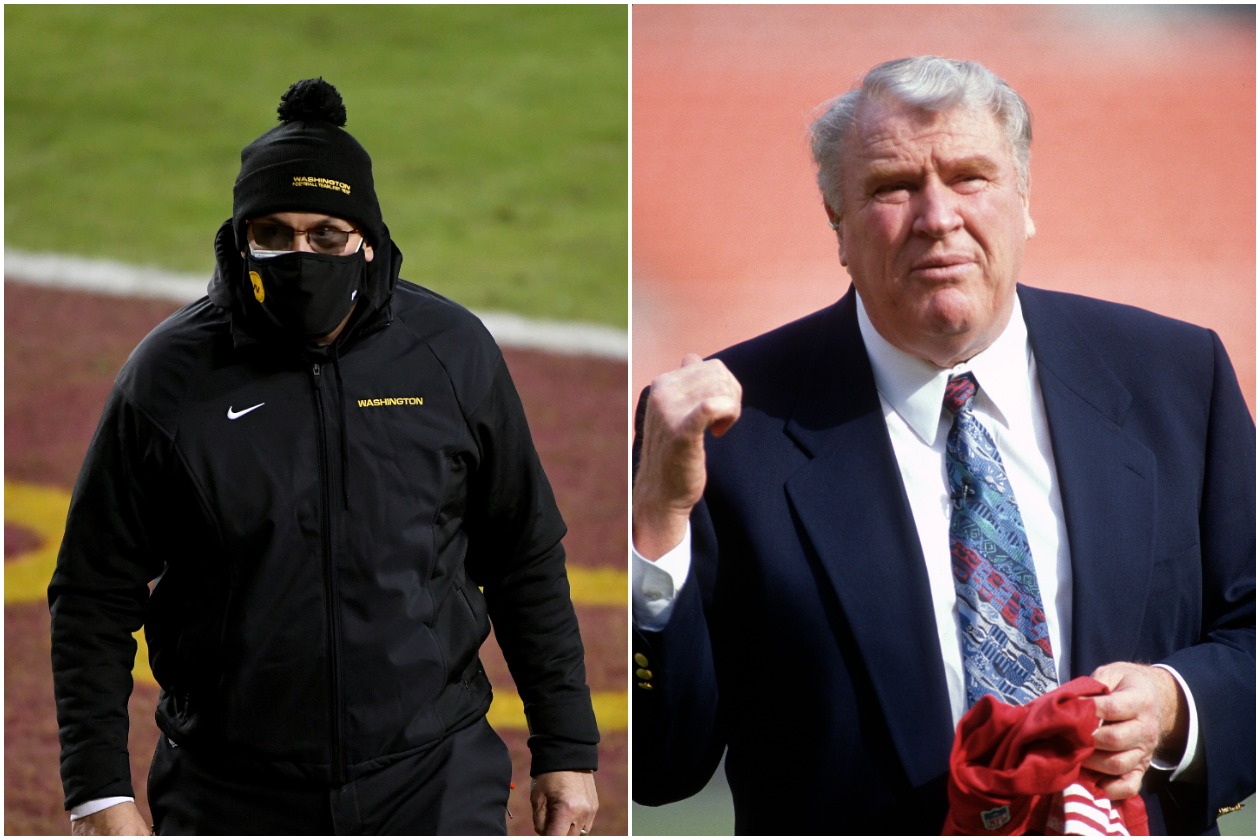 Ron Rivera first entered the ranks of NFL head coaches when the Carolina Panthers hired him for the 2011 season. Before then, he had risen through the ranks for 14 seasons as a defensive assistant with the Bears, Eagles, and Chargers. During his time as the Bears' defensive coordinator, he helped guide the team to a Super Bowl.
According to the now-defunct Sports on Earth, Rivera had eight unsuccessful head coaching interviews in six years before finally landing the Panthers position.
For his first two seasons in Carolina, Rivera was the furthest possible thing from a riverboat gambler. He rarely ever went for it on fourth-and-short situations even when a conversion seemed easy enough. In two different games in 2012, his conservative approach cost him dearly.
Against the Falcons in Week 4, the Panthers held a one-point lead with just over a minute to go, but chose to punt on fourth-and-six at midfield. Atlanta drove down the field to kick the winning field goal. Seven weeks later against the Buccaneers, a nearly-identical situation played out. As the Panthers held an eight-point lead with 1:09 left, Rivera called for a punt. The Bucs scored the tying touchdown and won the game in overtime.
Ron Rivera seeks help from John Madden
Through his first two seasons as an NFL head coach, Ron Rivera had a record of 13-19. Worse, 13 of those losses came by fewer than six points. The Panthers' then-owner, Jerry Richardson, wasn't about to take that route yet, but he did notice something was wrong.
"[He] told me, 'You need a mentor. I have a friend named John Madden, who you know. I've talked with him and he's waiting to hear from you,'" said Rivera on the Rich Eisen Show.
Before meeting up with Madden in person at his home in California, Rivera looked over film of the Panthers' losses to Atlanta and Tampa Bay, among others. He compiled his findings into an 18-page report.
"The biggest thing I learned is that I went by the book," said Rivera. "He goes, 'Ron, forget this book. Go by your gut instinct. You've played enough football, you've coached enough football to go by your gut. Go by how the game feels."
The car wreck that launched 'Riverboat Ron'
It would take a while before the lessons from John Madden really sunk in for Ron Rivera.
Another bad loss came in Week 2 of the 2013 season in Buffalo. With 1:42 left, the Panthers held a three-point lead and faced a fourth-and-one in Bills territory. Rivera opted for a field goal, which gave Carolina a six-point lead. The Bills promptly drove down the field and scored the winning touchdown. Yet again, Rivera's conservative coaching cost Carolina a game they could have won.
"I was sick. I was ready to throw up," said Rivera.
Rivera drove to the Panthers' facility the Monday after the game, with John Madden's words still swirling in his head. In the process, he failed to spot a red light at an intersection and had his car "t-boned". Luckily, he was okay and able to make it to the sidelines for the next week's game against the New York Giants.
His team was all the better for it. In the first quarter, the Panthers faced a fourth-and-one from the two-yard line. For once, Rivera decided to go for it, and it paid off when Ron Tolbert picked up a touchdown. "Riverboat Ron" and the Panthers never looked back, winning that game 38-0. Carolina finished the season with a 12-4 record and their first playoff berth in five years.