Washington's Ron Rivera Is Infuriated With Anti-Vaxxers: 'They're Listening to People Who Have No Qualifications'
In a normal world, Washington Football Team head coach Ron Rivera's most difficult opponents in 2021 would involve the likes of Dak Prescott and Tom Brady.
The bad news is that Rivera, who is in his 11th year as an NFL head coach, still has to face both quarterbacks in the coming months. However, those two superstars might not frustrate the Super Bowl-winning linebacker as much as anti-vaxxers currently are.
Washington head coach Ron Rivera is calling out anti-vaxxers once again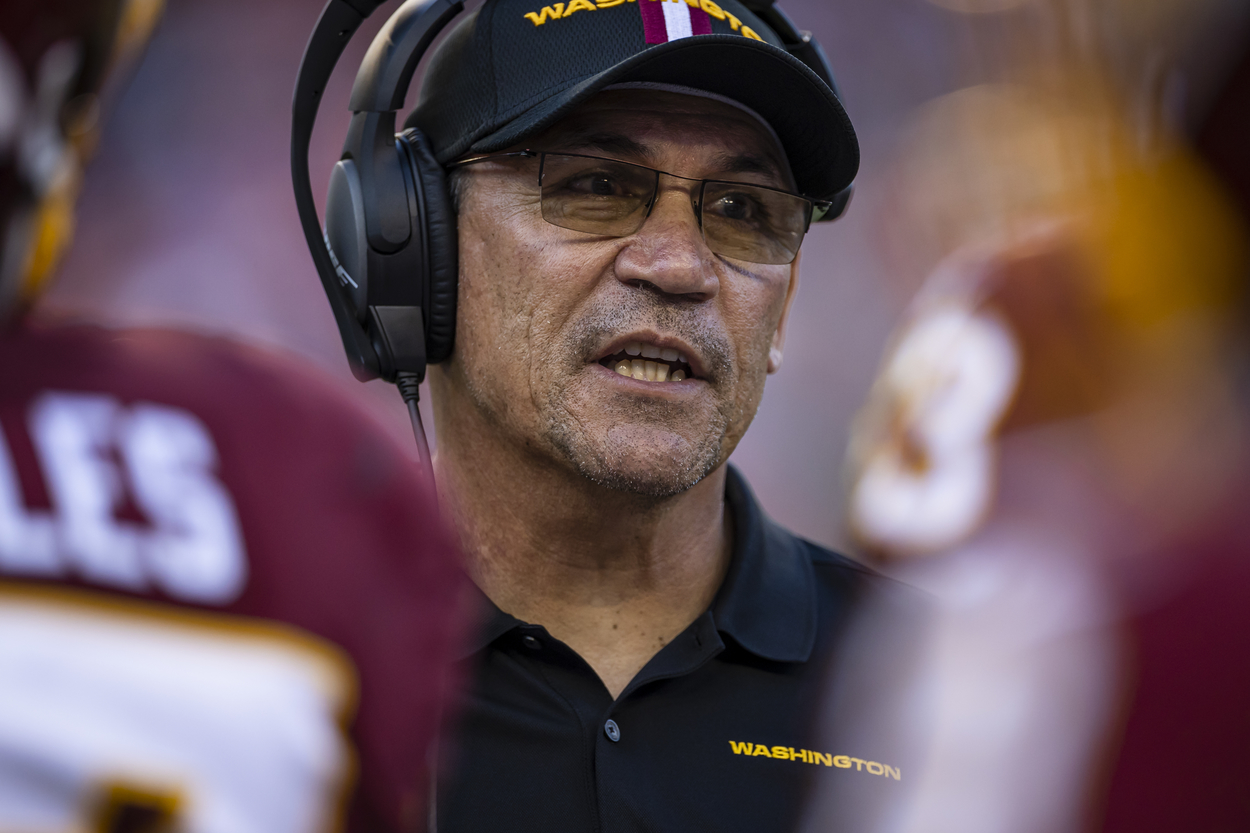 Any football fans out there who want coaches and players to stick to sports, especially when the COVID-19 vaccine is involved, might want to avoid Rivera in the coming months.
In a recent interview with the New York Post, Rivera unloaded on those who have refused to receive a vaccine. As a skin cancer survivor, he said he doesn't understand why people would want to avoid taking something which can help them stay healthy.
"Now, there's a virus out there that's killing people, and killing people worldwide, OK?. And infecting people right now at an alarming rate, and we have a vaccine that can slow it down. It's not gonna prevent it. But it can protect you … and yet people shun it, and not because they're listening to the science, but they're listening to people who have no qualifications, or have a political agenda, and have decided they're gonna stump for it."

Ron Rivera
Rivera made it clear he has zero patience for those who link their refusal to receive the vaccine to their political allegiance.
"It absolutely infuriates me that people don't realize that it took both political parties to get it to where it is today, and neither one of 'em want to acknowledge that both of 'em had something to do with it," Rivera said. "That's [B.S.] too."
Rivera has led the charge against anti-vaxxers for months
According to The Athletic, Washington began the regular season with 64 players — 91% of the overall roster — who were at least partially vaccinated. That number continuously climbed throughout the offseason, in large part because of the head coach's influence and devotion to addressing the problem.
In August 2021, he ripped misinformation spreaders as "f****** a*******" in a conversation with Sports Illustrated. The 59-year-old regularly expressed frustration with how many of his players remained steadfast in refusing to get vaccinated.
Washington had seven players in COVID-19 protocol in the early days of training camp in July. Brandon Scherff, the four-time Pro Bowl guard, was among those who missed time during that period.
According to the Mayo Clinic, nearly 71% of Maryland adults in the 18-64 age group had been fully vaccinated. That number is at 95.5% for those 65 or older.
The NFL is still dealing with COVID-related problems
Washington began the 2021 season with a 20-16 loss to Justin Herbert and the Los Angeles Chargers. The reigning NFC East champions played that game without prized offseason signee Curtis Samuel, a receiver who officially sat out with a groin injury.
Earlier this year, however, Samuel missed time in training camp while on the COVID-19 list. The Miami Dolphins had two notable players, offensive tackle Austin Jackson and tight end Adam Shaheen, spend time on the COVID list leading up to the Week 1 opener against the New England Patriots.
Jackson, who is vaccinated, returned in time for the game but only played three snaps, all on special teams, in the Dolphins' 17-16 victory. When he met with reporters on Wednesday, Sept. 15, the second-year offensive lineman said the vaccine "definitely helped." 
Shaheen, who is unvaccinated, did not play in Week 1. Dallas Cowboys star right guard Zack Martin, another fully vaccinated player, missed the team's opener while on the COVID list. Cowboys pass-rusher Randy Gregory, who is vaccinated, could miss a Week 2 matchup with the Chargers following a positive COVID test.
Elsewhere in the NFC, the New Orleans Saints had six assistants, a team nutritionist, and injured receiver Michael Thomas all test positive for COVID-19 days after a Week 1 victory over the Green Bay Packers. According to NFL Media, the Saints' entire staff is vaccinated.
Now it's easy to understand where Rivera is coming from, right?
Like Sportscasting on Facebook. Follow us on Twitter @sportscasting19.