Washington's Terry McLaurin Has Caught Passes From a Different Starting QB Every 3 Games of His Career: 'It's Human Nature to Get Frustrated'
Playing in his third season in the NFL, Washington Football Team's wide receiver Terry McLaurin has caught, to date, 160 passes. What makes this even more impressive is he has done it with 10 changes at quarterback, three changes happening during his rookie season. So, basically, on average, McLaurin has caught passes from a different starting quarterback every three games since entering the league. And that makes a lot of people think that McLaurin is quite possibly one of the most underrated wide receivers in the league.
Washington has had a carousel of quarterbacks since 2018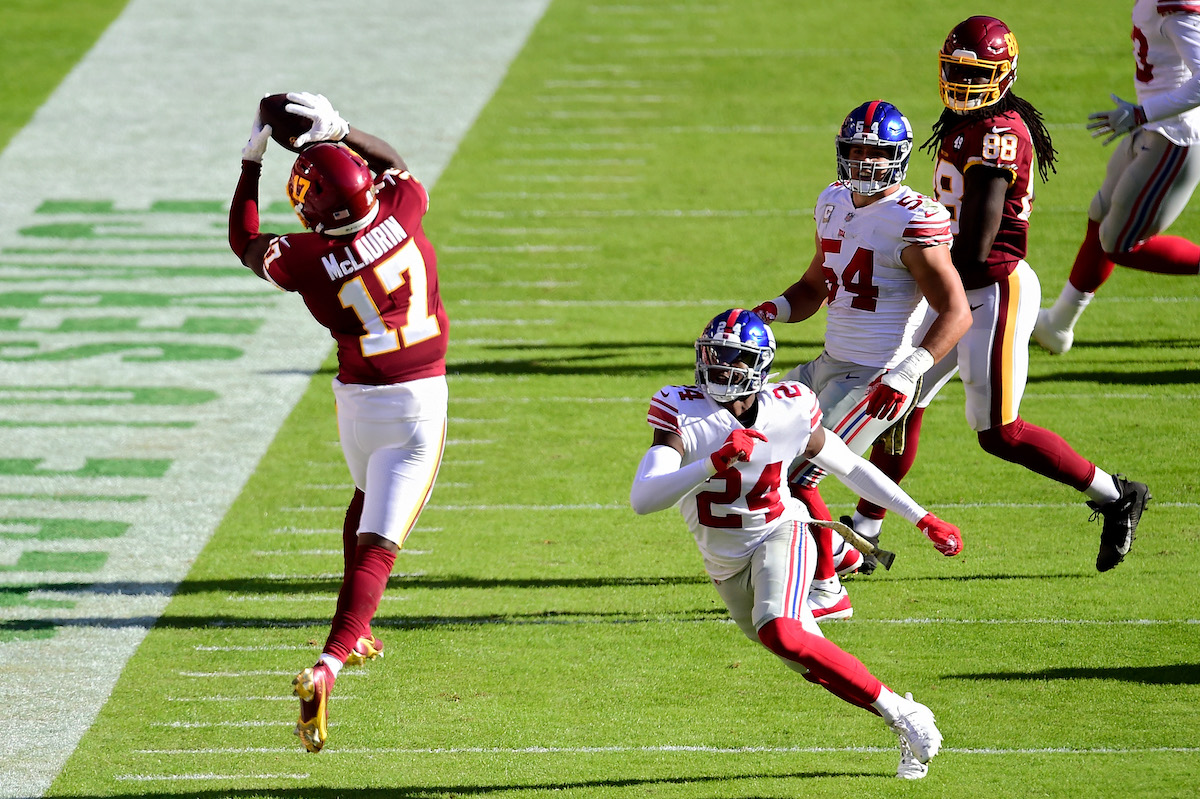 The starting quarterback has changed 12 times since 2018, starting when Alex Smith suffered a horrendous leg injury, similar to former Washington QB Joe Theismann — who, coincidentally, broke his leg 33 years to the day prior, and was in the crowd watching when Smith went down. After Smith, Colt McCoy started for two games and suffered a season-ending leg injury. Then, Mark Sanchez started one game but was benched at halftime, and Josh Johnson started for the final three games of the 2018 season. 
In 2019, Case Keenum started the first four games, but was benched in Week 4. McCoy started Week 5, followed by Keenum returning for three games before leaving with a concussion in Week 8. Haskins came back and started in Week 9 and was the starter — until he got injured in Week 16 before Keenum came back and finished out the season.
In 2020, things were no less chaotic. Haskins started Weeks 1-4, Kyle Allen started Weeks 5-9, and Smith came back and started Week 10-14. Then, Haskins started Week 15 and Week 16, and Smith finished out the season.
Ryan Fitzpatrick started during Week 1 this in 2021, but left in the second quarter due to a hip injury. Now, Taylor Heinicke is the starter.
Terry McLaurin admits it's 'challenging' but is also 'no excuse'
As you can imagine, the constant quarterback changes are difficult for the whole team, particularly the offense. McLaurin himself has discussed the challenges of maintaining chemistry and continuity with different quarterbacks, as reported by WTOP News. But the wide receiver is not making excuses and is committed to being the best player he can be, so his teammates can count on him. He explained:
"It's human nature to get frustrated at times. But at the end of the day, the first thing that comes to my mind is just you have no excuses. I try to practice that way, I try to play that way and have no excuses and make sure whatever quarterback is back there, they can trust that No. 17 is going to get his job done and they can rely on him."
Fans agree he deserves better and is an underrated receiver
Analysts and reporters aren't the only ones who think McLaurin is underrated. Fans do too. Responding to a post on Twitter highlighting the quarterback changes McLaurin has had to adapt to, fans also think he deserves better.
One user stated, referencing Seahawks receiver DK Metcalf, "This is why it's crazy to me that people act like he's not on dk's level when dk has top 3 qb situation in the entire league, McLaurin has had the worst by far, and their numbers are almost the same."
Another user pointed out that it doesn't seem to hold him back, "And still balls out no matter who the QB is, just get the man the ball!"
Washington fans are hoping Heinicke can stop the quarterback carousel and give McLaurin a chance to shine. As one Twitter user pointed out, "The kid deserves better."
RELATED: Tom Brady Just Paid Alex Smith the Ultimate Compliment as Washington's Season Ended