The Washington Wizards Are Off to Their Best Start Since Their Current Head Coach's Father Ruled The Paint in DC 47 Years Ago
When it comes to the Washington Wizards and their surprising start to the season, one might apply the "What comes around goes around" mantra.
After hitting the reset button by trading Russell Westbrook and hiring Wes Unseld Jr. as their new head coach, the Wizards are firing on all cylinders. General manager Tommy Sheppard's moves are paying dividends, as Washington just achieved a feat not seen since Unseld's father starred in The District 47 years ago.
The Wizards have the best record in the Eastern Conference
Multiple Eastern Conference teams are making surprising statements as contenders early in the 2021-22 NBA season, including the Chicago Bulls and Cleveland Cavaliers. The Wizards' success is every bit as unexpected.
Washington improved the 10-3 with a win over the New Orleans Pelicans on Monday. It boasts the best record in the East. General manager Tommy Sheppard deserves a lot of credit for the strong start.
The offseason moves loom large in the Wizards' success. Free-agent signing Spencer Dinwiddie gives Washington a crucial secondary playmaker and shot-creator alongside Bradley Beal. He's also infusing the team with some humor and fun, including a recent prodding of Kyle Kuzma.
Speaking of Kuzma, his shooting and rebounding make him valuable as a floor-spacer capable of playing either forward spot. The other two guys acquired in the Westbrook trade, Montrezl Harrell and Kentavious Caldwell-Pope, are both contributing.
Harrell is averaging 18.0 points and 8.5 boards. He's a capable passer out of the post and on straight-line drives, averaging 2.5 dimes. Caldwell-Pope satisfies his role as a 3-and-D guy to perfection.
Beal remains at the center of everything. But the new-look roster is competing hard for their first-year coach in Unseld, who steered the Wizards to their best start since his father controlled the paint in D.C.
Washington's 10-3 mark is the team's best start since Wes Unseld and the 1974-75 Washington Bullets
The last time the Wizards won this much to start an NBA season, they went by an entirely different nickname.
John Ourand of the Sports Business Journal noted Washington's 10-3 record marks its best start since the 1974-75 season, when the team still had the "Bullets" moniker. There's more to it, though.
That 1974-75 team featured a dominant frontcourt of Elvin Hayes and Wes Unseld, the father of Washington's current head coach. Those Bullets won 60 games, with Unseld making his fifth and final All-Star team. Washington made it to the NBA Finals before being swept by the Golden State Warriors.
Unseld would eventually win a championship in 1978, also winning Finals MVP. He made the NBA's 75th Anniversary Team this fall after being elected to the Hall of Fame back in 1988. The former Bullets star garnered a reputation as one of the best rebounders and passing bigs of his era though he lacked the size of a traditional center. Unseld still ranks first in Wizards history in win shares.
Much like his father, Unseld Jr. likely hopes to endear himself to the D.C. faithful in his first season as Wizards head coach. He's certainly off to a good start.
Can Unseld Jr. and Co. maintain their success?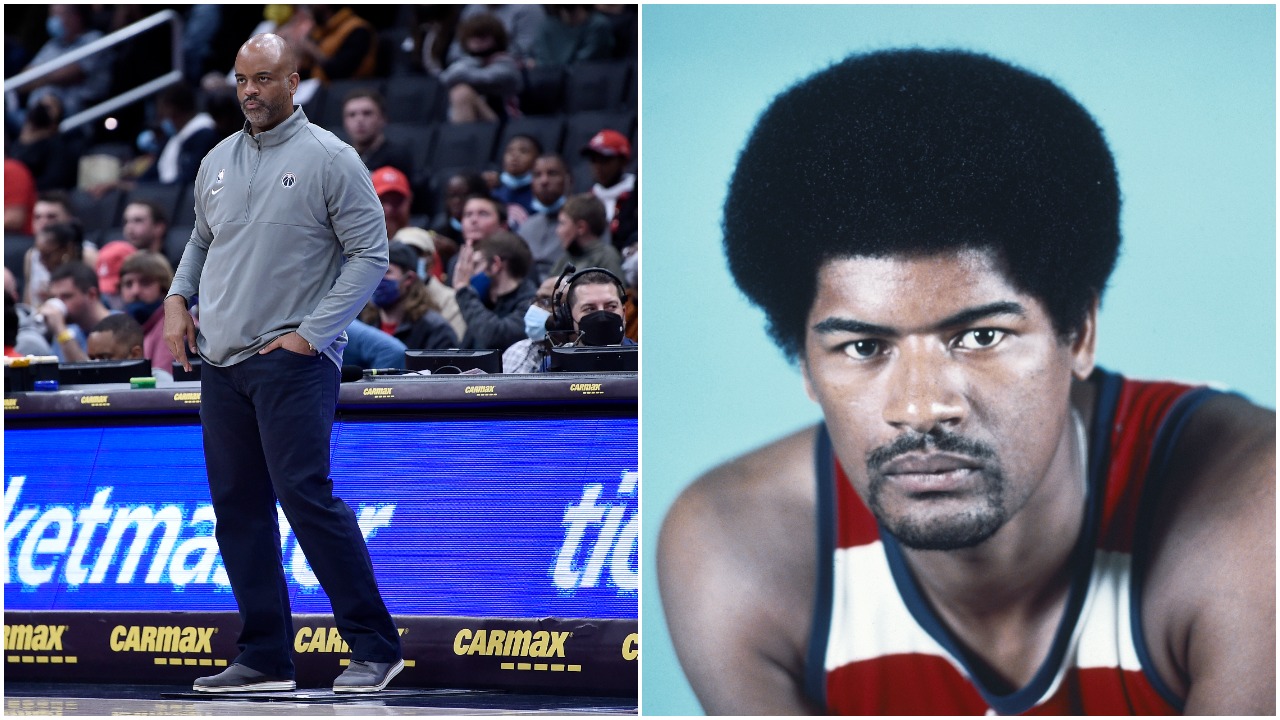 The Wizards' strong start does not necessarily mean they can contend for an NBA championship. However, there are plenty of reasons to be encouraged.
For starters, Washington keeps winning despite Beal's lackluster start. Although he worked on perimeter shooting in the offseason, the three-time All-Star is shooting just 25% from beyond the arc.
Additionally, the Wizards are without Thomas Bryant (knee) and Rui Hachimura (personal). Those are two key rotation players who provide depth in the frontcourt and on the wing.
Unseld Jr. seems to be helping the Wizards compete on the defensive end. Washington ranks fifth in defensive rating and first in defensive rebounding after ranking 19th and sixth in those categories, respectively, last season.
The Wizards need Beal to find his stride, and they'll also likely need to start taking and making more threes. Still, Washington can build on its historic start, with Unseld Jr. looking to carve out a legacy separate from that of his famous father.
Stats courtesy of Basketball Reference.