Washington Wizards Star Bradley Beal's Net Worth Is Massive for a 26-Year-Old
Since being drafted into the NBA in 2012, Bradley Beal has been an absolute star for the Washington Wizards. After being a good scorer throughout his entire career so far, Beal took that next step this season. Since he has been so successful to this point, he has ultimately earned a lot of money in his career. That has helped him rack up a massive net worth too.
Bradley Beal has been a star for the Washington Wizards
RELATED: What Motivates Bradley Beal to Be a Good Basketball Player?
The Washington Wizards selected Bradley Beal with the third overall pick in the 2012 NBA draft. He ultimately had a solid rookie season, averaging 13.9 points per game. However, he was really valuable for the Wizards in 2013-14. Beal scored 17.1 points per game that season, helping lead the Wizards to a 44-38 record after they hadn't won more than 30 games since 2007-08. The Wizards ultimately made it to the Eastern Conference Semifinals that year before losing to the Indiana Pacers in six games.
Beal's production took a slight step back in 2014-15 as he scored 15.3 points per game. However, the Wizards went 46-36, which had been the most wins since 1978-79 when the Washington Bullets went 54-28. The Wizards ultimately lost in the Eastern Conference Semifinals again to the Atlanta Hawks.
In 2015-16, Beal only played in 55 games, and the Wizards missed the playoffs, but he improved massively in 2016-17. He ultimately averaged 23.1 points per game that season, helping lead the Wizards to a 49-33 record and the Eastern Conference Semifinals again. Beal has averaged 22 points or more each season since.
The Wizards only made it to the First Round of the playoffs in 2017-18, missed the playoffs last year, and then had a 24-40 record this year before the league suspended its season. However, Beal averaged 25.6 points per game last season to go with 5.5 assists and five rebounds. He then jumped up to 30.5 points per game this season to go with 6.1 assists. 
Could Beal ultimately be traded?
RELATED: Russell Westbrook and Kevin Durant Could Still Be on the Oklahoma City Thunder If One Move Would Have Happened
Last week, Stefan Bondy of the New York Daily News reported that the Brooklyn Nets are searching for a third star to add to their roster. He also reported that they have internally discussed trying to acquire Bradley Beal from the Wizards. This would immediately make the Nets the favorite in the Eastern Conference, and maybe even the favorite for the entire NBA championship. Next season, they should have their two stars healthy in Kevin Durant and Kyrie Irving, so a third star makes them even more dangerous.
However, Beal's agent Mark Bartelstein later shut down the Beal-to-the-Nets rumors.
"There are no Beal Sweepstakes and that's why he re-signed with the Wizards," Bartelstein said, according to Bleacher Report. "Brad re-signed with the Wizards because he wanted to stay in Washington and the Wizards wanted to keep him there."
Beal signed a two year, $72 million extension with the Washington Wizards in October, according to Bleacher Report. The extension actually does not begin until the 2021-22 season, though.
Having a massive net worth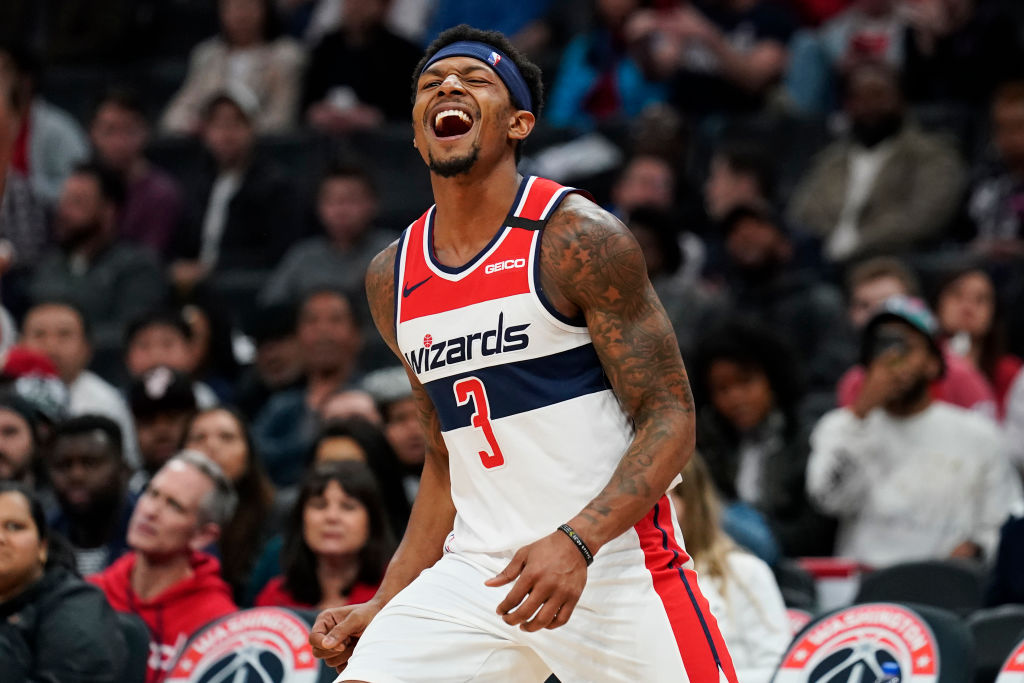 RELATED: A Homeless Man Recently Helped Gilbert Arenas Win $300,000
Due to all of his success, Bradley Beal has already made a massive amount of money in his career. Spotrac estimates that he has made $117.07 million in his career so far. It is unclear, however, if that considers the salary cuts the players have taken this year due to the COVID-19 pandemic.
No matter how much Beal ends up making this season, though, he has racked up a massive net worth. Celebrity Net Worth estimates that Beal is worth $30 million. That is a lot of money for someone who is only 26 years old, turning 27 next month.
Bradley Beal seems to still be getting better and better. He was averaging career-highs in points per game and assists this season. If he continues to improve over the next few seasons, his net worth will most likely continue to increase.
Stats courtesy of Basketball Reference