WATCH: Bukayo Saka Ignites England With a Game-Changing Cameo
Bukayo Saka didn't start for England against Germany, but the Arsenal winger certainly made a massive impact.
Some have suggested that Bukayo Saka hasn't been at his best during the early days of the 2022-23 Premier League campaign. Even if you disagree — he has tallied four assists while scoring a single goal — that reality would be understandable. The 21-year-old has played a great deal of soccer for club and country and has rarely gotten a rest.
On Monday, however, the Arsenal winger showed exactly what he was capable of. During a 24-minute cameo (not counting stoppage time) for England, Saka completely changed the game.
Let's watch what he did and break things down.
Bukayo Saka played a key role in England's comeback against Germany
For the majority of Monday's match, England seemed to be doomed to more of the same. The Three Lions were unable to find the back of the net and, thanks to some defensive errors from Harry Maguire, fell behind Germany. At the 66th minute, however, Bukayo Saka and Mason Mount entered the pitch. While both players made a difference, the Arsenal man truly shone.
While we're at the mercy of what Fox Sports' highlights show, Saka's first major involvement came in the lead-up to England's first goal. We don't really get the best view of his play, but at 2:21 in the embedded video, the winger pushes down the right-hand side before cutting the ball back to Reece James. The Chelsea defender then puts in the cross, leading to the goal.
Admittedly that's not the most exciting visual, things do get better (and more obvious). Ahead of England's second goal (2:44 in the video), Saka finds a pocket of space, picks up the ball in the middle third, and drives past two defenders. He then rolls a pass directly into Mason Mount's feet, and the substitute makes no mistake, leveling the scoreline.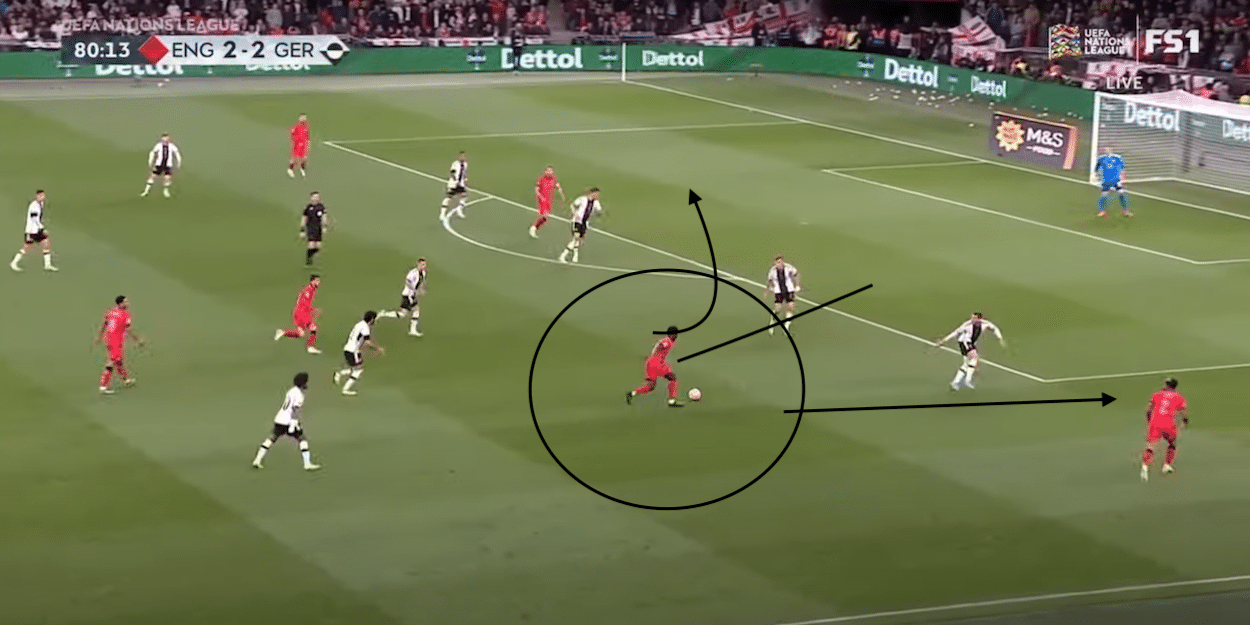 Our next instance comes at 3:05 in the video, and it is similar to England's second goal. Saka picks up an excellent position between the lines, turns, and immediately puts Germany under pressure. He has two passes available, as indicated by the left and right arrows in the above graphic, or could run directly at the defender, as illustrated by the straight line.
Instead, he somewhat splits the difference, dribbling forward before playing a short pass into Harry Kane. The striker took the shot, which just went just wide, but he could have easily returned the ball to Saka for a slightly different scoring chance.
The last moment we'll pull out arrived in the dying moments of the game, when the Arsenal man picked up the ball in his own half (4:35 in the video) and charged forward on a partial breakaway. The angle wasn't ideal — İlkay Gündoğan did a good job of making up ground to ensure that the winger couldn't cut back inside — but Saka still got a shot off with his weak foot. It wasn't the hardest-hit attempt you'll ever see, but it was a Marc-André ter Stegen fingertip away from winning the match.
That performance shows exactly what Bukayo Saka can do for England and Arsenal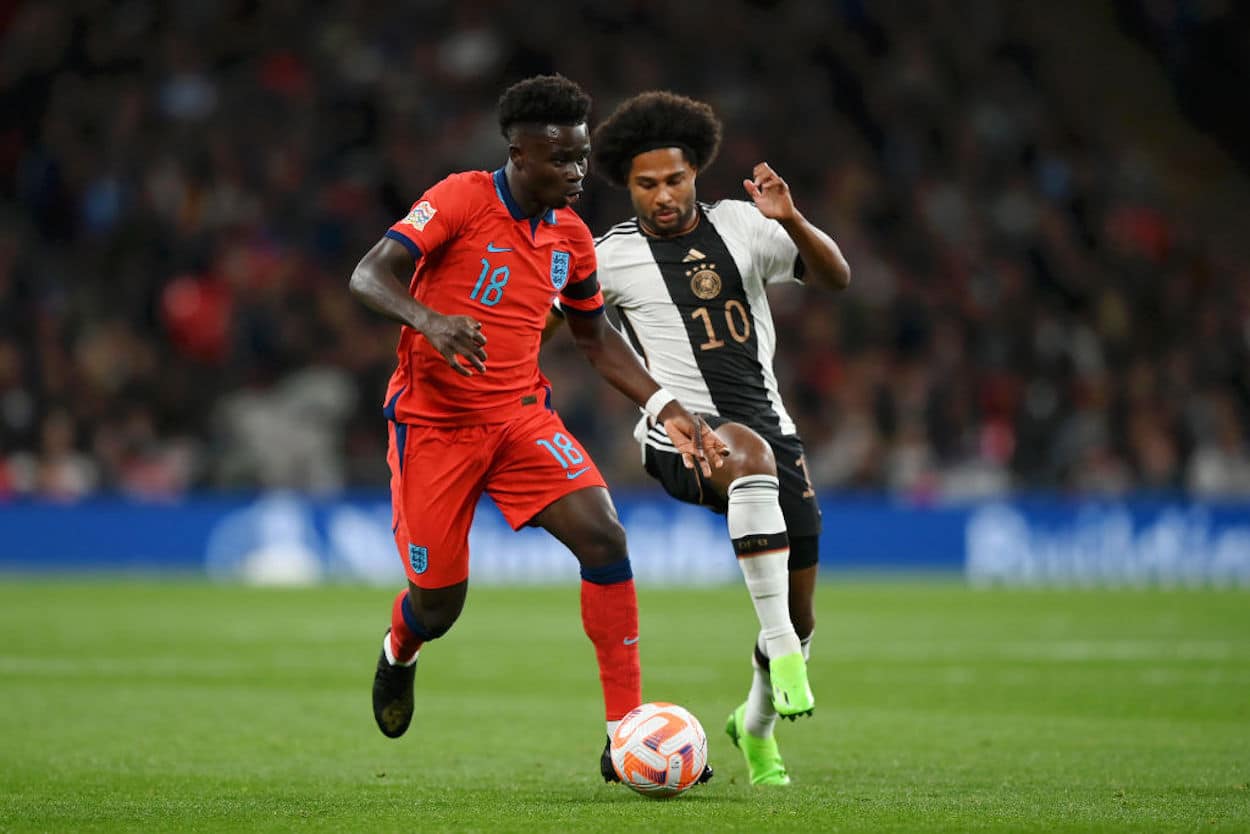 As I mentioned above, this season hasn't been the greatest for Saka. Despite his assist numbers, some have suggested that he's out of form at Arsenal. On the international stage, things haven't been much better. He began England's defeat to Italy at left wing-back and, against Germany, only entered the pitch as a second-half substitute.
His performance after coming on, however, shows exactly why he needs to be in the lineup, both for Arsenal and England.
At the risk of breaking out too many cliches, the clips and annotated image above show exactly where Saka shines. He isn't blowing past defenders with sprinter-level speed, dazzling them with samba footwork, or uncorking shots that pull the goal out of the ground. Instead, he's doing the right thing and executing it with a high level of quality.
Ahead of England's first goal, the winger went wide and pushed up, which gave Reece James room to curl in a cross. For both England's second goal and Harry Kane's near miss, Saka took up an intelligent position, dribbled past defenders, and made the right choice in playing the final ball. On his breakaway, the angle wasn't ideal, but the England attacker still put a shot on target and forced a save.
When you have a quality team — England has an incredible batch of young talent and a world-class finisher in Kane, and Arsenal has been building up a solid core of players — someone has to knit things together. While that role has traditionally fallen to a midfielder, Saka has proven that he's capable of taking up that mantle. Gareth Southgate's three-at-the-back system does have its flaws, but one positive could be allowing the Arsenal attacker to tuck inside and work from a more central position.
Given England's recent struggles and Arsenal's hot start to the season, there are plenty of narratives being constructed. Bukayo Saka's might not be making the headlines anymore — he's grown from "starboy" to someone who's simply a good player — but his performance on Monday shows exactly why he needs to be a fixture in both squads.
Like Sportscasting on Facebook. Follow us on Twitter @sportscasting19 and subscribe to our YouTube channel.