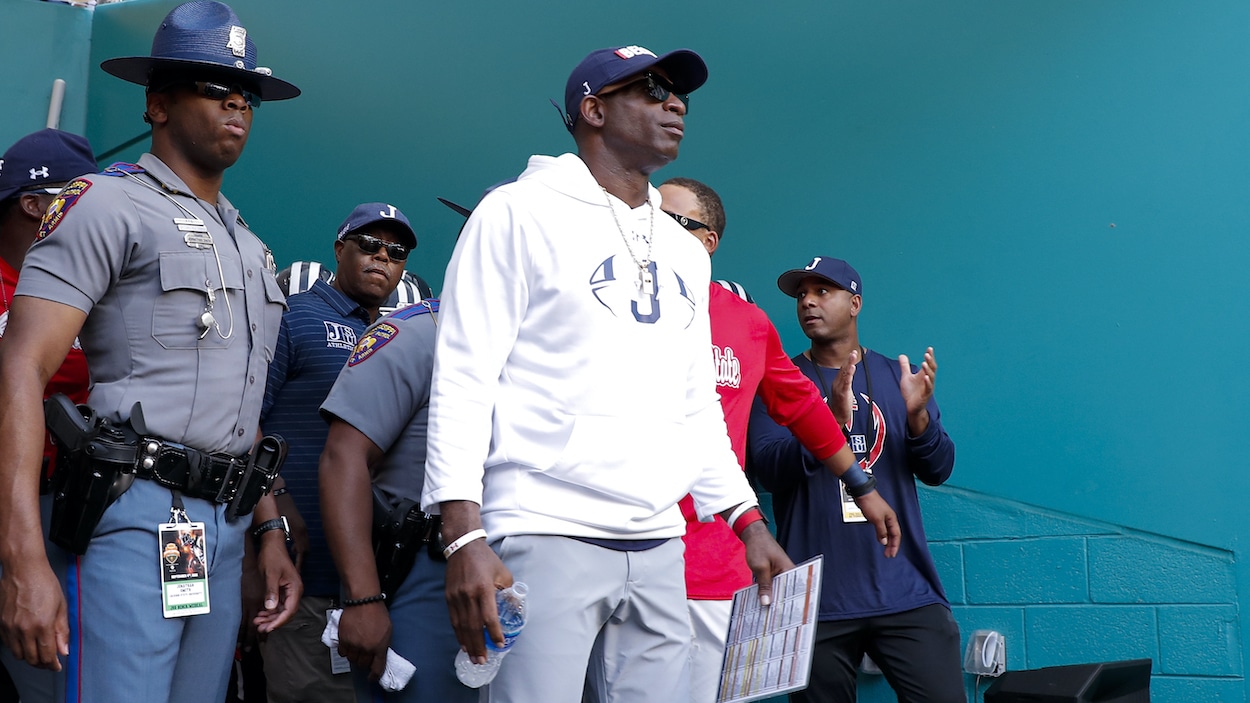 WATCH: Deion Sanders Gets in Physical Postgame Altercation With Rival Coach: 'He Ain't SWAC'
Jackson State coach Deion Sanders and his Alabama State rival got into a confrontation at midfield, then continued on the mic after the game.
Jackson State coach Deion Sanders was a talker but not a fighter during his 14-season NFL career. The six-time All-Pro took over as head football coach at the SWAC program in 2020 and is building the HBCU into a real college football power. However, that's rubbing some SWAC coaches the wrong way, including Alabama State's Eddie Robinson Jr., who got into a physical altercation with "Prime Time" after Jackson State's 26-12 win on Saturday.
Deion Sanders 'Ain't SWAC,' according to rival coach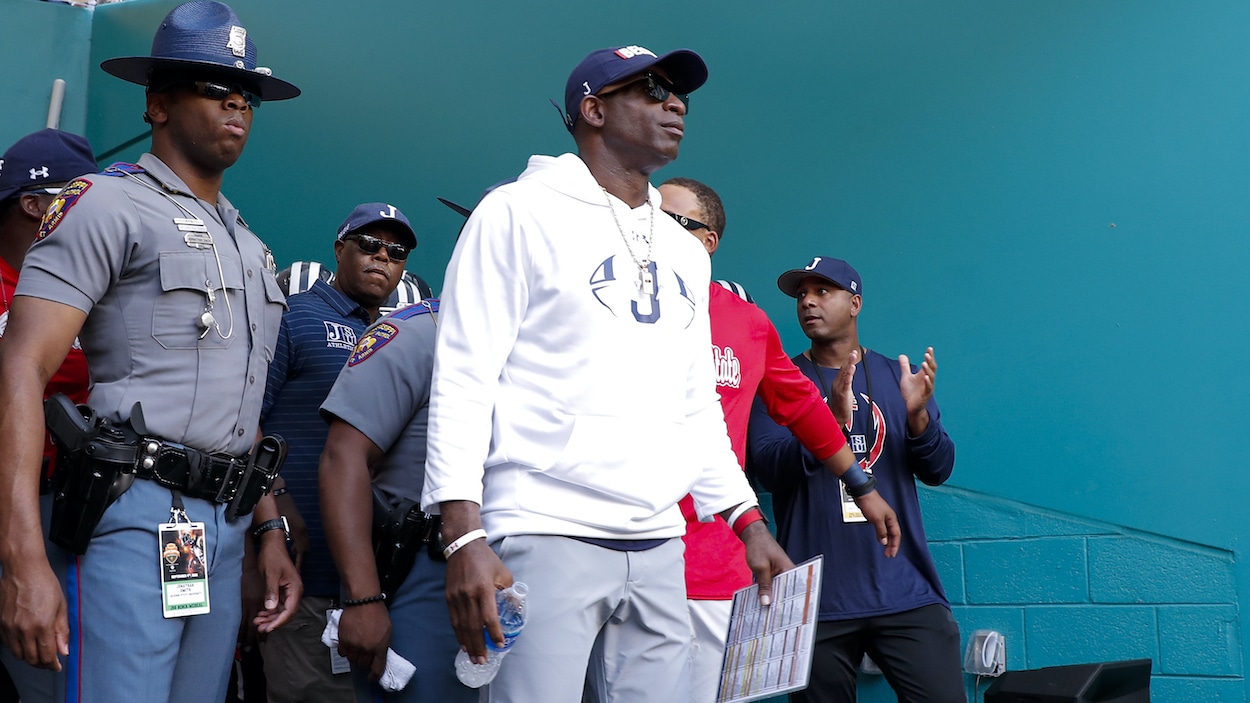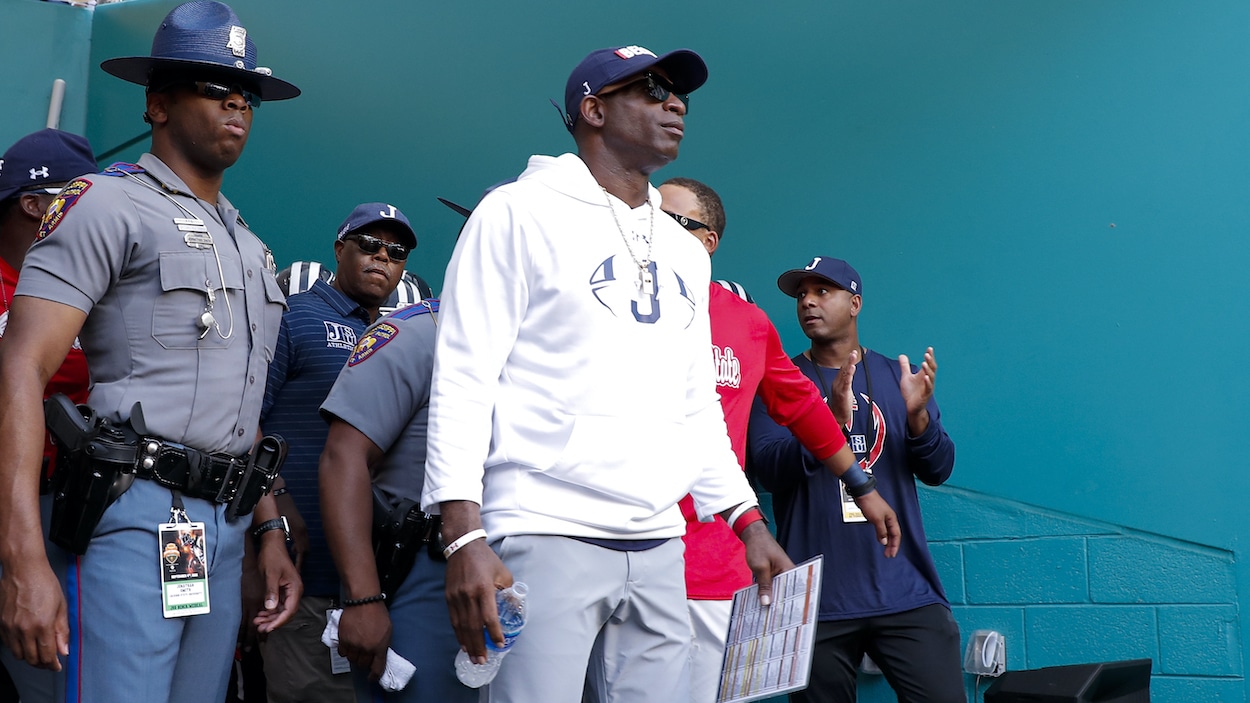 NFL Hall of Famer Deion Sanders' Jackson State Tigers dispatched the Alabama State Hornets 26-12 on Saturday to move to 5-0 on the season.
After the game, Sanders and Alabama State coach Eddie Robinson Jr. met at midfield for the customary head coach handshake. Robinson shook hands, but when Sanders went in for the hug, Robinson pushed the former defensive back away.
Sanders pushed back, and law enforcement security accompanying them separated the pair.  
After the game, Robinson had some harsh words for Sanders, who the Alabama State coach thought "made disrespectful comments" leading up to the game, per ESPN.
"I'm going to always be respectful and respect the game, Robinson said. "You've got the great [coaches], W.C. Gorden, Eddie Robinson [no relation], those guys, Marino Casem, I'm living on the shoulders of the SWAC."
"He ain't SWAC. I'm SWAC, he ain't SWAC," Robinson continued. "He's in the conference, doing a great job, can't knock that, got a great team, his son should be up for the Heisman Trophy, I love [Sanders' son and Jackson St. QB] Shedeur, great player, I love what he's doing for the conference. … But you're not going to come here and disrespect me and my team and my school and then want a bro hug. Shake my hand and get the hell off."
Sanders fired back just as hard.
"I'm not one to come back the next day and you going to pick up the phone and you going to apologize and we straight," Sanders said. "No, not whatsoever. You meant that mess. And one of the comments that kind of disturbed me out of all the comments, that I'm not SWAC. Who is? I got time today. Who is SWAC if I ain't SWAC? Who is SWAC if I ain't SWAC?"
Robinson got the last message in, though, making a wish and a promise for next season.
"I hope [Deion Sanders] comes back next year, I pray he don't get a Power 5 job, so we can play them next year in Jackson," Robinson finished. "And I pray they put us for their damn homecoming."
Deion Sanders and the Tigers try to continue their unbeaten season next week vs. the Bethune-Cookman Wildcats at 4 pm ET on Saturday, October 15.
Like Sportscasting on Facebook. Follow us on Twitter @sportscasting19 and subscribe to our YouTube channel.