Watch: Dirk, Mavericks Channel Run DMC in New Rap Video
There is nothing better than Dirk Nowitzki rapping. Or singing. Particularly if your personal definition of the word "better" includes a measurement for enthusiasm, rather than any kind of objective measurement of quality. That definitely helps. And you could be forgiven, too, for thinking that Dirk had peaked with his Rolling Stones cover, but you'd be wrong. Objectively wrong, in fact. Luckily for you, Dirk's newest heights are not only available to see for everyone who can get on YouTube — that's only one half of the equation.
The other half is the continuing glory that is the Dallas Mavericks' approach to social media. Mark Cuban's ballclub has never shield away from shenanigans or silliness, and the players have embraced it, going back to the Steve Nash years. While nothing can really top "The Simon Song," particularly as it relates to weird things you find on YouTube, we're pretty happy that "Can't Be Stopped" exists, and we've got it embedded below so that you can watch it in all its glory. We'll offer some pertinent analysis after the jump.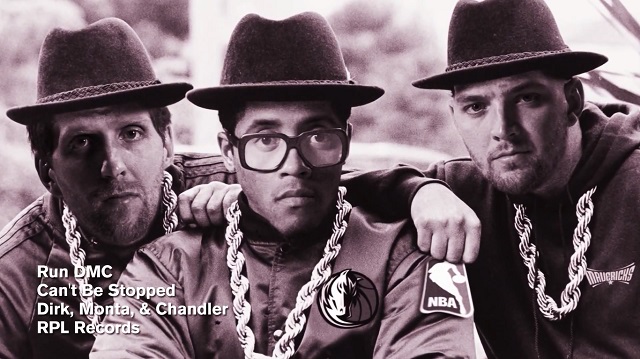 First and foremost, how about those shots fired at the Rockets by Chandler Parsons? To wit, the idea that he "left Houston so easily" makes perfect sense, and if you're an astute follower of things that have to do with Parsons, you'll remember that this was all presaged by the fact that he signed his new deal in a club. He also looks the most comfortable in the Run DMC apparel the trio donned for the video. Just sayin'.
As for their new title hopes? Currently, the Mavericks are sitting at 17-8, a great record that nevertheless places them in the bottom half of the insanely competitive Southwestern Division. But, then again, those teams don't have Run DMC covers up their sleeves — and there's little doubt that the Monta/Dirk pick and pop is one of the plays in the NBA today that no defense wants to deal with. As for the real Run DMC? They're all in on the cover.