Watch Tom Brady Tout His MVP Credentials in the Best Ad of the Season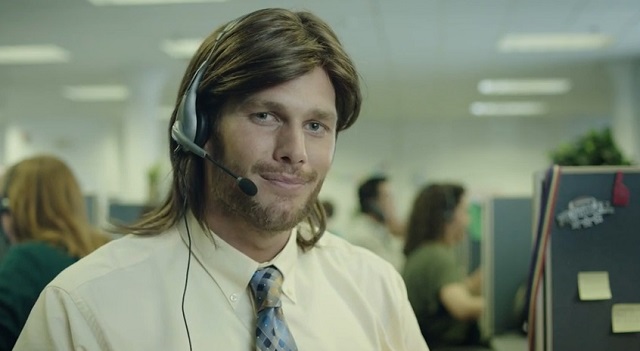 "Tom Brady, telemarketer." It's a phrase that you don't often hear or imagine, and it hardly rolls off the tongue in the same way that "Tom Brady, NFL quarterback," does. But in a new ad for Daily MVP, a fantasy sports service, Brady comes away as the hands-down winner in this season's iteration of the unofficial best commercial featuring an athlete competition. We're not even sure if it is a real competition, but we're going to pretend that it is if it isn't.
Posing as a telemarketer named Gary, Brady extolls the virtues of the fantasy sports site as a way to make his "cool job even cooler," and befuddles a coworker by winning their heads-up matchup before dancing off to the tune of Keith Mansfield's "Funky Fair," which you might recognize as the song sampled by DangerDoom in "Old School." There's also a coworker who checks out a picture of Brady's face under the header of Babe-raham Lincoln, just in case you're not aware that Brady is good looking, or who he is.
This ad wrests the crown from the Manning brothers — often paired up against New England's finest on the field — who made a strong showing with their own fantasy sports spot, "Fantasy Football Fantasy." But the Mannings make their mark on self-depreciation, which is only logical because they're dorky white dudes. Brady is capable of many things, but encapsulating a Midwestern "aw, shucks" attitude about himself isn't one of them. As for the advertisement itself? We've got it embedded on the next page. You can take 30 seconds to watch it. They'll be 30 seconds well spent.
Wasn't that glorious? For fun, we compiled a small list of other quarterbacks who might be able to pull off the telemarketer role in convincing fashion, because we're weird like that and these sort of commercials tend to embolden that strangeness. The results? Jay Cutler, the ghost of Tim Tebow, Andy Dalton, and Tony Romo. They feel telemarketer-esque to us. Where's Russell Wilson, you ask? He's down the hall, selling insurance with Eric Decker.
There's a high likelihood that the Broncos and the Patriots could meet in the playoffs at the end of this year. We're excited to see that, but we're almost more excited for the continuing tales of Gary the telemarketer.