Wayne Gretzky Tagged Along on Dustin Johnson and Paulina Gretzky's 1st Date
Paulina Gretzky has a lot to smile about. Despite recent controversy over Instagram posts of her celebrating her 32nd birthday sans mask, Gretzky enjoys a successful modeling career. She's also engaged to Dustin Johnson, the No. 1 golfer in the world. Johnson and Gretzky have been together since 2013. Despite their long engagement, all signs point toward a happy couple. And this pair came together in part because of Paulina's famous parents, including Wayne Gretzky, her famous dad.
Bringing up Paulina Gretzky
The daughter of hockey legend Gretzky and actress Janet Jones, Paulina is the eldest of five children. Along with her siblings, Ty Robert, Trevor Douglas, Tristan Wayne, and Emma Marie, she was born and raised in LA, where her parents still live. Paulina attended the Nightingale-Bamford School in New York. But after graduating, she nixed college to pursue an entertainment career.
Throughout her high school years, Paulina had opportunities to sing in public. Notably, in 2003, the 14-year-old sang Sarah McLachlan's "I Will Remember You" at Edmonton's Heritage Classic Weekend in front of 57,000 people. She also took piano, jazz, and singing lessons, which nurtured her desire to sing, act, and model.
Since graduating, Paulina has graced the covers of many magazines and appeared in several films. She even released a single featured in an episode of the MTV reality show, Laguna Beach: The Real Orange County.
Paulina meets Dustin Johnson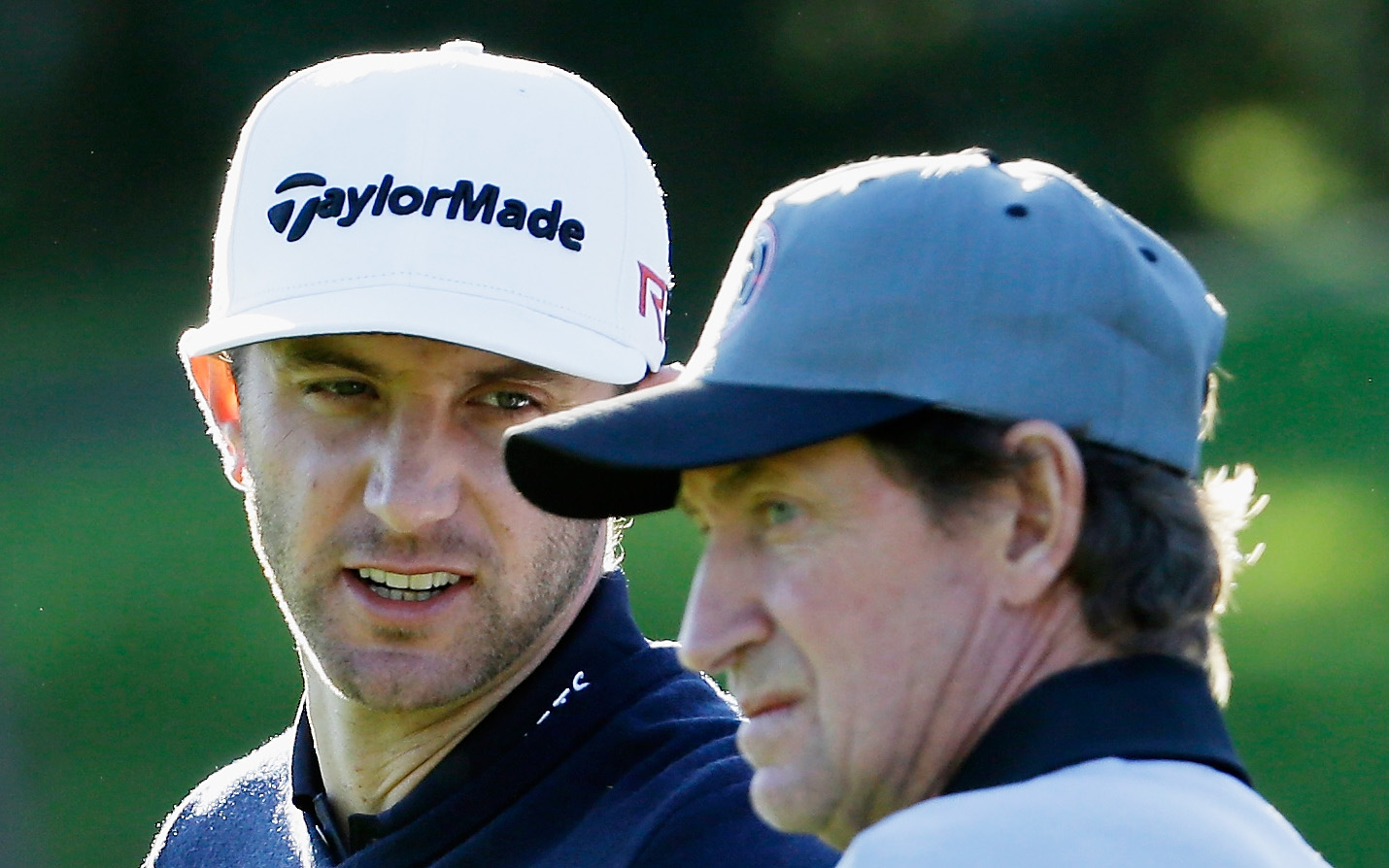 While her career began to blossom, Johnson was enjoying a meteoric rise. By the end of 2009, two years after his pro golf debut, reports Golf.com, he'd already won two PGA Championships. As he competed at the 2009 Chevron World Challenge, he found himself playing a round with Jones. Paulina's mother began to play matchmaker. She gushed about her daughter and invited him over to their house for dinner.
Though skeptical, Paulina went to dinner and found herself attracted to whom she described to Golf Digest as "this really cute guy." They exchanged numbers. But it wasn't until 2012 that they first began dating. (When they first met, they were each in relationships with other people.) In fact, Wayne himself tagged along on their first date.
First dates can be nerve-wracking enough. Imagine your dad, who happens to be a national hero in Canada, joining you for dinner. Sparks might not have flown. But Paulina did ask her father to leave after dinner. Both Dustin and Paulina got to know each other better then. They followed that first date with another, then many others over the next few months. As reported by ESPN, on August 18, 2013, they got engaged.
Inside the couple's long engagement
Now, it's been a long time since she's said, "I do." But they've already started building a life together. The two welcomed Tatum Gretzky Johnson into the world in 2015, followed by River Jones Johnson two years later. They raise their sons in an impressive $3.35 million, 4,500 square foot house in North Palm Beach.
Both have cited their busy schedules as the primary reason for the wedding delay. But this might not be the case. In 2014, the New York Post and other publications reported that Wayne Gretzky demanded that Dustin end his penchant for partying before marrying his daughter. And 2018 saw pervasive rumors of a break-up and an alleged affair between Johnson and socialite Yassie Safai — rumors which both Safai and Johnson formally denied. 
But the couple is still going strong, and the engagement is still on. They still speak lovingly of each other in interviews, and Paulina's Instagram continues to be peppered with couples shots. And Gretzky and Johnson have a close relationship, with Gretzky having provided Johnson coaching advice for several years.
Though Paulina Gretzky and Dustin Johnson have not yet set a wedding date, Johnson has thought at least one part of the ceremony through. In a 2016 interview with USA Today, Johnson made clear that he's not paying for their wedding, despite his own sizable net worth (estimated at around $50 million). The Great One, he insists, will be fitting the bill.
You might wonder what Gretzky and Jones have to say about that. After all, if it wasn't for Paulina's parents, Dustin and Paulina may never have met in the first place.