We Can Thank Larry Bird and Magic Johnson's 1979 Finals Clash for March Madness
There may not be a more famous rivalry in the history of basketball than Magic Johnson and Larry Bird. The two battled throughout the '80s in the NBA. But the rivalry dates back to the last college basketball game they played. This matchup, the 1979 NCAA championship, not only defined both players' careers, but it still defines college basketball over 40 years later.
What made Magic Johnson vs. Larry Bird exciting?
March Madness has roots dating back to the 1930s, but as far as the brand that basketball fans know, the 1979 Championship game might be the defining moment. Johnson-versus-Bird had many factors about its intrigue. It was city-versus-country, Michigan-versus-Indiana, black player-versus-white player to name a few. 
This racial dynamic, The Ringer points out, was an unignorable aspect of the rivalry, too. The NBA was becoming increasingly black. Many saw Bird as the great white hope for basketball. It is, unfortunately, one of the guiding forces behind the famous rivalry. Even front offices spoke about the league's desire for a white superstar. 
The game took on a meaning past basketball, racially and otherwise. Over the next decade, Bird-versus-Johnson would be the go-to analogy. None of it could have happened without the 1979 NCAA Finals, and that is why it lingers after 40 years. 
How big was the 1979 NCAA Finals?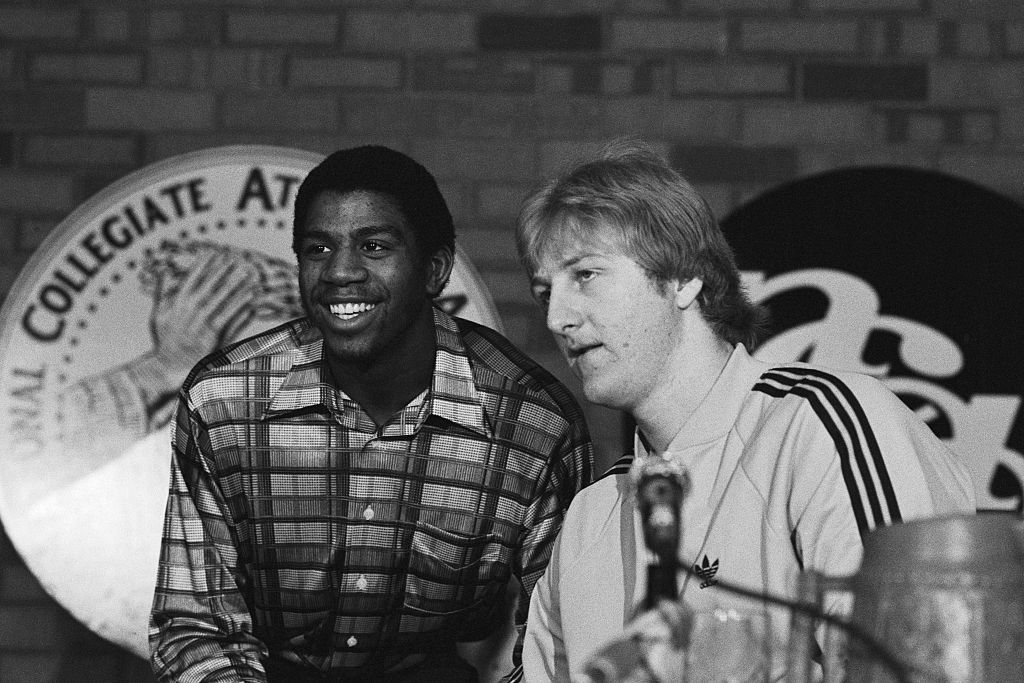 While the NBA did not yet know exactly how far Johnson-vs.-Bird would stretch into the '80s, they did know two potential superstars were preparing for battle. In a world before Twitter, nonstop sports news, and the ease of access that comes with modern sports, the showdown was a big deal. 
Off the court, Bird and Johnson were good friends who spoke cordially to one another. On it, they were out for blood and would stop at nothing to make the other suffer on the basketball court. All of this intrigue came together in what is still one of the most intriguing games in history. 
The game drew a 24.1 rating when it was shown on NBC, a record that still stands 40 years later when more people have access to sports and television than ever. Once the tip-off happened, however, it was all basketball.
How was the game?
The matchup took place in Salt Lake City. Despite its legendary status, however, it did not go down in history based on the box score. Johnson dominated as he often did, scoring 24 points, grabbing seven rebounds, and throwing five assists to go along with a steal. On Indiana's side, Bird scored 19 points and grabbed 13 rebounds, although his five steals might have been the most impressive statistic of the night. 
Johnson's Michigan State team was too much to handle, however. After going up 37-28 at halftime, they never looked back. In the grand scope, the Bird-versus-Johnson rivalry shows a rare time when the initial hype of something lasted many years. Few rivalries between players stretch beyond college and into the NBA, but this did. 
Bird ended up with Boston and Johnson with the Lakers as both led legendary runs. They are two of the greatest players to ever pick up a basketball, and their skills are still studied to this day.
All of this was the perfect recipe for a legendary game that only grows more legendary as time passes. This, perhaps more so than any other moment in NCAA history, has helped define the intrigue that is promised every year in March. 
Follow more updates from Sportscasting on our Facebook page.