UFC Fans Just Saw the Most Grisly Ear Injury Since Mike Tyson vs. Evander Holyfield
Injuries are common in combat sports. Sometimes, though, the injuries are far more severe than usual. For example, one of the most infamous injuries in boxing happened when Mike Tyson bit Evander Holyfield's ear. That said, there was a far more gruesome ear injury in a recent UFC fight. Here's what happened. 
Max Griffin vs. Ramiz Brahimaj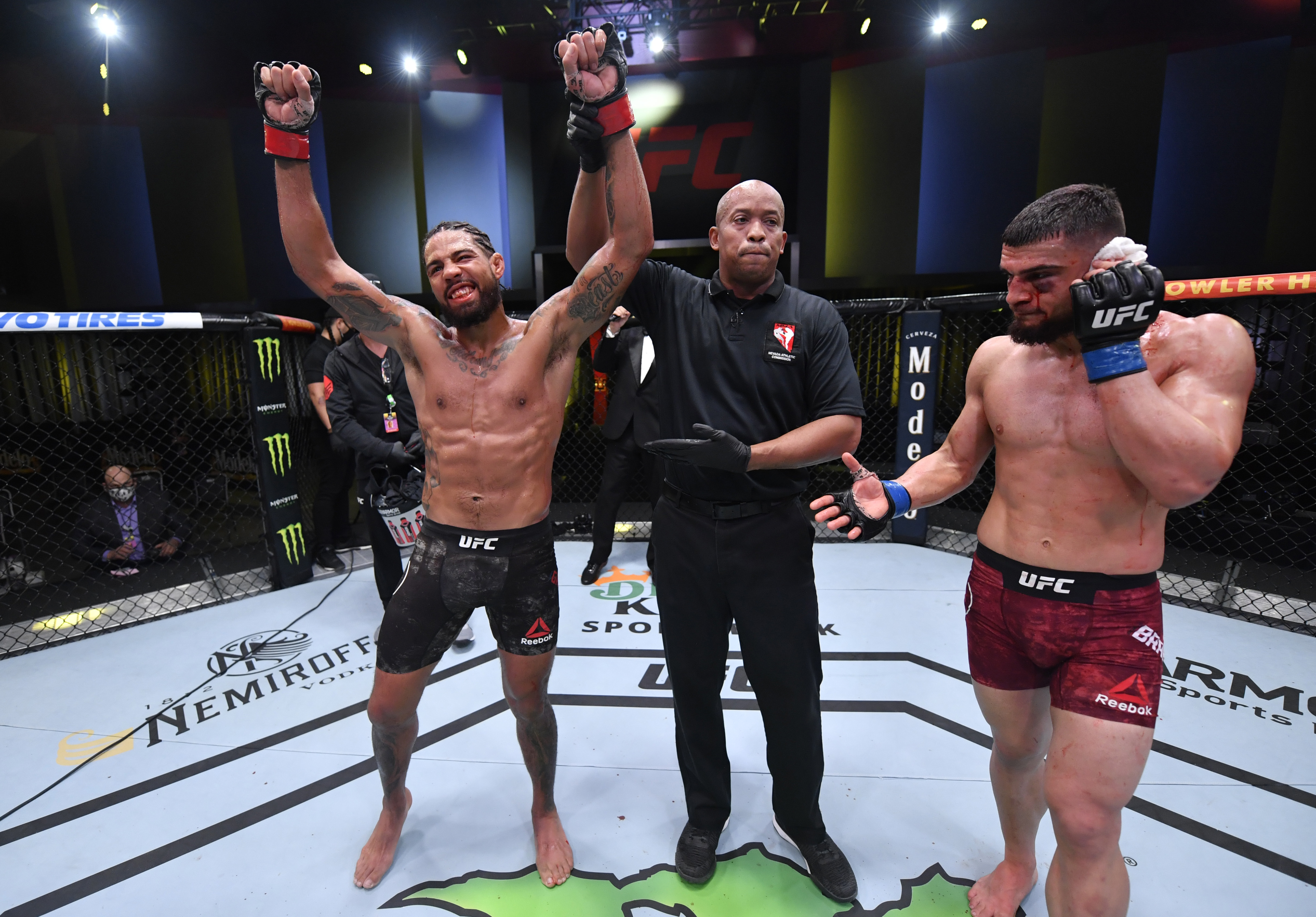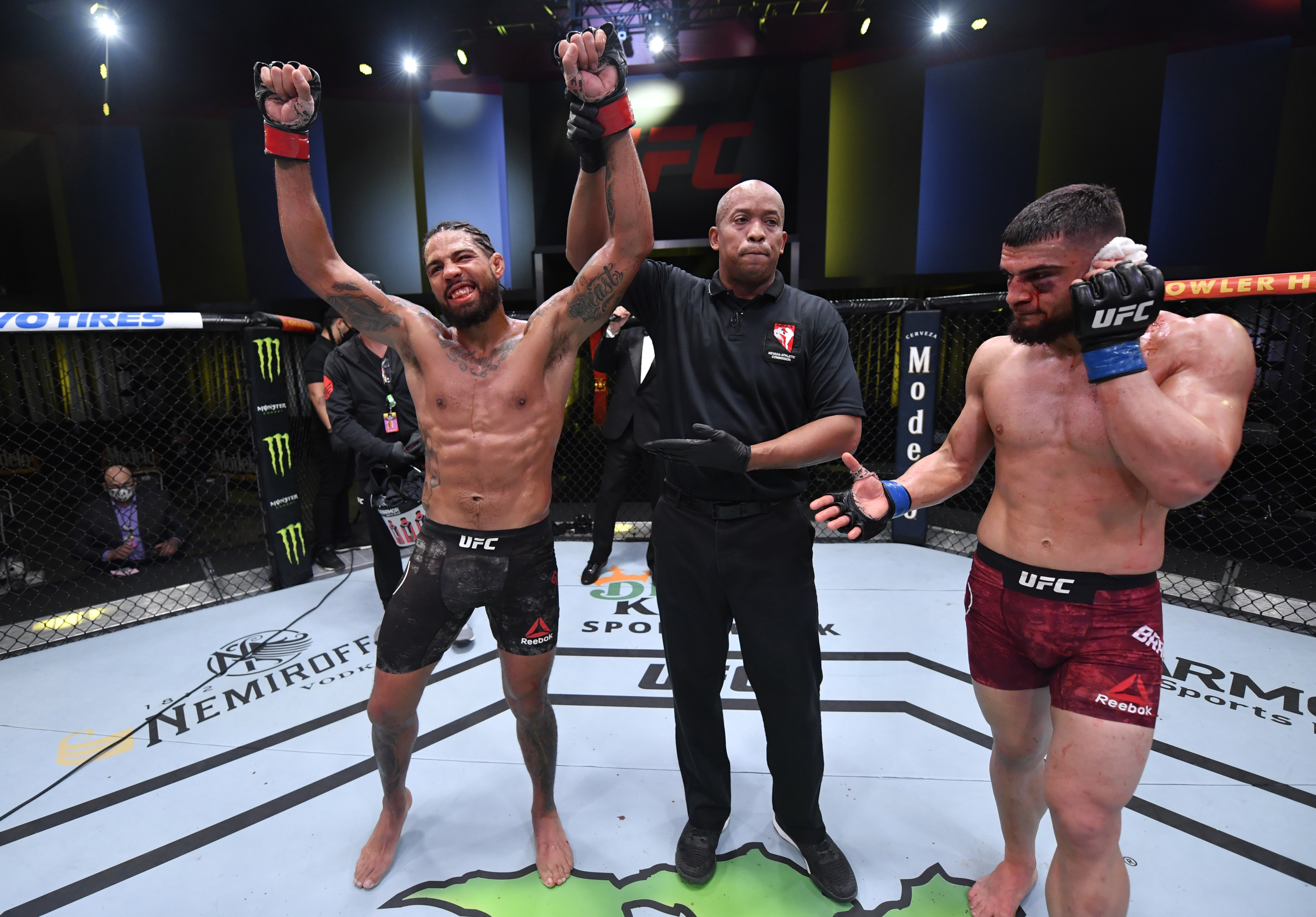 Before this fight, most UFC fans just wrote it off as a filler fight for the night. Max Griffin, who was 15-8 at the time, is a generally good fighter. He just couldn't seem to string together a streak of wins. His most notable win was against fan-favorite fighter, Mike Perry. But Griffin's also lost to many notable fighters, including Colby Covington and Alex Oliveira. 
As MMA Fighting reports, Griffin's opponent, Ramiz Brahimaj, was making his UFC debut after he got a few wins in the LFA, a feeder league for the UFC. Before this fight, Brahimaj had a record of 7-2. He was largely unremarkable since he was just making his UFC debut. If he could beat Griffin, then he could make a name for himself. Otherwise, this was not expected to be a spectacular fight. 
Brahimaj's ear injury at the hands of Griffin
Sometimes, when fighters make their UFC debut, they put on a show and finish their opponent quickly and in dominant fashion. That's not what happened this time around, and Griffin was able to largely show off his veteran prowess and dominate Brahimaj for the majority of the fight. Griffin seemed to beat Brahimaj everywhere, and it wasn't long until both men were bloodied. 
In the third and final around, after the two men clinched, Griffin managed to land a single powerful elbow on the side of Brahimaj's head. This shot did the trick and busted up his ear, almost splitting it in two. This isn't actually uncommon in MMA, since elbow strikes are known to cause cuts. Usually though, elbow strikes will cause cuts to someone's face, but in this fight, Griffin's elbow almost cut through Brahimaj's ear. 
After this elbow strike, the two remained clinched for a few more seconds. Brahimaj grabbed his ear as if he wanted to hold it together, and when the ref saw this, he waved the fight off. The ref declared Griffin the winner by doctor's stoppage, and this was probably the right decision. After the fight was over, Griffin walked away from Brahimaj to celebrate, and when he saw his ear, he even loudly shouted "Oh my God!"
Comparing this fight to Mike Tyson vs. Evander Holyfield
Fortunately for everyone involved however, things are probably going to end on a better note than they did when Tyson bit Holyfield's ear. It's obviously illegal to bite somebody in boxing, so that was why Tyson was punished for what he did to Holyfield during their infamous bout. That said, it's not illegal in the UFC to elbow somebody in the face, so Griffin will probably not get punished. 
On top of that, due to a variety of circumstances, while doctors were able to repair most of Holyfield's ear, it's still missing a portion after Tyson bit it. Brahimaj is luckier in this regard since his ear seems to be healing well. That being said, his fight against Griffin was not that long ago, so complications may arise in the future. 
However, in Brahimaj's most recent posts on Instagram, his ear seems to have been stitched back together and he seems to be in good spirits. Depending on how long it takes him to recover, it may be awhile before he steps back into the octagon.