Well Played, Bro: Richard Sherman First to Congratulate Tom Brady
Richard Sherman is as talented as they come on the football field. He is long and strong and physical. He'll play you tight because he trusts in his skill. And he's always one to come up with a big play. However, no matter how skilled Sherman is at covering wide receivers, he may be even more talented at talking.
The Seattle Seahawks cornerback loves to talk. Whether it's providing a great post-game soundbite, or giving the media a juicy story to run with, Sherman is extremely opinionated, and not afraid to express himself. It's who he is, and he's not going to change for anyone. And that's what makes him Richard Sherman. And it's also what makes him so fascinating.
The thing about Sherman is that his chatter on and off the field seems to stem from a constant need for acknowledgment. Lest you forget that he was an overlooked prospect coming out of Stanford, Sherman will always be there to remind you of his presence. That's what it's like to not only be great, but to consistently play with a massive chip on your shoulder. You're always out there to prove something. To prove your worth; prove your ability; prove your greatness. And Sherman is all of those. But, in last night's 28-24 Super Bowl loss to the New England Patriots, Sherman proved something else in defeat. He proved that he is a class act.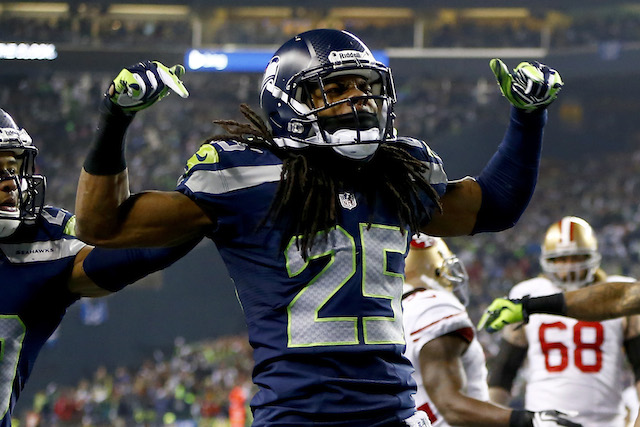 The last time that Richard Sherman faced off against Tom Brady, their final exchange made headlines. Brady was clearly not happy after his Patriots lost to the Seahawks by a point, and his facial expression showed it. And of course, Sherman being Sherman, went up to the future Hall of Famer, and infamously stated, "You Mad Bro?" That's one way to throw gasoline on the fire. That encounter was just another storyline to discuss going into this year's heavyweight bout between these two super teams. Only, this time, the result of the game was different. And, more importantly, so was how Sherman handled that moment.
Richard Sherman, for all brash talk and cocky behavior, respects the game. And he respects greatness. When the clock reached zero, and the Patriots had taken the title back from the Seahawks, Richard Sherman was one of the first people to congratulate Tom Brady. Whether you like him or not, that was a class move by Richard Sherman, who proved that he's also capable of giving an opponent their due. It was a great moment for a sport that's needed one.
There is no doubt that Richard Sherman is going to keep talking, both on and off the football field. It's a style that has served him well in both environments. It's a persona that makes him one of the most compelling athletes on the planet. He's very good at what he does, and he lets you know it. His team is extremely skilled, and he's not afraid to come to their defense. But, he's also man enough to understand that if you want respect, you have to be willing to show it. And last night, Richard Sherman's actions spoke louder than his words.