Wendell Scott's Historic NASCAR Career Came To a Tragic End at Talladega Superspeedway in 1973
Wendell Scott made NASCAR history by becoming the first full-time Black driver to compete at the league's highest level in 1961. The racing legend would appear in countless races and have a lot of success despite facing racism and discrimination.
Unfortunately, Scott's historic career didn't end on a high note, as he was forced to walk away from racing because of a crash he was involved in. His infamous wreck in 1973 is considered one of the worst in NASCAR history, and it almost ended Scott's life.
Wendell Scott raced his way into NASCAR history
RELATED: NASCAR Legend Wendell Scott Sharpened His Driving Skills By Operating His Illegal Business
Before he made it to NASCAR, Wendell Scott started his racing career in his hometown of Danville, Virginia in 1947. The racing legend found a lot of success in the Dixie Circuit, winning 128 races in their hobby, amateur, and modified series. He claimed the Virginia Sportsman Title in 1959 after winning 22 races that year. Despite his phenomenal talents, he wasn't permitted to race at NASCAR events because he a Black driver, according to BBC.com.
Eventually, Scott received his NASCAR license in 1961, joining the Grand National division. Scott appeared in 495 races from 1961-73, competing against racing legends like Richard Petty, Joe Weatherly, Ned Jarrett, and Fireball Roberts. He placed in the top-10 147 times during his 13-year career.
In 1964 at Jacksonville Speedway, Wendell Scott won the Jacksonville 500. However, league officials declared second-place driver Buck Baker as the winner of the race. Many critics and Scott himself believed that awarding Baker the win was a way for NASCAR to avoid celebrating a Black man, according to The African American Registry. After protesting the results hours after the event, racing officials finally gave Scott the victory.
Wendell Scott's NASCAR career was historic on many fronts. He was the first Black full-time driver and is the only one to win an event. Although he had a lot of success, Scott's career ended under tragic circumstances.
Scott almost died in the Talladega Superspeedway crash of 1973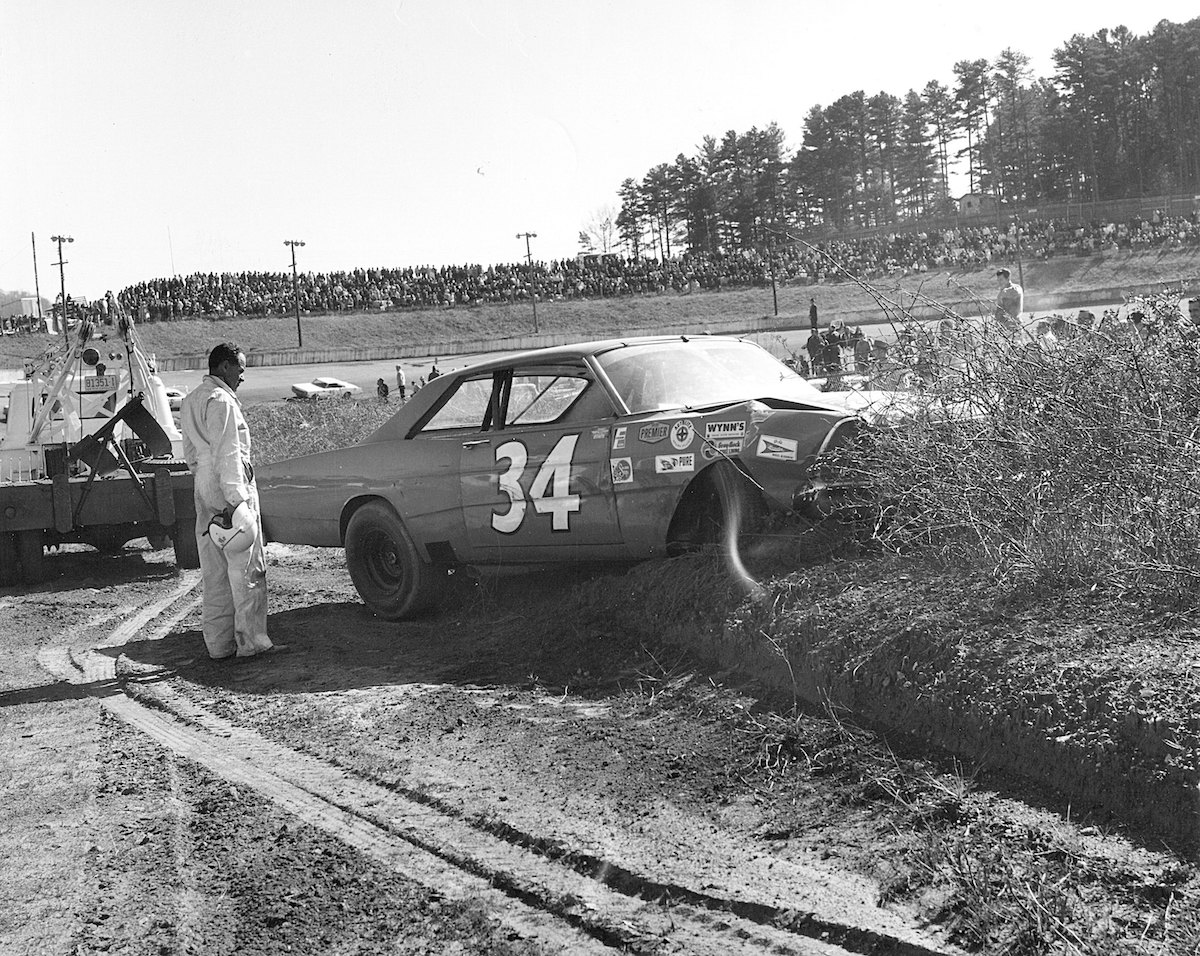 RELATED: Wendell Scott Was a Trigger Pull Away From Ruining His Historic NASCAR Career
1973 was Wendell Scott's last season as a full-time NASCAR driver, and it wasn't because he wanted to retire.
The racing legend had some mediocre seasons prior to 1973 and was looking for a new car to help him gain an edge on the competition. He bought a 1971 Mercury for the Winston 500 at Talladega Superspeedway on May 5, 1973, hoping the new car would help him place higher in races.
After receiving some help from close friend Glen Wood and others, Scott's Mercury was ready for the Winston 500. He didn't test out the car until race day, but the racing legend felt a noticeable difference in the car's speed during the event.
"That thing felt like somebody shot me out of a slingshot," Scott said in an interview with Inside NASCAR in 1985.
However, he didn't race in his new Mercury for long. On lap 10, racer Ramo Stott's car blew its engine. Scott was right behind him when it happened, but he pulled off toward the infield grass to safety. Unfortunately, another vehicle hit Scott's, and he was pushed into oncoming traffic. His driver's side door was smashed, leaving the racing legend with some severe injuries.
Scott was hospitalized for 32 days after the crash. He suffered multiple fractures in his leg, along with more injuries to his knees, pelvis, and ribs. The infamous 1973 crash earned the title "The Big One" because of the 21 cars wrecked and the 19 others that couldn't finish the race. The consequences of that historic crash cost Scott his NASCAR career.
Wendell Scott was forced to retire from NASCAR after the 1973 crash
RELATED: Wendell Scott's Historic NASCAR Career Will Finally Get Its Deserved Time in the Limelight
Despite almost losing his life in that 1973 crash at Talladega Superspeedway, Wendell Scott made a full recovery from his injuries. He made an appearance at Talladega three months later to watch a race and spoke about the horrific crash to the people in attendance.
Scott's 1971 Mercury he used for the Winston 500 was towed back to his shop in Danville, Virginia. Even though the car was wrecked, he still had to make payments on it. It took him until 1982 to finish paying off that Mercury, according to Racing-Reference.
Scott participated in one more race using someone else's car in 1973, but he couldn't race after that. He would often buy cars to modify himself, which caused him to accumulate a lot of debt. After his crash, he couldn't afford to own his car and had to retire from NASCAR. Scott would stay close to racing until his death in 1990 at the age of 69.
Wendell Scott is a NASCAR pioneer, paving the way for Black drivers to enter the racing world. Scott's determination and perseverance are what made his legendary racing career special.
Stats courtesy of WinstonCupMuseum.com