Wentz vs. Dak: A History of Top Rookie QBs Going Head-to-Head
Even the most passionate Philadelphia Eagles fan knew this team would face adversity sooner or later. After two consecutive losses, following a 3–0 start to the 2016 NFL season (the Birds are now 4-2 on the year), that point has officially arrived. However, the good news is there's no reason to panic. In fact, if anything, the Philly faithful should feel reasonably optimistic. They have their franchise quarterback, and he just so happens to be a rookie.
Although Philadelphia initially planned to sit Carson Wentz for the duration of his freshman season, the decision to ship starting quarterback Sam Bradford off to Minnesota pushed the former North Dakota State signal caller to the head of the Eagles' depth chart. But it's not as if anyone is complaining. Wentz has completed 63.8% of his passes for 1,324 yards, eight touchdowns, and three interception; he has a 92.7 passer rating through the first seven weeks of the season. But what's even more fascinating is that he, to the surprise of many, he isn't the only rookie quarterback getting things done in the NFC East.
Following a preseason injury to starting quarterback Tony Romo (shocker), the Dallas Cowboys decided to hand the reins over to their fourth-round pick (No. 135 overall) out of Mississippi State, Dak Prescott. All he's done since getting the job is deliver — emphatically. Prescott has thrown seven touchdowns and just one interception. The former Bulldog also has a higher passer rating at 103.9.
To make matters even more exciting, we get to see what happens when these two rookies face off head-to-head. That's right, according to NFL Insider Ian Rapoport, Prescott will remain the starter when the Cowboys take on the Eagles in Week 8. Wentz versus Dak; the first showdown. You won't want to miss this. In honor of what we hope will be the first of many battles between these young superstars, we take a look at other matchups between highly-touted rookie QBs who happened to square off during their freshman seasons. As it were, they did not disappoint. Take a look and see for yourself.
1. Battle of the Tigers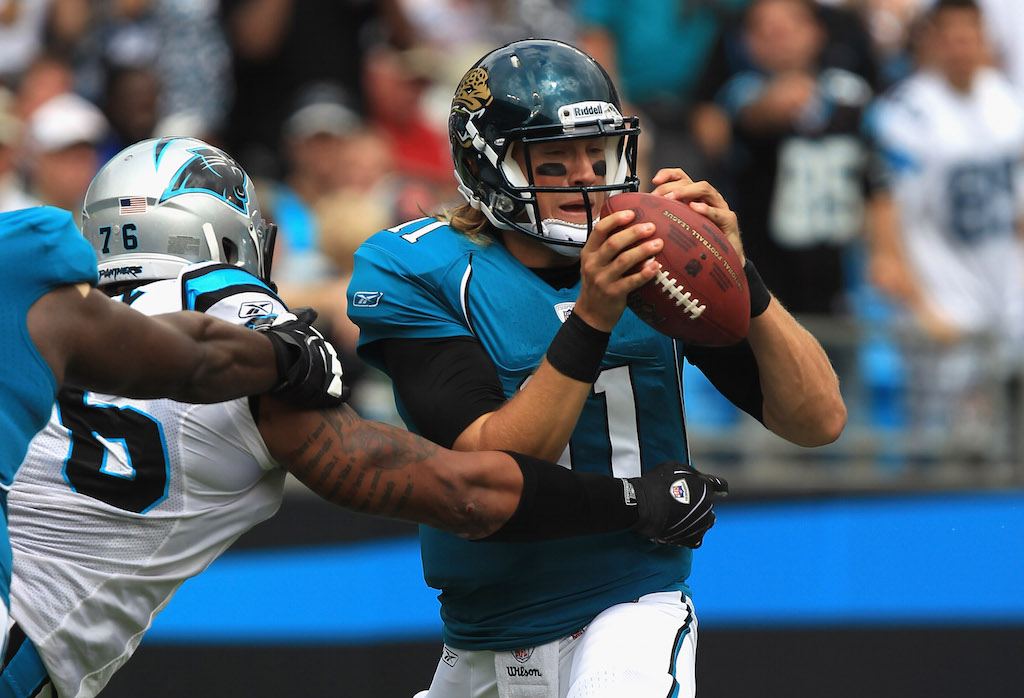 Considered by many to be the cream of the rookie quarterback crop in 2011, it's fitting that Cam Newton (No. 1 overall pick) and Blaine Gabbert (No. 10) faced off early in their NFL careers. Week 3 of the 2011 season, to be exact. In what seems like a microcosm of how their professional lives have panned out so far, Newton and the Panthers won this head-to-head showdown, 16-10.
On this particular afternoon, the Heisman Trophy-winner out of Auburn completed 18 of 34 passes for 158 yards, one touchdown, and zero picks — and he wasn't sacked once. On the flip side, Gabbert finished 12 of 21, threw for 139 yards, one touchdown, and one interception, and was sacked twice that afternoon. If you ask us, the above picture pretty much sums up the initial encounter.
2. Battle of the playoff teams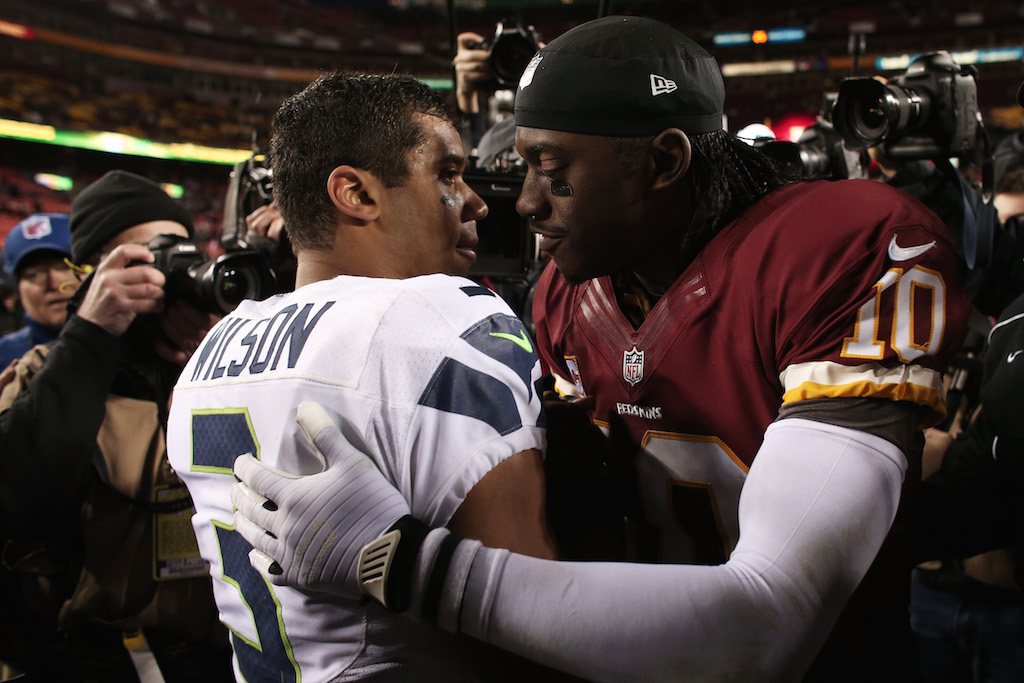 Coming out of college, Robert Griffin III had the upper hand over Russell Wilson. The Washington Redskins, believing they had a franchise quarterback on their hands, willingly traded away a boatload of picks for the right to move up and select the Baylor standout with the No. 2 pick. Meanwhile, Wilson waited until pick No. 75 to hear his named called. It's funny how quickly things can change.
The Redskins hosted the Seahawks in the wild-card round that season, yet the visiting team came away with the 24-14 victory. In his postseason debut, Wilson threw for 187 yards and a touchdown, finishing with a quarterback rating of 92.9. Griffin, on the other hand, threw for 84 yards (on 10 for 19 passing), two touchdowns, and one interception, and wound up re-injuring his right knee. From that moment on, the career of one of these quarterbacks has hit the highest of highs. The other's career, unfortunately, went the exact opposite. We wonder if the Redskins have any regrets about the 2012 draft?
3. Battle of the Heisman winners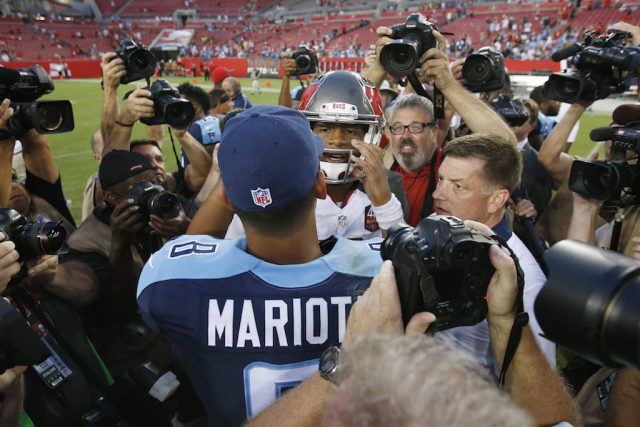 Football fans got a rare treat when the Buccaneers and the Titans met in Week 1 of the 2015 season. Both teams started a rookie quarterback. They also rolled out the No. 1 (Jameis Winston, Tampa Bay) and No. 2 (Marcus Mariota, Tennessee) picks in the 2015 draft, as well as the two most recent Heisman Trophy winners. Many billed this matchup as the starting point for two individuals' careers that would be intertwined for however long they suited up on Sundays. It was a fun and memorable showdown — unless, of course, you happen to be a Bucs fan.
Although Winston threw 210 yards and two touchdowns on the afternoon, he also threw two costly interceptions. Mariota, on the other hand, performed practically flawlessly. In a 42-14 Titans victory, the former Oregon Duck completed 13 of 15 passes, threw for 209 yards and four touchdowns, and finished with a perfect 158.3 passer rating. It's safe to say that on this particular afternoon, No. 2 was No. 1.
Statistics courtesy of Pro-Football-Reference, NFL.com, and WalterFootball.com.