Western Conference Finals: How the Warriors Can Force a Game 7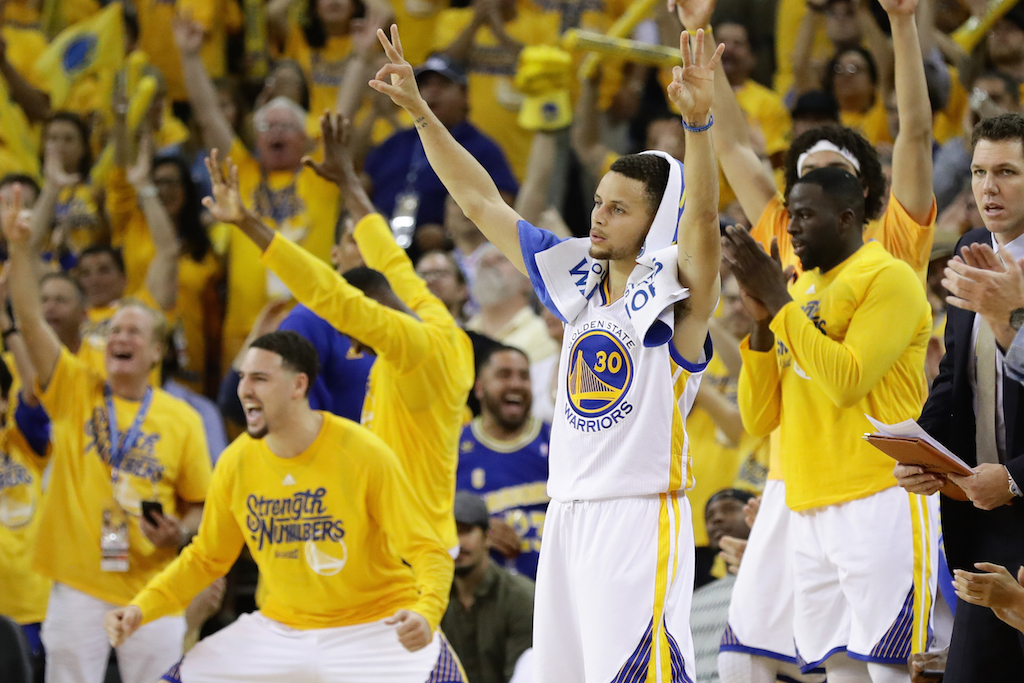 Just when it was starting to look like the Oklahoma City Thunder were on the verge of adding their name to a select group of teams who pulled off the greatest upsets in conference finals history, the defending champion Golden State Warriors buckled down, held strong on their home floor, and decided they weren't quite ready to relinquish their place atop the NBA mountain. With a 120-11 victory in Game 5 of these Western Conference Finals, the Dubs staved off elimination and kept their dreams of winning back-t0-back titles alive.
Some may view this win as the start of an epic comeback, but that's not how the Warriors see it. In the eyes of Stephen Curry, who dropped 31 points to go along with seven rebounds, six assists, and five steals, this is just what the Dubs were expected to do.
"We're supposed to win at home," Curry said. "We know what we still have to do going forward. … We knew if we didn't win we were going home. There's no other motivation you need."
The Chef speaks the truth, and everyone in the Golden State locker room knows it. Heading back to Oklahoma City for Game 6, the Warriors still trail the Thunder three games to two, and if they aren't able to play their best ball at Chesapeake Bay Arena, then this victory in Game 5 on Thursday night will have been for naught. Fortunately, however, if there's any team in the league capable of pushing this series to seven games, it's Golden State, who already know what it takes to topple the Thunder.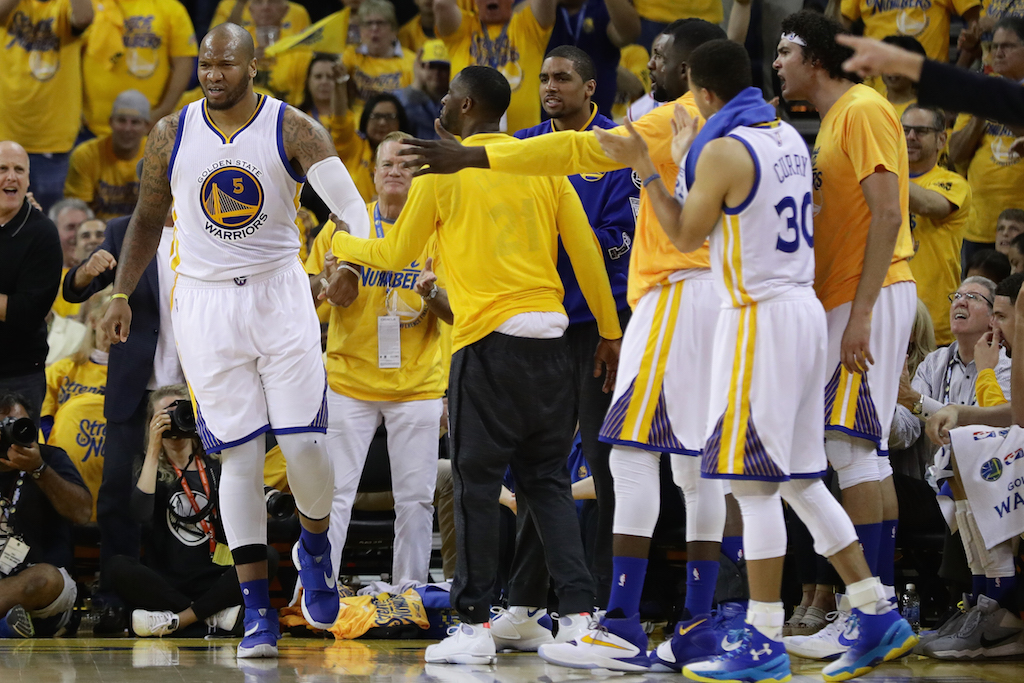 As we've seen throughout the 2015–16 season, Golden State is most lethal when the whole team is involved on the offensive end of the floor. While the Dubs' performance in Game 5 was hardly the best representation of this, we did see glimpses of the style, thanks to a total of 25 team assists, that helped them set a new record for regular-season wins (73). The way we see it, much of this can be chalked up to something that's been missing from this team's arsenal for most of the series: a bench presence.
With Marreese Speights leading the way (14 points on four of seven shooting), the Dubs bench provided a much-needed spark, which resulted in the Warriors reserves outscoring those on OKC 30-13. This is the point in the season when teams need all hands on deck. If Golden State is going to stand any chance of going on the road and forcing a Game 7, then the bench needs to continue to step up and provide Curry, Klay Thompson, and the rest of the Warriors' starting five some support.
Speaking of "support," the Warriors also benefited from the surprising contribution of Andrew Bogut. Through five games, the Aussie big man is only playing 17.2 minutes per game and averaging 5.4 points and 6.2 rebounds, yet during Game 5 he came to life and put together a 15-point, 14-rebound performance. Considering the Warriors have spent much of this series getting out-hustled and out-rebounded, if Bogut can repeat this sort of showing in Game 6 on Saturday, Golden State may stand a chance at bringing the series back to Oracle Arena.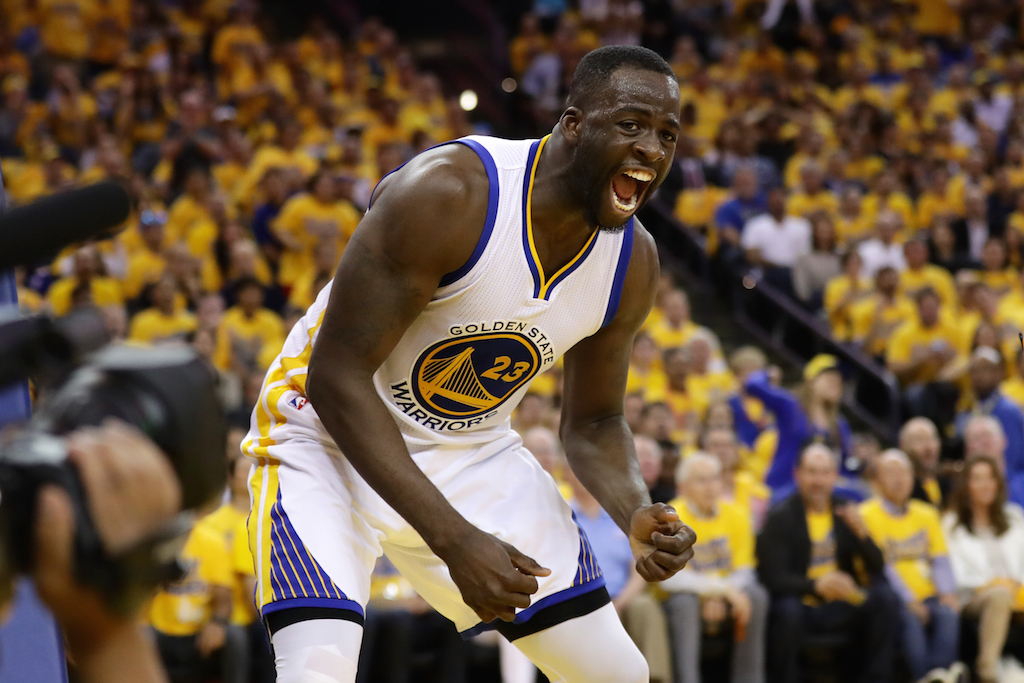 To the surprise of many, the Oklahoma City Thunder have come into the Western Conference Finals and taken it to the reigning NBA champs. They've kept them out of the paint, prevented them from getting comfortable offensively, and overwhelmed them with their length. On top of that, while the Warriors are afraid to admit it, Chef Curry's banged up knee has limited his burst and lift, slowed his first step, and hindered the explosive play that we've become used to seeing from this team. Yet, here's the thing, Golden State hasn't just absorbed this hit, it's made the necessary adjustments, allowing it to live to fight another day.
We're not used to seeing this Warriors team with their backs against the wall, yet that is the position they currently find themselves in. If they lose Saturday, then that's all she wrote. If they pull off the W, then to Game 7 we go. To survive Game 6 in Oklahoma City, it's going to take resiliency, confidence, trust, and a whole lot of heart. The Warriors know full well what they have to do to topple the Thunder. All that's left to do now is execute.
Statistics courtesy of Basketball-Reference.com and ESPN.go.com.