Washington Football Team QB Taylor Heinicke Cashed Out on $125,000 After Outplaying Tom Brady: 'These Are the Days You Dream Of as a Kid'
The Washington Football Team absolutely stunned the Tampa Bay Buccaneers in an upset victory in Week 10. Taylor Heinicke grew up watching Tom Brady shred defenses for the New England Patriots, but he outplayed the GOAT this time around.
Not only did Heinicke help the Football Team earn its third win of the 2021 NFL season, but he also earned himself some extra money. The 28-year-old secured a bag by taking down TB12.
Taylor Heinicke out-dueled Tom Brady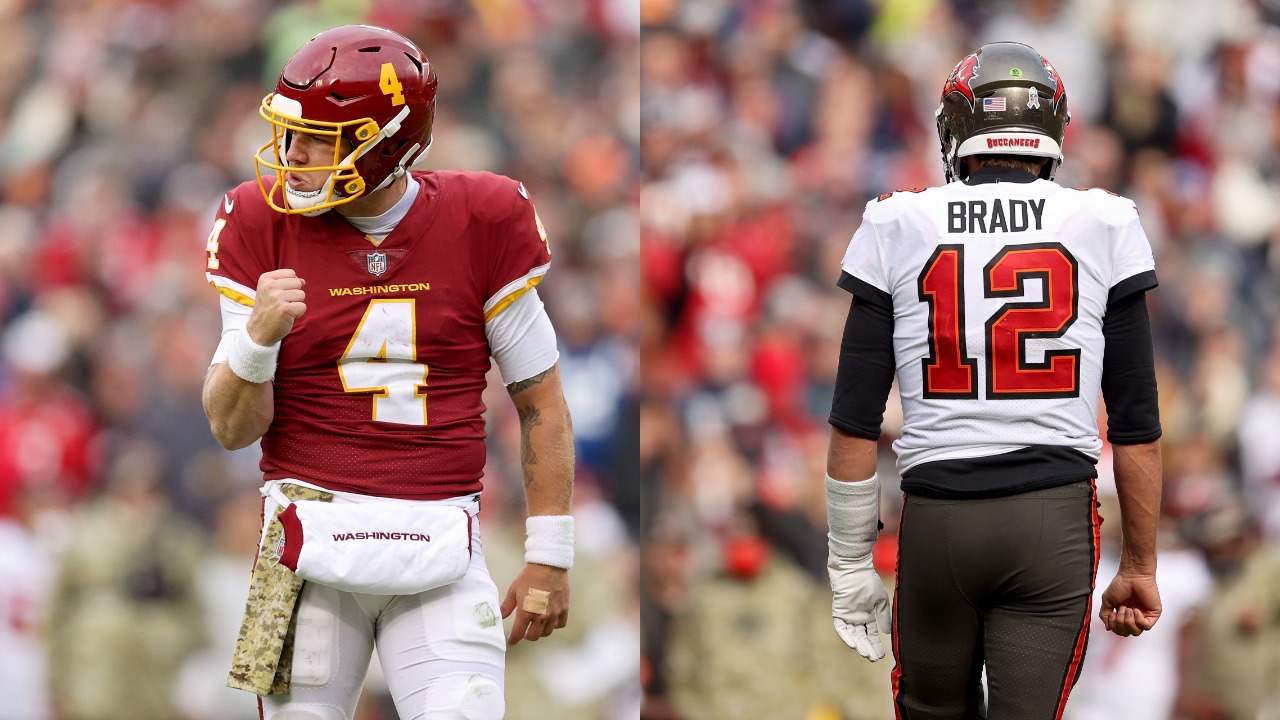 This game was one to forget for Tom Brady and the Bucs. The 14-time Pro Bowler did not have his best showing against Washington.
Brady completed 23 of 34 pass attempts for 220 yards, two touchdowns, and two interceptions. Even though Tampa Bay was missing Antonio Brown and Rob Gronkowski, Brady and company still had enough talent on the football field to get the job done.
WFT simply outplayed them. Taylor Heinicke played one of his best games of the season despite not posting an eye-popping statistical day.
The Old Dominion product passed for 256 yards, one touchdown, and zero interceptions while completing more than 81% of his passes. The Buccaneers' defense applied pressure on Heinicke, sacking him five times. However, the Washington signal-caller kept getting up and making plays.
Defeating Tom Brady was a special moment for Taylor Heinicke. "These are the games you dream of as a kid," he said per NBC Sports Washington.
The WFT quarterback earned a nice incentive
Taylor Heinicke winning against Tom Brady was a dream come true for the Atlanta, Georgia native. He added how motivated he was to bounce back after the 2020 playoff loss to the Tampa Bay Buccaneers.
"I'm about to get emotional here," he said after the game. "It's a moment I dreamt of last year when I wasn't playing. I told myself that if I get another chance to play, I'm going to get out there and do something great. And it's these games that you want."
Heinicke's performance led to a win on the scoreboard and in his pockets.
According to ESPN's Field Yates, Heinicke's contract includes a pretty cool incentive. The Football Team quarterback earns an additional $125,000 for playing at least 60% of snaps in a win.
Heinicke is under contract with Washington through 2022. His base salary for the 2021 season is $1 million and $1.5 million for 2022. After the 2022 season, he'll become an unrestricted free agent.
The fourth-year quarterback will need more games like this one to prove he can be the starter moving forward.
Washington still needs to figure out the future at QB
The Washington Football Team has been on a long, drawn-out search for its quarterback of the future. The fans have been waiting for a signal-caller they can root for. Well, they finally have that in Taylor Heinicke.
Even though he just notched the biggest win of his career against Tom Brady, the former ODU standout's performance has been pretty inconsistent.
Heinicke has thrown for 2,321 yards, 13 touchdowns, and nine interceptions in 10 games with the Football Team. He took over as the starter in 2021 after Ryan Fitzpatrick went down with a hip injury.
Although WFT has underachieved, Ron Rivera's team has shown some fight at times with Heinicke under center, including the win over Tampa Bay.
It wouldn't be shocking at all to see the Washington front office target a quarterback early in the 2022 NFL Draft. They should do their homework, though, to avoid another Dwayne Haskins Jr. situation.
Taylor Heinicke still has a lot left to prove, but at least he'll never forget the time he beat Tom Brady.
All stats courtesy of Pro Football Reference. Contract figures courtesy of Spotrac.