What Are the Chances LeBron James Retires With the Lakers?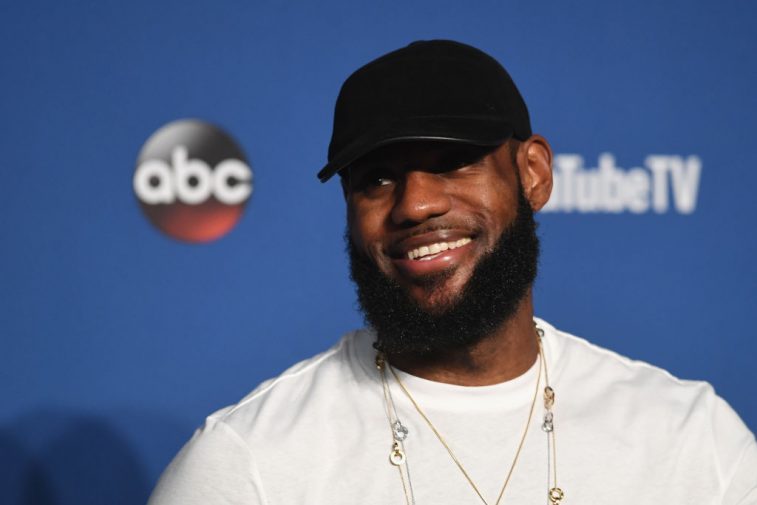 LeBron James is taking his talents to Hollywood.
For the second time in his career, the NBA superstar has left the Cleveland Cavaliers in free agency. This time, he signed a four-year, $154 million contract with the Los Angeles Lakers and many are wondering if the storied franchise will be his last stop.
His management agency, Klutch Sports Group, announced the deal on July 1, in a statement that read, "LeBron James, four-time NBA MVP, three-time NBA Finals MVP, fourteen-time NBA All-Star, and two-time Olympic Gold Medalist has agreed to a four-year, $154 million contract with the Los Angeles Lakers."
After the news broke, the hashtag LABron began trending on Twitter. James later posted a message to Cavs fans writing, "Thank you Northeast Ohio for an incredible 4 seasons. This will always be home."
James actually lives in L.A. in the offseason so there was always a strong possibility that he would sign a deal with the Lakers this time around. Other teams that were said to be courting the King included the Houston Rockets, and the Philadelphia 76ers, and of course, the Cavaliers would have liked him to stay.
Cavs owner Dan Gilbert issued a statement thanking James for his contributions in Cleveland and bringing the franchise its first NBA title. It was the quite a change from his parting words for the athlete after he left the team to join the Miami Heat in 2010.
"Words do not express the meaning and the feeling this accomplishment brought to the people of Northeast Ohio," Gilbert said. "None of this would have happened if LeBron James did not agree to come back home and lead the Cavaliers to the promised land.
He continued, "LeBron is a family man, first. We wish his kids, his wife, Savannah, his mother, Gloria, and LeBron himself nothing but the best in the years and decades ahead … LeBron, you came home and delivered the ultimate goal. Nothing but appreciation and gratitude for everything you put into every moment you spent in a Cavaliers uniform. We look forward to the retirement of the famous #23 Cavs jersey one day down the line."
As for his new team's reaction, current Lakers and the greats who played there before James have welcomed him with open arms.
Y'all really thought he was gonna pass up the greatest city in the world… #TheKingIsHere ?

— Lonzo Ball (@ZO2_) July 2, 2018
LAKESHOWWWW. @KingJames let's go my brotha?? let's rock

— kuz (@kylekuzma) July 2, 2018
Welcome to the family @KingJames #lakers4life #striveforgreatness @JeanieBuss @MagicJohnson and RP well done!!! ??

— Kobe Bryant (@kobebryant) July 2, 2018
I am sure the Lakernation is rejoicing The acquisition of LeBron James means that the Lakers are just a smidgen away from being real contenders. Congrats to @MagicJohnson & @LALakersLive et al. Cross your fingers for news from San Antonio.

— Kareem Abdul-Jabbar (@kaj33) July 2, 2018
So will L.A. be James' final stop before he hangs it up? According to Robert Littal of Black Sports Online, the answer is yes.
"LeBron is in it for the long haul. I've been told specifically that he wants to end his career in LA with a championship," Littal said. "If he gets a championship in LA, expect him to retire after that championship."
Littal then clarified on Twitter that James likely wouldn't retire if he won after year one though. But remember there is another team that stands in his way of even making it to the NBA Finals, let alone winning a championship right away, and that is the Golden State Warriors.
Also, it's long been thought that James wanted to tie or exceed Michael Jordan's number of championships. Now, however, it seems that he would be content with winning just one more title as he knows what his legacy will be.