What Can the Brooklyn Nets Expect From Kyrie Irving in His Season Debut?
Kyrie Irving is set to finally make his 2021-22 debut for the Brooklyn Nets in tonight's game against the Indiana Pacers.
Irving has yet to play this season after electing not to receive the coronavirus (COVID-19) vaccine. As New York City has a vaccine mandate that prevents anyone from performing in-person work or interacting with the public in a business setting if not vaccinated, Kyrie has not been allowed to play in Brooklyn.
But the Nets have now chosen to bring their star point guard back and allow him to play in road games. That begins tonight.
What can head coach Steve Nash and his team reasonably expect from Irving in his season debut?
Kyrie Irving will make his Brooklyn Nets season debut against the Indiana Pacers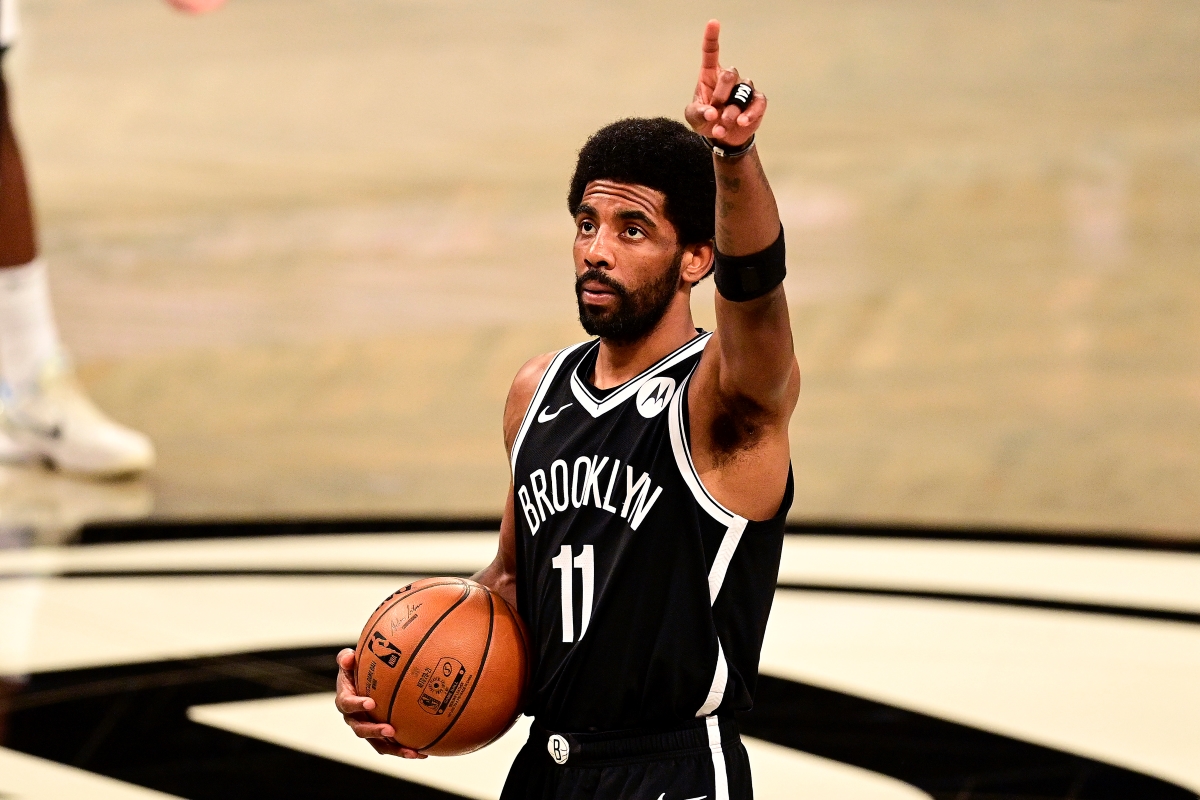 The Duke product hasn't played since June 13 of last year after suffering a right ankle sprain in Game 4 of Brooklyn's Eastern Conference semifinals series against the eventual-champion Milwaukee Bucks.
The original plan was to sit Irving until he changed his mind or NYC altered its law, but the franchise decided last month to let their franchise point guard suit up when the Nets play outside New York.
The other two members of the team's star trio, Kevin Durant and James Harden, have both missed time in the league's health and safety protocols. But with Irving now in the mix and KD and Harden healthy, all three will be playing together for the first time since last year's postseason.
What can the team reasonably expect from its star guard?
Irving signed with the Nets prior to the 2019-20 season. Since then, he's only played in a total of 74 games due to injury and his vaccine-related time away.
However, during those 74 games, the No. 1 pick in the 2011 draft has been as productive as usual. He has averages of 27.0 points, 4.9 rebounds, 6.1 assists, and 1.4 steals per game in that span.
He also has shooting splits of 49.8/40.0/92.2 over that stretch. In 2020-21, he was a "50/40/90" guy after shooting 50.6% from the field, 40.2% from deep, and 92.2% from the line.
Patty Mills has filled in admirably for Irving in his absence. Mills has been Brooklyn's third-leading scorer at 13.8 points per game and is shooting 42.8% from three on almost eight attempts a night.
But Nash said on Wednesday that he expects his seven-time All-Star point guard to play significant minutes immediately upon returning.
Via Bleacher Report, Nash said, "I don't think it's where he can play 38 [minutes]. But I think he can play a big chunk of the game. He's played a lot—he's had three or four full court days with the five-on-five, so I think he's capable of playing extended minutes, but not necessarily his customary high 30s."
Statistically, if Kyrie plays somewhere around 25 minutes, it's reasonable for the Nets to expect at least 10-15 points from a natural, instinctive scorer working his way back into basketball shape.
(It's important to note Irving isn't coming off a devastating knee or Achilles injury like Golden State's Klay Thompson, for example. He's been healthy since last summer. He just hasn't played real NBA minutes).
Double-digit points and a handful of assists from Irving should be plenty for the Nets to pick up a straightforward win over an Indiana team that's 14-24 and 13th in the conference.
Kyrie's return could provide a glimpse into what the "real" Nets could look like
Irving will rejoin Harden and Durant, and Nash should at least get a fleeting peek into what his fully-formed Brooklyn team can be. And at its peak, that team is one of, if not the most talented, lineups in the NBA.
It's going to be a strange situation for everyone to manage. One of the most naturally-gifted players in the league will only play part-time. (Kyrie can't play against the Knicks either, or the Raptors in Toronto).
It's probably not a bad call to let the 2011-12 Rookie of the Year get his feet wet against a porous Pacers' defense. And even without Irving, Brooklyn is 23-12 and second in the East, only two games behind the Chicago Bulls.
The Nets should expect the third cog in their Big Three to quickly knock the rust off his game. The team goes back on the road to Portland on Jan. 10 and then plays a key game in Chicago on Jan. 12.
Three games in, and a few weeks of practice in, fans should anticipate an in-form Kyrie playing alongside two other superstars in a matchup of the top two teams in the East.
That may be the true test and the first look at how high Brooklyn's ceiling can be this season.
All statistics courtesy of Basketball Reference.