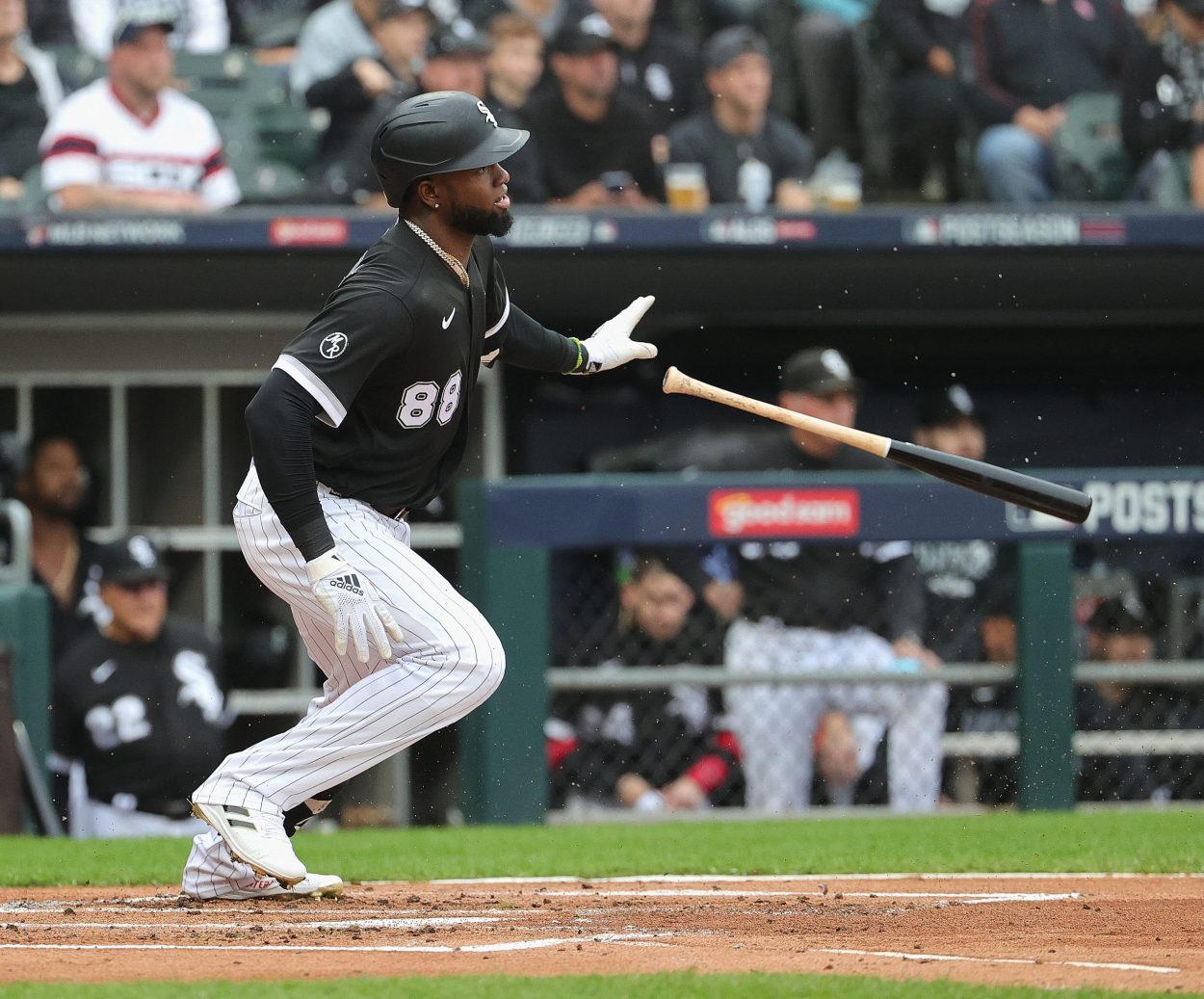 What the Chicago White Sox's 2022 Opening Day Lineup Should Look Like
Read more about what the Chicago White Sox's roster will look like ahead of MLB Opening Day 2022.
The Chicago White Sox were among the worst teams in baseball between 2010 and 2019. But after years of toiling and plenty of forgettable seasons, the South Siders have emerged as the best team in the American League Central division. They head into MLB Opening Day 2022 hoping to capture their first World Series title since 2005.
Chicago won 93 games and finished the 2021 season with the third-best record in the American League. It did so mainly behind a pitching staff that ranked fifth in ERA and fourth in runs allowed per game.
However, the White Sox have legitimate boppers in the lineup.
Despite missing Eloy Jimenez and Luis Robert for over half the season, the South Siders ranked eighth in MLB in runs scored per game and fifth in park-adjusted OPS+. They routinely got runners on base and found ways to bring guys home even though they ranked below league average in home runs.
After an offseason that primarily focused on bullpen upgrades, what will Chicago's lineup look like on Opening Day? We've already taken a stab at breaking down the crosstown rival Cubs. Now, the South Siders are on deck.
Speed and power at the top of the Opening Day lineup
1. Tim Anderson (SS), 2. Luis Robert (CF), 3. Jose Abreu (1B)
The White Sox have as much balance as any other MLB team at the top of their Opening Day lineup. It all starts with their magnetic shortstop in Anderson, who gives the team a spark in the leadoff spot.
Anderson has hit over .300 in the last three seasons, winning the batting title with a .335 batting average in 2019. He's the kind of guy whose batting average on balls in play (BABIP) numbers point to regression, yet he keeps producing. Anderson sprays it all over the field and can steal bases when he gets on. That makes him the ideal table-setter.
White Sox fans are likely salivating over the thought of Robert playing a full, 162-game season. The 24-year-old center fielder was terrific when healthy in 2021, slashing .338/.378/.567 with 13 homers in 68 games. He drives the ball when he makes contact, something he did far more frequently in 2021.
Indeed, Robert cut way back on the swing-and-miss that plagued him for the latter half of the pandemic-shortened 2020 season. According to Baseball Savant, his whiff rate fell from 41.5% in 2020 to 28.2% in 2021. That's a massive change. Given his strength, plate coverage, and speed, Robert has legitimate 30-homer, 30-steal potential if he can just stay healthy.
Abreu, the 2020 AL MVP, holds down the No. 3 spot. The veteran first baseman is one of the most established run-producers in baseball, driving in 117 runs and clubbing 30 homers last season. He's tallied at least 100 RBI in six of his eight MLB seasons and figures to do the same this year.
Can Eloy Jimenez bounce back in the middle of the order?
4. Eloy Jimenez (DH) 5. Yoan Moncada (3B) 6. Yasmani Grandal (C)
Much as White Sox fans will want to see a full season from Luis Robert, they'll hope for the same from Jimenez.
The 25-year-old hit 30 homers in his rookie season and won a Silver Slugger in 2020 after slashing .296/.332/.559 with 14 homers in 213 at-bats. Jimenez looked like a 40-homer candidate entering 2021, but a torn pectoral muscle suffered during 2021 Spring Training sidelined him for nearly four months. He struggled when he returned, hitting .249 with an underwhelming .740 OPS.
Still, Chicago should feel ecstatic about having Jimenez in the middle of the order. This is a guy who ranked in the top 2% in barrels and hard-hit rate in 2020 while also ranking above the 90th percentile in average exit velocity and expected slugging (xSLG), per Baseball Savant. Jimenez clubs the ball to all fields, mashes against fastballs, and hammers mistake breaking balls. That's the kind of hitter you want in the cleanup spot.
A pair of switch-hitters follow Jimenez in Moncada and Grandal. The latter had one of the most unique seasons in baseball history in 2021.
Grandal hit .188 in the first half of the season but still had an .824 OPS because he walked (60 bases on balls) nearly as many times as he struck out (64) and clubbed 14 homers. The veteran backstop went nuclear after the All-Star break, slashing .337/.481/.674 with nine homers and 27 walks against just 18 punchouts.
At this point, Grandal is who he is: A high OBP guy who can work counts, get on base, and hit the ball out of the park. The White Sox could certainly ask for worse from a No. 6 hitter.
After a bout with COVID-19 ruined his 2020, Moncada bounced back in 2021, slashing .263/.375/.412 with 14 homers and a 117 OPS+. His average exit velocity climbed back above 90 mph, and he also ranked in the top six percent in walk rate. The utility infielder is having a rough spring, but he is going to draw his walks and has doubles power with 25-homer upside or better should he continue to cut down on the swing-and-miss.
Andrew Vaughn's sophomore season will be telling
7. AJ Pollock (RF), 8. Josh Harrison (2B), 9. Andrew Vaughn (LF)
The White Sox round things out with two established veterans and one of the most intriguing young talents in baseball.
Chicago capitalized on its bullpen depth acquired Pollock from the Los Angeles Dodgers in exchange for Craig Kimbrel. The 34-year-old is coming off a season in which he slashed .297/.355/.536 with 21 homers and a career-high 137 OPS+. Health is always a question mark with Pollock, but his pop and speed make him a strong option at one of the corner spots.
Harrison's outstanding first half with the Washington Nationals made him a trade asset at the 2021 trade deadline. He cratered after the All-Star break. But he still gives the White Sox a guy who makes a ton of contact while providing excellent defense. Chicago looks strong on the diamond with him at second base, Anderson at short, Robert in center, and Grandal behind the plate.
However, much of the focus will be on Andrew Vaughn.
The No. 3 pick in the 2019 MLB June Amateur Draft made last year's MLB Opening Day roster after Jimenez's injury. Vaughn arrived as one of the best hitting prospects in the game. Of course, it's hard to get thrown into the fire. He had a rough go of things in his rookie season.
Vaughn hit .235 with a .705 OPS. Pitchers made adjustments to the former California Golden Bears star in the second half, as he posted a measly .613 OPS in his final 52 games.
But White Sox fans should keep the faith. According to Baseball Savant, Vaughn ranked above the 80th percentile in average exit velocity and hard-hit rate. He had a .243 xBA, .434 XSLG, and .332 xwOBA, making him closer to league average hitter. Not bad for a rookie.
Vaughn's batted ball metrics point to his upside, and getting a full season under his belt should help. The 24-year-old has looked good this spring, albeit with a small sample size. He suffered a hip pointer injury that cost him some time but is already back in the swing of things and should make the Opening Day roster.
The White Sox have been mentioned as a possible suitor for free-agent outfielder Michael Conforto. But Vaughn has a higher ceiling than Conforto if he realizes his full potential, and he could make Chicago's lineup one of the very best in baseball.
If it all clicks, the White Sox will score a bunch of runs. With a terrific rotation and deep bullpen, the South Siders must be considered a top World Series favorite heading into MLB Opening Day 2022.
Stats courtesy of Baseball Reference and Baseball Savant.