What College Team Did Alex Caruso Play For?
Throughout this past season, Alex Caruso has won over tons of fans with his hustle on the LA Lakers. He has ultimately become a really valuable rotation player for the Lakers, a team that is preparing to go on what they hope is a deep run in the NBA playoffs. So, since Caruso was not a big name coming into the league, where did he play college basketball, and how good was he?
Alex Caruso has become an essential piece on the LA Lakers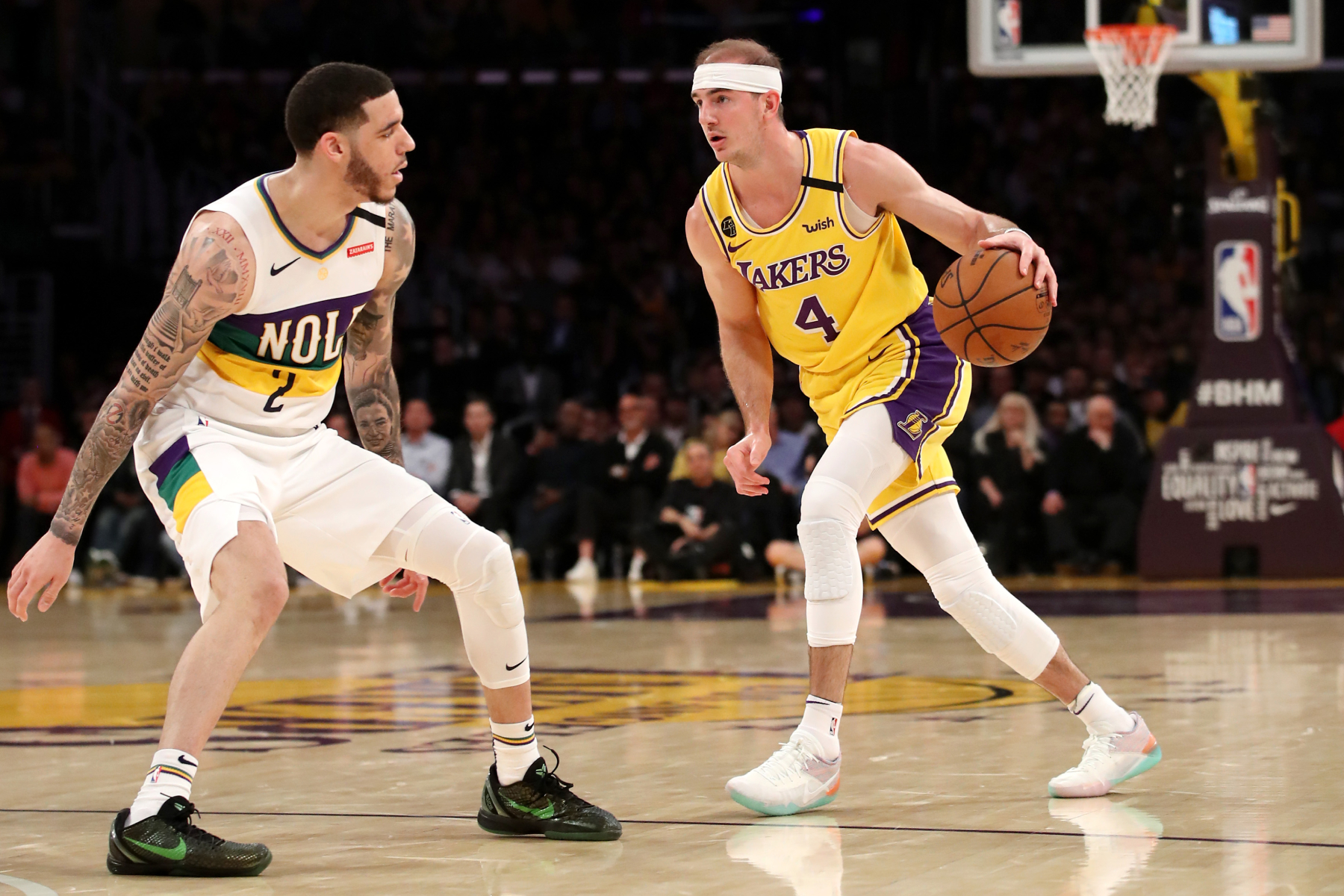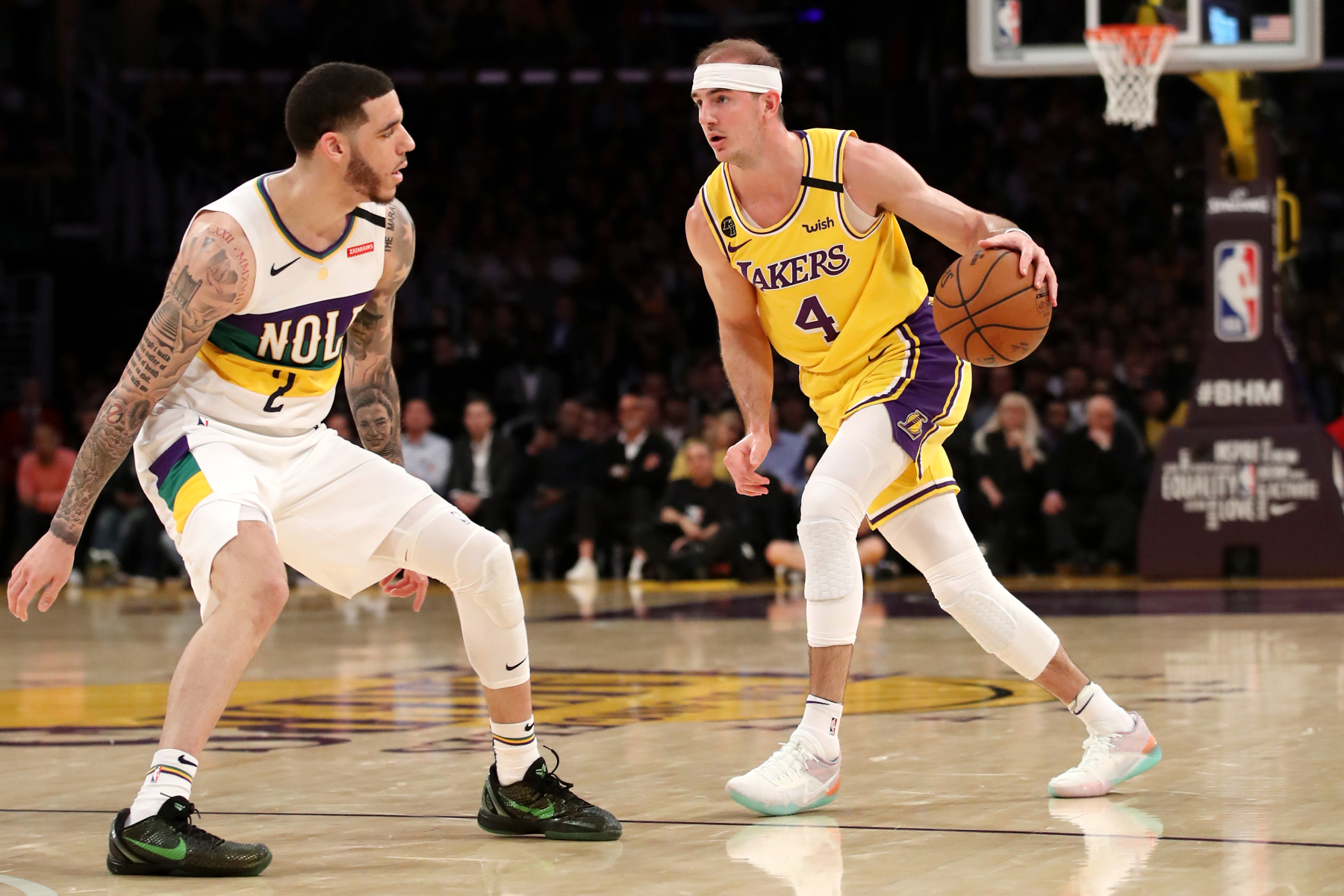 The Lakers earned the No. 1 seed in the Western Conference in 2019-20, and while LeBron James and Anthony Davis are the two main reasons for them doing so, Caruso has certainly been pretty important to the team's success.
He is averaging 5.5 points per game and 1.1 steals in 18.3 minutes per game for the Lakers, impressing people with his hustle on the court. Caruso wants to win championships with the Lakers too.
"I want to be the last one standing," Caruso said, according to Sports Illustrated. "I want to know what that feeling is. And I think we have the team to do it. I'm just getting excited talking about it right now. I'm getting a little hyped up."
Prior to this season, Caruso went undrafted in the 2016 NBA draft. He spent the 2016-17 season on the Oklahoma City Thunder's G League team, according to NBA.com. He averaged 11.9 points per game and 5.2 assists in 50 games.
Then after that season, the Lakers' G League team, the South Bay Lakers, offered him a two-way contract, which he played on the next two seasons. 
In 2017-18, Caruso averaged 19 points per game and 7.7 assists in 29 games in the G League, and 3.6 points per game in 37 NBA games. In 2018-19, Caruso averaged 14 points per game and 5.8 assists in 27 games in the G League, and 9.2 points per game in 25 games in the NBA.
He has been on the full NBA roster for the Lakers in 2019-20, though, playing in the majority of the games so far.
What college team did Alex Caruso play for?
Prior to his professional career, Caruso played college basketball for the Texas A&M Aggies.
He played in 33 games, starting in 17, in 2012-13, and averaged 5.5 points per game, but he then became really valuable in the next few seasons. He started in all but one game at Texas A&M over the next three seasons, averaging 8.7 points per game, 5.2 assists, and 2.1 steals in all three seasons combined. Caruso ultimately earned SEC All-Defense honors in 2015-16 too.
Texas A&M went 18-15 and 18-16 in 2012-13 and 2013-14. Then, after going 21-12 in 2014-15, the Aggies were really good in Caruso's final season as the they went 28-9. They also reached the Sweet 16 before losing to Oklahoma.
What other NBA players played for Texas A&M?
Caruso is not the only current NBA player to formerly play at Texas A&M in college.
Danuel House, who plays for the Houston Rockets, played for the Aggies from 2014-15 through 2015-16, and he averaged 15.6 points per game in his final season. Additionally, Robert Williams, who was a first-round pick by the Boston Celtics in the 2018 NBA draft, played for the Aggies in 2016-17 and 2017-18. He was a two-time SEC Defensive Player of the Year for the Aggies too.
However, the two more recognizable names are Khris Middleton and DeAndre Jordan. Middleton played for the Aggies from 2009-10 through 2011-12 and ultimately earned Second-Team All-Big 12 honors in 2010-11. Jordan, on the other hand, played at Texas A&M in 2007-08 and earned Big 12 All-Freshman honors.
Alex Caruso certainly isn't the only NBA star to be a former Texas A&M Aggie. Maybe, he can rep his school in a big way now by winning championships with the Lakers.
Stats courtesy of Sports Reference and Basketball Reference