What Did Giannis Antetokounmpo's NBA Draft Scouting Report Say About Him?
Milwaukee Bucks forward Giannis Antetokounmpo is the reigning NBA MVP. The forward even belongs to the small group of players competing for the distinction again this season. Many fans and analysts also believe Antetokounmpo poses a threat to LeBron James as the "best player in the world."
If teams could redo the 2013 NBA Draft today, chances are Antetokounmpo would be the No. 1 pick. At the time, however, teams didn't recognize the extent of his potential; he fell all the way to 15th. Let's compare the Greek Freak's performance to his original NBA draft scouting report.
Antetokounmpo today
Antetokounmpo steadily improved in almost every statistical category over his first six years in the league. In the process, he earned three All-Star selections, one All-NBA First Team selection, one NBA All-Defensive First team selection, and 2019 NBA Most Improved Player. His ascent culminated in his capturing the 2019 NBA Most Valuable Player Award.
Despite increased amounts of game-planning from opposing teams, Antetokounmpo looks every bit as confident this year. He remains one of the most unstoppable paint players in the game.
The 25-year-old is putting up 31 points per game with an interior presence rivaling that of peak Shaq. Meanwhile, Antetokounmpo's defensive numbers remain elite, easily averaging over one block and one steal per game.
Antetokounmpo's draft report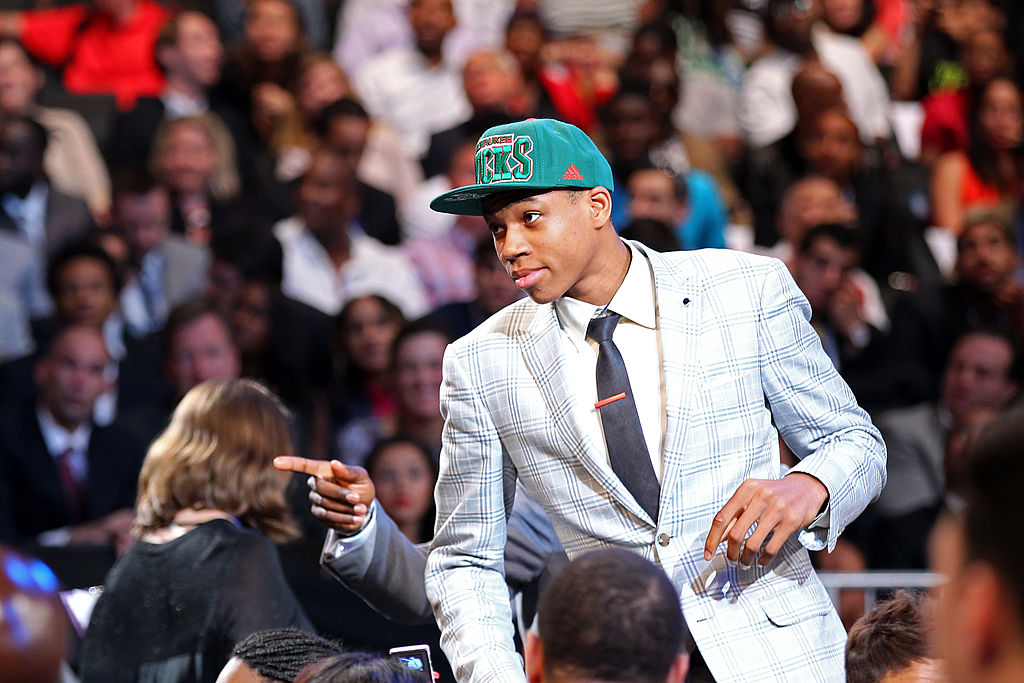 So how much of Antetokounmpo's current game did his draft report predict? The answer is a surprising amount.
His core strengths included his physical tools, huge defensive potential, offensive versatility, and unlimited potential moving forward. Draft analysts also correctly identified his excellent instincts, superior court vision, and ability to play a range of positions,
Even at just 18 years of age, Antetokounmpo possessed uncommon physical gifts. Draft analysts correctly assessed the huge impact of his lanky frame, large hands, and 7-foot-3 wingspan.
Leading up to the draft report, the forward underwent a massive growth spurt, growing three inches in 10 months. What draft experts didn't anticipate was that Antetokounmpo's growth spurt was far from over.
Listed at 6-foot-9 at the draft, Antetokounmpo shot up to 6-foot-11 within a year of entering the league. This growth offset another perceived weakness: his strength and physicality. Coupled with his defensive inconsistency, many experts questioned whether Antetokounmpo had what it took to compete in the more aggressive NBA.
But perhaps the most significant concern about Antetokounmpo entering the draft was his shaky perimeter shooting. At that early stage, he had virtually no mid- or long-range game. When he did shoot, the forward's low release point made it easier for defenders to contest his shot.
Antetokounmpo's game moving forward
At this point, most of the concerns about Antetokounmpo's viability have long since fallen away. As he grew, his frame filled out. Still relatively thin and lanky, Antetokounmpo has the muscle and weight to compete against even the most physically intimidating NBA players.
The one issue that did continue to hamper Antetokounmpo was his lack of a consistent jump shot, as well as his inability to knock down shots from long distance.
Antetokounmpo seemed to take those criticisms to heart, based on his performance so far this year. Not only has he developed a smooth and consistent jump shot, but he's also added a surprisingly reliable three-point shot to his arsenal.
Impressively, Antetokounmpo is averaging 5.1 three-point attempts this season and knocking down a respectable 34.2% of them — nearly 10% better than his average last season. If he continues improving this aspect of his game, he'll truly become one of the most fearsome players in the NBA.
Follow more updates from Sportscasting on our Facebook page.