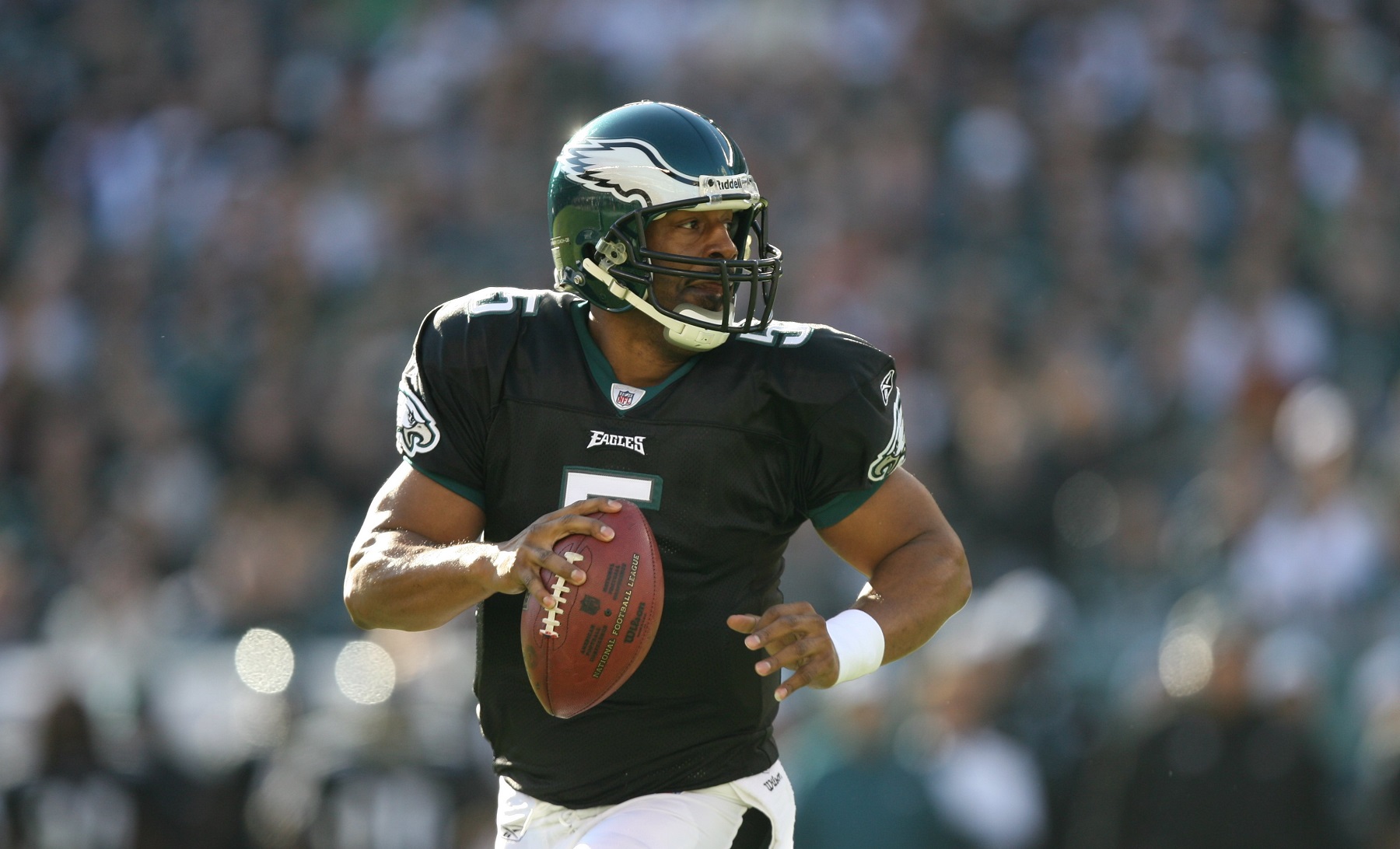 What Did Rush Limbaugh Say About Donovan McNabb That Cost Him His Job?
Rush Limbaugh created a firestorm in 2003 with his comments related to Philadelphia Eagles quarterback Donovan McNabb.
The subjects of race and quarterbacks converged in 2003 when Donovan McNabb was playing for the Philadelphia Eagles, and it cost someone their job. Unlike the case with Colin Kaepernick, now out of football for four years, it was a commentator and not a QB who paid for an unpopular stance. The irony is that Rush Limbaugh would come to McNabb's defense eight years later.
Colin Kaepernick's name has been front-and-center
Colin Kaepernick has been out of pro football nearly as long as he played in the NFL. He lasted six seasons with the San Francisco 49ers but has not been on the field since 2016. Unlike Donovan McNabb, who was dragged into the issue of race unwillingly, Kaepernick has been front-and-center on the topic largely because of his own words and actions.
After taking the 49ers to the Super Bowl following the 2012 season as the replacement for the injured Alex Smith, Kaepernick enjoyed a solid 2013 season. However, he was just 11-24 as a starter for the remainder of his career. His decision to stay seated for the national anthem during a 2016 preseason game and then kneel the next week created polarized reactions nationally, extending beyond sports.
Kaepernick was an unsigned free agent in 2017 as debate intensified when president Donald Trump called on NFL owners to fire players who continued to protest during the anthem. The quarterback has remained out of football since while continuing to speak out on issues of race.
Rush Limbaugh was panned for his take on Donovan McNabb
Regardless of one's feelings about his politics, it is difficult to dispute that Rush Limbaugh has hosted one of the most successful programs in the history of radio and the most successful syndicated terrestrial radio talk show. Limbaugh has been on the air nationally since 1988 and reportedly makes $50 million annually.
Looking to capitalize in 2003, ESPN brought Limbaugh aboard Sunday NFL Countdown, its pro football pregame show. A month into the season, the experiment came crashing down before the Eagles' 23-13 victory over the Buffalo Bills when Limbaugh suggested that Philadelphia quarterback Donovan McNabb was overrated.
McNabb was just 26 at the time and in the midst of five straight Pro Bowl selections, but Limbaugh questioned his credentials. For context, the Eagles were coming off consecutive losses in the NFC championship game, and McNabb threw 42 touchdowns and 18 interceptions in 26 regular-season games.
"Sorry to say this, I don't think he's been that good from the get-go," Limbaugh said on the air. "I think what we've had here is a little social concern in the NFL. The media has been very desirous that a black quarterback do well. There is a little hope invested in McNabb, and he got a lot of credit for the performance of this team that he didn't deserve. The defense carried this team."
Three days later, Limbaugh had resigned in the face of intense blowback by the public.
"Although Mr. Limbaugh today stated that his comments had 'no racist intent whatsoever,' we have communicated to Mr. Limbaugh that his comments were insensitive and inappropriate," ESPN announced in a statement. "Throughout his career, he has been consistent in his criticism of the media's coverage of a myriad of issues."
Rush Limbaugh later defended Donovan McNabb
Rush Limbaugh's comments on Donovan McNabb did not take the Philadelphia Eagles quarterback to task for anything beyond being overrated. As Limbaugh would subsequently say repeatedly, his intended target was the media creating a narrative that he felt was indefensible.
That didn't make it any easier for McNabb to accept.
"It's sad that you've got to go to skin color. I thought we were through with that whole deal," McNabb told the Philadelphia Daily News.
Fast-forward to eight years later, and boxer Bernard Hopkins questioning McNabb's upbringing while suggesting the football player wasn't really a Black man.
"This is just the latest in what has been a long line of attacks on Donovan McNabb  from Black individuals and organizations." Limbaugh told his radio audience. "They have accused — and I can't use the term; it's a purely totally unacceptable term … they say he's a sellout, that McNabb befriends the white power brokers of the Eagles."
He added: "I said nothing close to what Bernard Hopkins was saying. I never said a word about McNabb and blackness. I was talking about the media from start to finish."
Like Sportscasting on Facebook. Follow us on Twitter @sportscasting19.