What Do Colin Kaepernick and Robert Griffin III Have in Common?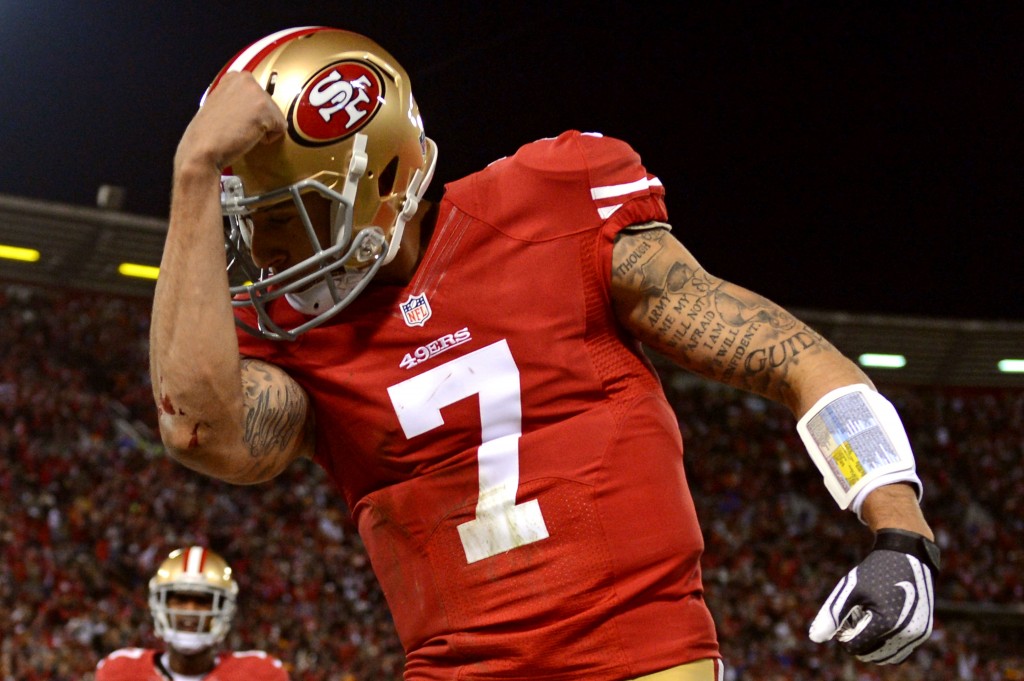 As Robert Griffin III's tenure in Washington appears to be coming to an end, another dual-threat quarterback on the opposite side of the country appears to be headed down a similar path. San Francisco 49ers signal caller Colin Kaepernick has flashed the ability to be a big-time player in the NFL, but inconsistencies in his game may cause his career trajectory to take a major turn toward mediocrity, and ultimately a new team.
In Week 14, Kaepernick looked flat-out awful in the 49ers' Bay Area rivalry game against the Oakland Raiders. San Francisco lost the game 24-13 and became only the second team to lose a game to the Raiders in 2014.
Kaepernick, who is in his fourth NFL season, is at his best when he is combining making plays inside of the pocket with his arm and outside of the pocket with his legs. Since his stellar performance in Week 6 against the St. Louis Rams, Kaepernick has been an average quarterback at best. During that stretch, he hasn't accounted for more than one touchdown or more than 300 total yards in any of the 49ers' seven games, has an average quarterback rating of 74.6, and has led the Niners to a 3-4 record. He has already thrown 10 interceptions in 2014 — the highest single-season total in his career. And for the first time in his stint as the 49ers' full-time starter, he has zero rushing touchdowns for the season.
Kaepernick's quarterback rating for the season is 85.1, which ranks 23rd in the league and is eight spots behind Kansas City Chiefs quarterback Alex Smith, the guy the 49ers traded away when they decided to commit to Kaepernick as their long-term starting quarterback.
All statistics are courtesy of Pro-Football-Reference.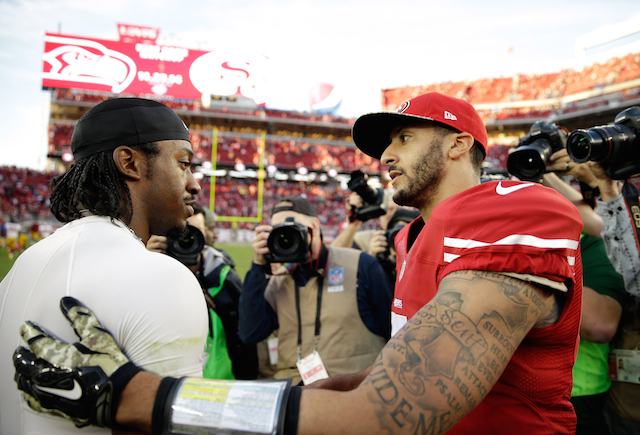 San Francisco head coach Jim Harbaugh is more than likely on his way out after the season, meaning Kaepernick will likely have to win over a new head coach in 2015 if he is going to remain the starting quarterback of the 49ers for the long-term. If the 49ers' new head coach installs an offense that is not dual-threat quarterback-friendly, Kaepernick could be in a position in which he is set up to fail.
That situation would be eerily similar to what the football world saw Robert Griffin III go through in 2013 and 2014 with the Washington Redskins. The coach who drafted RGIII, Mike Shanahan, was fired following the 2013 season, and the former Heisman Trophy winner out of Baylor was forced to start over with a new head coach — Jay Gruden — as well as a new offensive scheme, and we all saw how that played out.
Kaepernick signed a massive contract extension this past offseason that, on paper, looks a lot better than it really is. The contract pays Kaepernick handsomely, but also allows the team to move on from Kaepernick at any time following the 2014 season without causing massive amounts of dead salary cap space due to huge guarantees.
There is very little chance that Kaepernick is not the starting quarterback for the San Francisco 49ers in 2015. But if his career does indeed continue down the same path that RGIII's career took in Washington, then the idea of the 49ers moving on from the quarterback who once led them to a Super Bowl appearance could become very real. If the next head coach of the 49ers brings an offensive scheme that is more suited for a pocket passing quarterback, Kaepernick may struggle so badly that his time in San Francisco will come to an end after the 2015 NFL season.