What Does the Future Hold for the Atlanta Hawks After John Collins' Five-Year, $125 Million Deal?
The Atlanta Hawks are holding on to a key piece of their young core, agreeing to a new contract with restricted free agent forward John Collins.
Drafted in 2017, one year before the Hawks selected franchise superstar Trae Young, Collins has been one of the few constants for Atlanta. Young and Collins have been the team's dynamic duo, and the franchise continues to build around the pair.
But the Hawks are still adding pieces, both through the draft and free agency, as the team transitions from NBA afterthought to Eastern Conference contender. The bill always comes due, though, literally in this case. Collins' extension now cap straps Atlanta moving forward as it tries to retain the rest of its young, talented roster.
Collins' new deal keeps one of the Hawks' bright young stars in Atlanta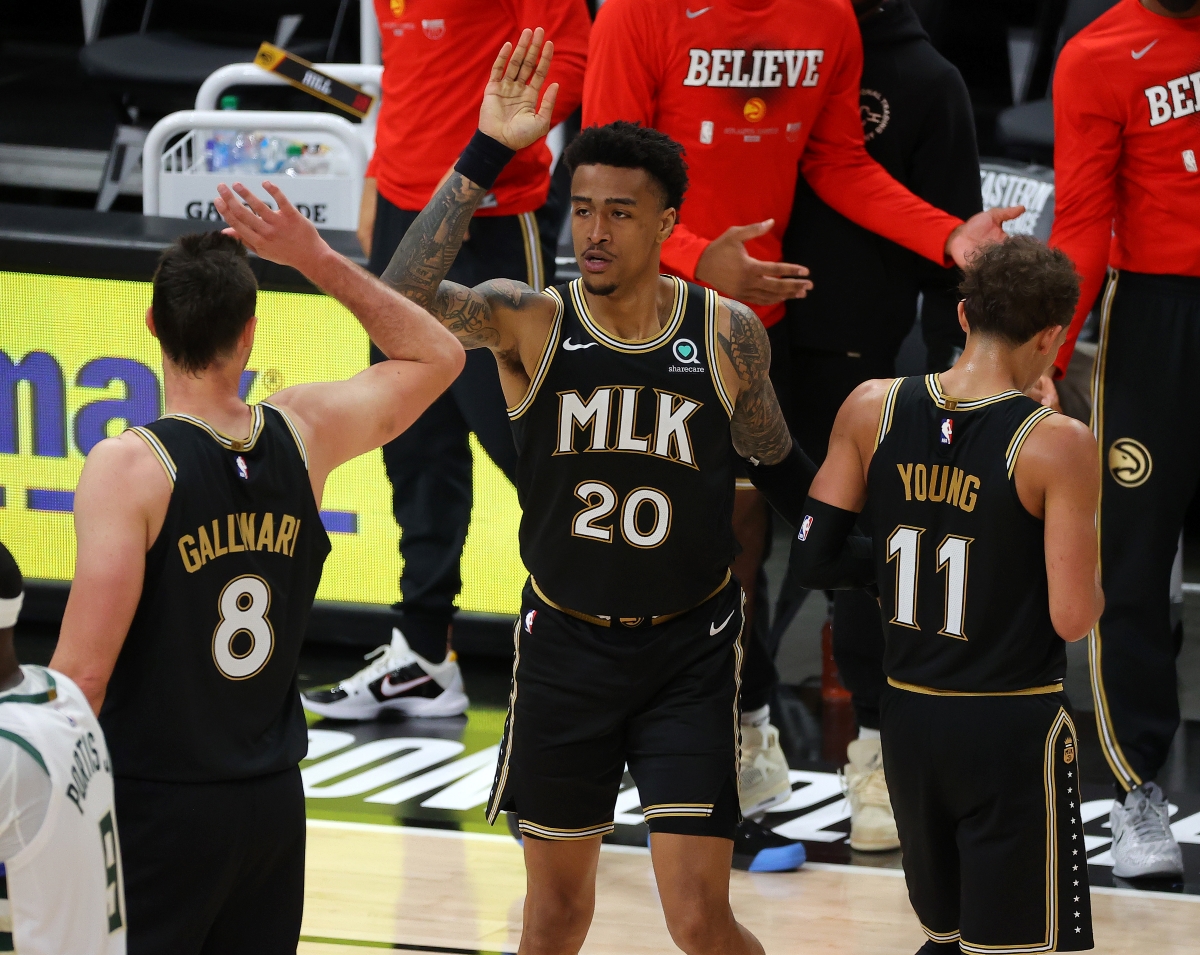 Since being drafted, Collins has been one of the team's best offensive players, and he's continued to improve every season.
The Wake Forest product averaged 10.5 points per game on 57.6% shooting and 34% shooting from three his rookie year. He took a big second-year leap, bumping his scoring up to 19.5 while remaining efficient, shooting 56% from the field and 34.8% from deep.
2019-20 was his best offensive season. Scoring 21.6 points per game on a career-high 58.3% shooting, Collins also became a 40% shooter from long range. His numbers dipped last season as Young's increased, but he remained the Hawks' second-leading scorer.
Collins' deal limits what Atlanta can do with the rest of its roster
According to ESPN, Collins and the Hawks agreed to a five-year, $125 million extension. It will keep the forward in Atlanta through at least 2024-25. The deal reportedly has a player option for the fifth season.
Young also signed a five-year, $172.55 million max extension that kicks in next season. The Collins extension details haven't been made official yet, but assuming it's around a $25 million-per-year average, he and Young will be making nearly $55 million combined in 2022-23.
Atlanta signed guard Bogdan Bogdanovic to a four-year, $72 million contract last offseason and also brought in veteran forward Danilo Gallinari. After acquiring him from the Houston Rockets, the Hawks are also locked into center Clint Capela's five-year, $90 million contract.
As it stands, Atlanta is projected to have about $20 million in cap space in 2022-23 with eight players on its active roster.
The following season is where things get real dicey. The Hawks nabbed two wings in the 2019 draft in De'Andre Hunter and Cam Reddish. Hunter became a starter and one of Atlanta's best players immediately, while Reddish came on late last season and became a factor in the team's playoff run.
To keep them, the Hawks will have to extend Hunter a qualifying offer of more than $12 million and Reddish an offer of more than $8 million. But both players will be unrestricted free agents the following year, so if Atlanta wants to keep two more pieces of its up-and-coming core, it will have to shell out for either or both. Capela is a free agent after the 2023 season, but he quickly became the missing piece for the Hawks when he came from Houston. Atlanta may elect to re-sign him as well.
The Hawks will also still have Young's, Bogdanovic's, and Collins' contracts on the books.
The Hawks' future cap situation is a problem, but a good problem
Young is the franchise's cornerstone. Collins has been his running mate from the jump. At this point, Bogdanovic is the team's third-best player. Hunter has multiple-time all-star potential. Capela has been a perfect fit between Young and Collins. Reddish came on late last season and could develop into a starting three-and-D wing. Last year's first-round pick, Onyeka Okongwu, showed he deserves a role with his play against the Milwaukee Bucks in the conference finals.
Any franchise would love to have Atlanta's collection of young talent. But that comes with complications as well, as Atlanta will have to choose between its young assets. Signing Collins to a new deal means the franchise has chosen one of them, but that makes the future even more uncertain.
All statistics courtesy of Basketball-Reference and salary cap information courtesy of Spotrac.
RELATED: Remember When the Atlanta Hawks Drafted a Newborn Baby?