What Does the Kristaps Porzingis Trade Mean for Luka Doncic and the Future of the Dallas Mavericks?
The Dallas Mavericks made one of the biggest surprises of the NBA trade deadline, sending Kristaps Porzingis to the Washington Wizards. It's a game-changer for Luka Doncic and the Mavs.
The plan in acquiring Porzingis was to build a 1-2 punch of him and Doncic. That never worked out for various reasons, perhaps the biggest being Zinger's problem staying healthy. Regardless, the pairing has been split.
The question now becomes what does the trade mean for Luka and Dallas's future?
The Dallas Mavericks completed a trade sending Kristpas Porzingis to the Washington Wizards
The James Harden-Ben Simmons blockbuster overshadowed everything else that happened on deadline day, but if that deal didn't go down, Porzingis being shipped to D.C. would have been the headliner.
The official trade was Porzingis and a second-round pick to Washington in return for Davis Bertans and Spencer Dinwiddie.
The first reaction for 99% of NBA fans was likely some sort of "What….?"
Porzingis settled in as the second-best player in Dallas alongside Luka after first arriving in 2019 from the New York Knicks. When healthy, the Latvian is capable of playing at an All-Star level. But he cannot stay healthy.
At 7-foot-3, Porzingis started with foot injuries early in his career, and those issues have since moved up to both knees. He played just 134 games over three seasons with the Mavs — only 34 of 55 this year — and still has two years left on his $158 million deal.
Dinwiddie and Bertans are role players at best. And Dallas had to include a second-round pick to get the deal across the finish line.
So then why did Mark Cuban sign off on the move?
Peeling back some layers, the transaction makes sense with how the Mavericks want to move forward with their roster.
What does the deal mean for Luka Doncic?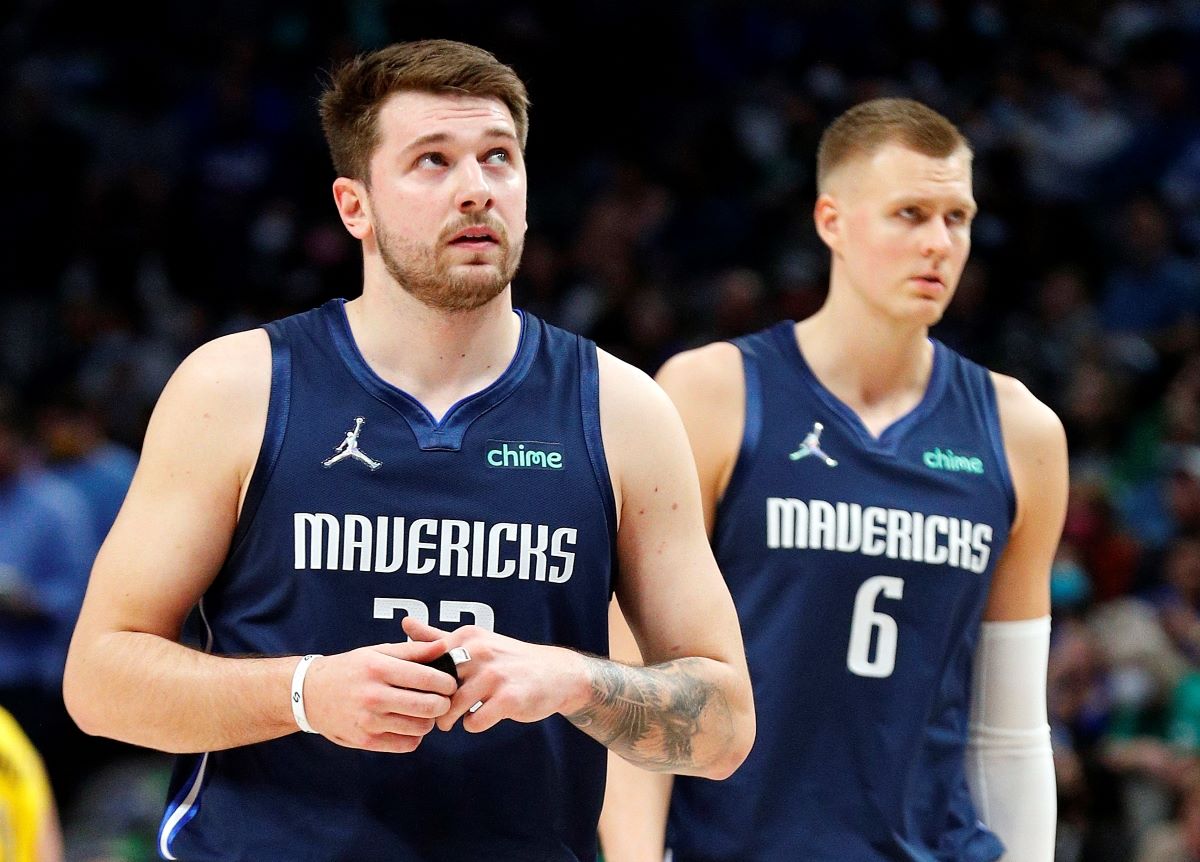 First and foremost, Doncic loses the most talented teammate he's had during his short NBA career. Zinger was averaging 20 points, 8.8 rebounds, and 1.7 blocks per game this year when he was on the floor. He's the ideal archetype of a rim-protecting, floor-spacing big man to play alongside Luka.
"Obviously, we're going to miss KP," Doncic said via ESPN. "We were building something great here. It didn't obviously work out. I wish him the best, and we've got two new guys who are welcome.
"Bertans is a great shooter. Dinwiddie can put the ball on the floor and he can score. The NBA is a business."
Those comments came after Luka dropped a career-high 51 points in a 112-105 win over the Los Angeles Clippers, which came just hours after the Porzingis trade. Seems like the Mavs' superstar will be OK.
The move is more of an organizational decision for the future. In the short term, not a whole lot changes for the team's star guard. The biggest thing (literally) he'll notice on the floor is the size, or lack thereof, around him.
Instead of Porzingis, Dallas's frontcourt minutes will be soaked up by the likes of Maxi Kleber and Dwight Powell — two shorter, more perimeter-oriented bigs. Bertans is in the same mold.
It'll be small-ball around Luka. He'll be playing with Dinwiddie and Jalen Brunson in the backcourt, which will be an experiment, to say the least, with three natural point guards who will need to learn to share the ball. Dinwiddie and Brunson have proven capable of doing that — can Doncic?
It does provide Dallas with more scoring and shooting, though, which will come in handy for a team 24th in the NBA in scoring. Perhaps unfortunately for Luka, though, this was a move made for seasons to come.
What happens now with the Mavericks' future?
Dallas gets off of Porzingis' contract in return for two much more manageable ones. Bertans is owed $16 million and $17 million the next two seasons, while Dinwiddie will cost $18 million next year and has a partially-guaranteed deal that would cost the franchise $10 million to move on from in 2023-24.
In the weeks leading up to Feb. 10, the biggest question mark for the Mavericks surrounded their ability and desire to re-sign Brunson and Dorian Finney-Smith. DFS immediately signed a four-year, $55 million extension after the Porzingis trade, according to ESPN.
The franchise faced a tricky dilemma with Brunson, who is having a career year but is an unrestricted free agent this summer. With more financial flexibility, re-signing the Villanova product could save the Mavs some luxury tax payments.
Or, if they so choose, Dinwiddie's acquisition means they could cash in on Brunson — who is worth at least a couple of first-round picks and/or young players and is asking for more than $20 million a year in a long-term contract — via a sign-and-trade.
"I trust them, whatever move they make," said Doncic of his organization. "I think I have great teammates. A lot of people can do a lot of stuff, and I'm really good now. I think we're playing great basketball."
Their Slovenian superstar is right — the Mavericks are playing great basketball. But moving on from an injury-prone, expensive center that wasn't getting the team where it wanted to go is a trade designed to make sure Doncic's squad keeps playing great basketball into the future.
All statistics courtesy of NBA.com.
RELATED: NBA Trade Deadline: Luka Dončić Will Finally Have His Long-Awaited Running Mate in Goran Dragić