What Does Michael Strahan Miss the Most About Playing Football?
Michael Strahan has been out of the NFL since 2007. While he's now a successful TV personality, he still misses his playing days. Throughout his retirement, Strahan has spoken candidly about how he misses being on the big stage of an NFL game. One thing, in particular, makes Strahan especially nostalgic when he reflects on his career. 
Michael Strahan's career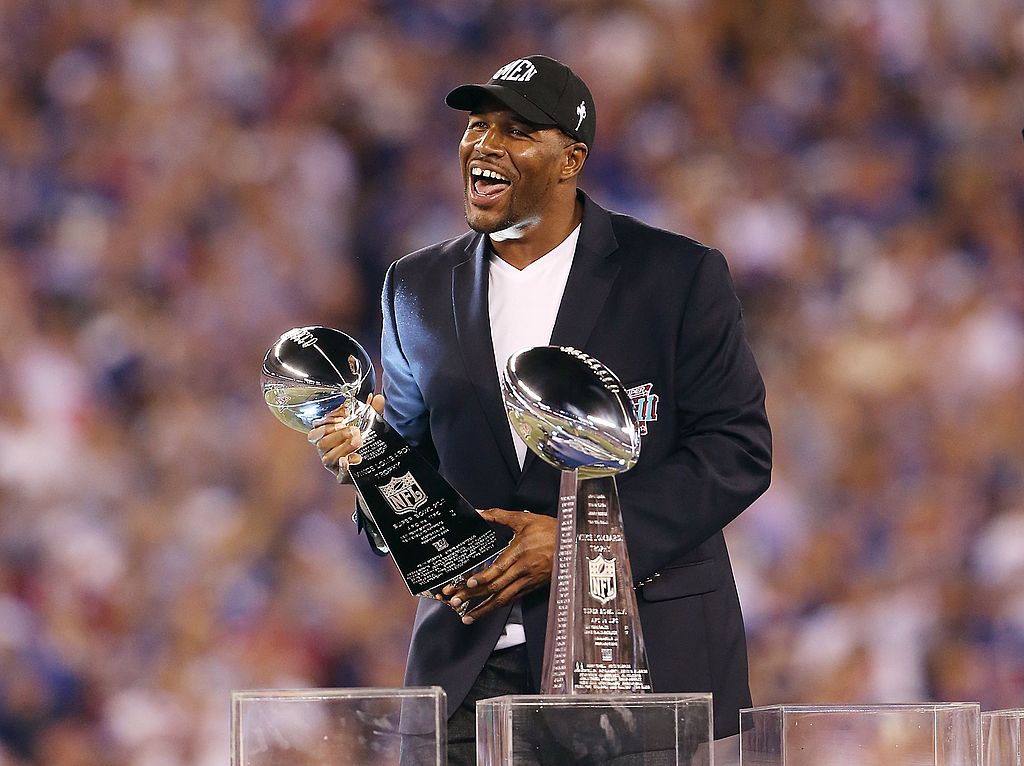 Strahan began his career coming off the bench for the New York Giants in 1993. As the 40th overall pick in the 1993 draft, he didn't have to be a superstar, but this didn't stop him from forging a path to stardom anyway. Over the next 15 years, all with the Giants, he became one of the most skilled and beloved NFL players.
Although Strahan began to show promise in his first four years as a pro, he emerged as a superstar in his fifth season. That year, he became a defensive powerhouse, sacking 14 quarterbacks and amassing 68 combined tackles. This began the era of Strahan's career where he was one of the league's best defensive players. 
By 2001, Strahan was playing the best football of his career, with 22 sacks and 73 combined tackles. He continued this play for two more years. While his final two seasons were hobbled by injury, Strahan continued providing the leadership and toughness. It paid off during his final season in 2007 when Strahan and the Giants stunned the undefeated Patriots and won the Super Bowl. 
Strahan finished his career with 141.5 sacks, 854 combined tackles, four All-Pro appearances, and seven Pro Bowls. The Hall of Fame rewarded him handsomely.
Life after football
Strahan didn't waste time finding a career after football. While the jump from the field to TV is natural for many NFL stars, Strahan took it a step further by going outside of sports broadcasts. His biggest break came as co-host of the popular morning talk show Live with Kelly and Ryan, where he spent years as the co-host. 
Eventually, this paved the way to other lucrative gigs, such as hosting to the 2015 Critics' Choice Awards, red carpet coverage of multiple Oscar ceremonies, a game show, and an eventual move to Good Morning America.
Strahan's mix of charm and charisma makes him a natural on television in a way that lets him venture outside of sports and into a variety of roles. Despite this cushy gig, however, he still misses the football field from time to time. 
Does Strahan miss football?
Strahan has spoken at great length about his love of football, but certain things about the game make him especially nostalgic. One aspect that's especially prevalent in his musings is the trash talk. In July 2019, he tweeted about how much he missed tackling opposing quarterbacks and getting in their faces. 
This love of tackling and the ensuing gamesmanship has been rampant through Strahan's retirement. In a 2012 interview with The Guardian, he expanded on this notion: "I like hitting quarterbacks, I miss that too … I miss that competitiveness. I miss looking at a guy who weighs 80 pounds more than me and knowing that I don't fear him, he fears me."
He doubled down on this to Esquire in 2016, stating that the rush of the game, the teams, and physical nature are the things he yearns for most. "I tell ya, what I miss is the camaraderie," Strahan. "I don't miss the pain, of course not. I don't miss taping my hands, my fingers. I don't even really miss the practices. But I miss the guys, the sense of one-ness. And yeah, I miss the physicality of getting things done."
Those who see Strahan interview celebrities and hit red carpets may not suspect he was once a feared NFL defender. This is what makes him such a fascinating character. Years removed from the pros, one thing remains clear. The drive that got Strahan through the NFL remains.
Follow more updates from Sportscasting on our Facebook page.