What Does the No. 2 Heart on the Lakers' Jerseys Represent?
The sports world's first blow of 2020 was the loss of basketball great Kobe Bryant in January. Fans are still reeling eight months later. On August 24, a date honoring the numbers Bryant wore, 8 and 24, the Lakers wore their former star's "Black Mamba" jerseys. Now, in the playoffs, those jerseys also feature a heart surrounding the No. 2. What does this gesture mean?
Kobe Bryant's nickname, 'Black Mamba'
RELATED: LeBron James Regrets What He Didn't Do With Kobe Bryant
Bryant deemed himself the "Black Mamba" after a 2003 Quentin Tarantino film, Kill Bill. The villain of the film, an assassin, was named after a venomous snake native to the sub-Saharan region of Africa. This species of snake is very aggressive and agile, which Bryant thought was fitting for himself.
Bryant felt the need to rebrand himself in 2014, following several sponsors dropping him during a low period for his reputation. "Black Mamba" seemed to fit and he changed his number from 8 to 24.
Social justice messages on jerseys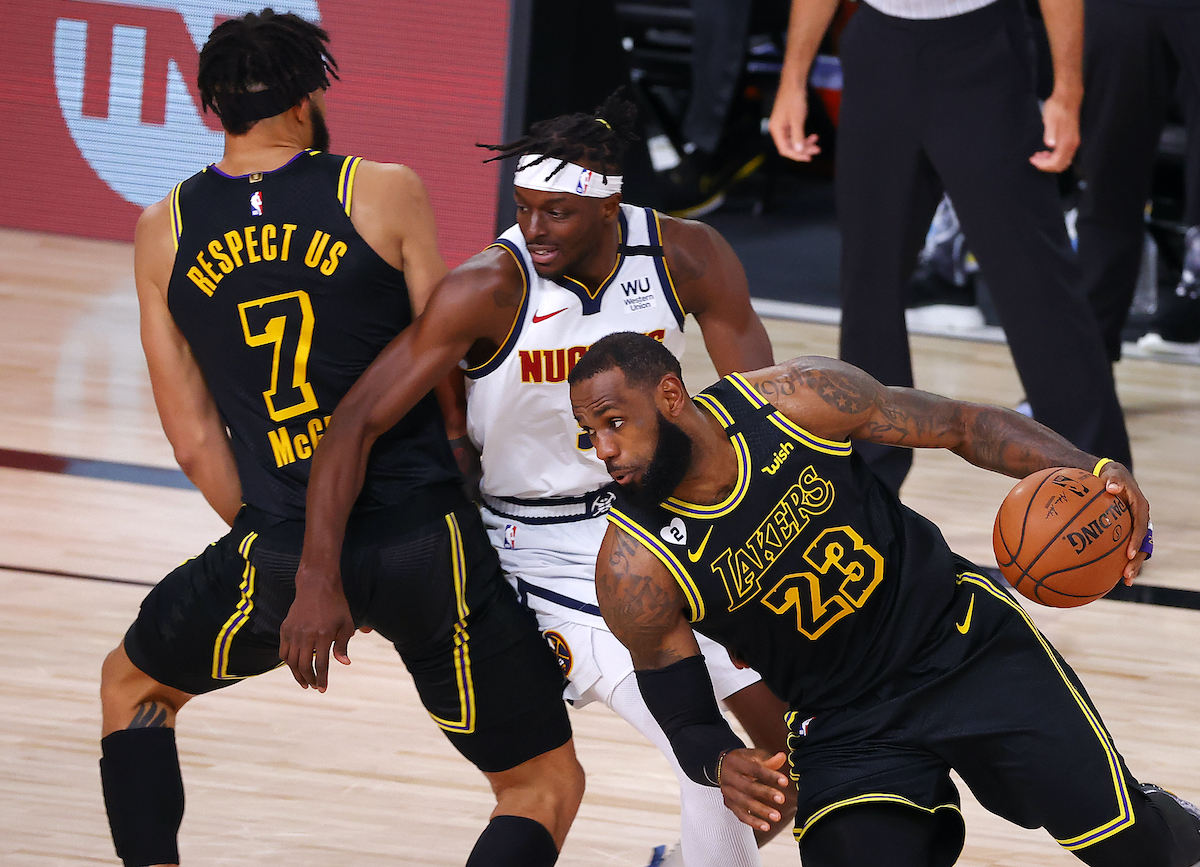 RELATED: Dwight Howard Channeled His Inner Kobe Bryant During a Postgame Interview
Bryant himself had co-designed jerseys for the 2016-17 season with a snakeskin patterned "Black Mamba" jerseys. Sixteen stars run down the side, each representing one of the Lakers' 16 championships, according to CBS Sports.
Today, the NBA has become even more accommodating when it comes to jerseys. Twenty-nine social justice messages were approved by the organization in early July, according to Deadline. Messages include Black Lives Matter, Peace, Justice Now, and Stand Up. Names of anyone deceased are not to be used.
Not everyone is on board with the decision. Hall of Famer and NBA analyst Charles Barkley feels that the NBA and other professional sports have turned social justice talking points into "a circus."
"Instead of talking about racial equality, racial justice, and economic justice, we spend all our time worrying about who's kneeling and not kneeling, what things are being said on buses, what's being said on jerseys. I think we're missing the point," he said.
But, that hasn't stopped a vast majority of players from adding one of those 29 approved messages on their jerseys, as the season resumed. And, it hasn't stopped there. Players are also adding messages on their shoes. Following Bryant's death Lakers forward Kyle Kuzma wrote "T.F.H." on his sneakers, short for "Tenacious. Fierce. Heart," according to The Undefeated.
However, writing on their shoes isn't new for NBA players. LeBron James has been scribbling on his Nikes for three seasons now. Most recently, he has scribbled tributes to both Kobe and Gianna along with other thoughts. He's been known to have as many as 15 messages written across his shoes for one game.
The No. 2 heart
Bryant wasn't the only loss due to the helicopter crash on the fatal day of January 26. His 13-year-old daughter, Gianna, her friend and teammate, Alyssa Altobelli, and her parents, and four others including the pilot were all killed.
Gianna, whom her dad fondly called Gigi, aspired to play basketball like her father. She wanted to play for the University of Connecticut and eventually the Women's National Basketball League, according to Time. Gianna and Alyssa played at the Mamba Sports Academy, and the helicopter was reportedly on its way to the academy for play in a tournament.
Gianna wore the No. 2. Like her father, the Lakers wanted to pay tribute to Gianna wearing her number with a heart around it on their jerseys. We will, no doubt, see the "Black Mamba" jerseys return in the future.