What Happened to David Sills, the Middle School Quarterback Who Commited to USC?
At only 13 years old, David Sills unknowingly became a trendsetter. Sills hadn't even reached high school yet when he announced a non-binding, verbal commitment to play at one of college football's premier programs.
Over 10 years after David Sills committed to join Lane Kiffin and the USC Trojans, where is the gunslinging prodigy now?
David Sills pledged to USC in early 2010
The gimmick of college coaches offering middle school prospects is nothing new in 2020. Sometimes the players are legacy athletes and sometimes, they're just extremely talented kids who definitely have a future at the Division I level.
David Sills V fit both categories, though more into the second than the first. Sills' father, David IV, played collegiately at the Virginia Military Institute but never reached the NFL.
David V began playing quarterback when he was 6. Sills started working with popular quarterback coach Steve Clarkson. who mentored the likes of Matt Leinart and Matt Barkley a few years later.
Clarkson had a pre-existing relationship with then-USC head coach Lane Kiffin. When Kiffin and Clarkson discussed a quarterback prospect in early-2010, Clarkson mentioned he had another player he wanted Kiffin to evaluate.
Steve Clarkson directed footage of Sills, a 6-foot 13-year-old, to Kiffin. Kiffin was so impressed by Sills' skillset that he offered the middle schooler a spot in the Class of 2015.
David Sills accepted Kiffin's offer and, even before he reached high school, had an early idea of where he would go to college. That was only an idea, though.
Sills had a wild, but successful college career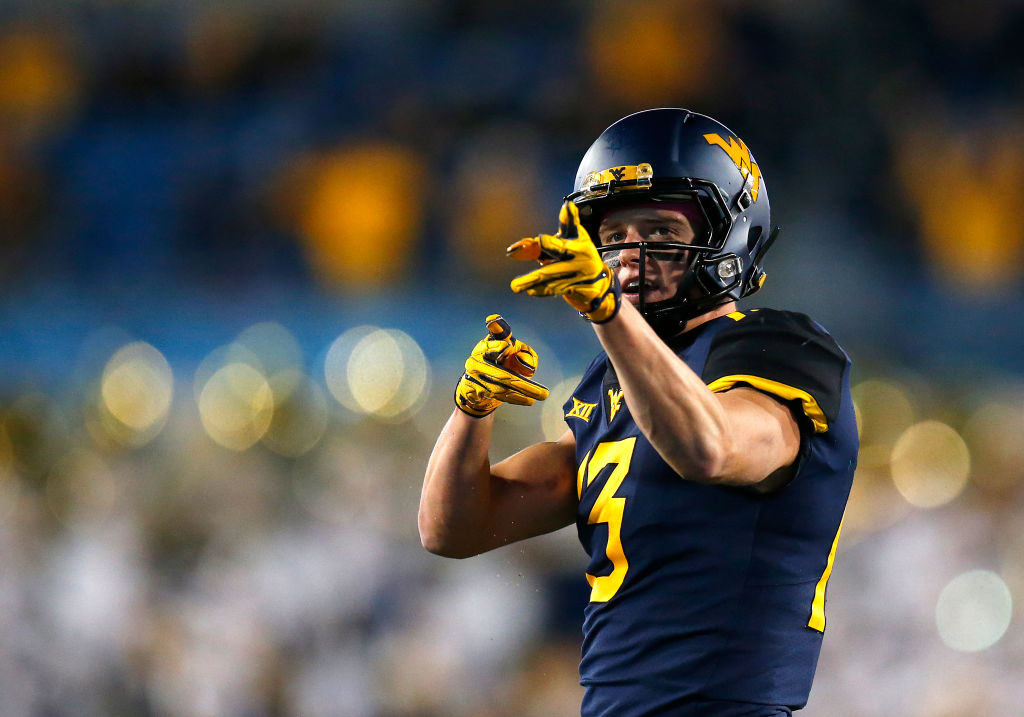 Although David Sills had his eyes set on Lane Kiffin and USC, things didn't quite work out as planned. USC fired Kiffin midway through the 2013 season and, although they intended to honor Sills' scholarship, he went a different route.
After he decomitted from USC in June 2014, Sills pledged to West Virginia a month later and enrolled at the school in January 2015. Although Sills enrolled at WVU as a quarterback, coaches temporarily moved him to wide receiver so he could contribute as a true freshman.
Sills caught seven passes for 131 yards and two touchdowns as a true freshman. When he missed out on the backup quarterback job at WVU, Sills transferred to El Camino College (Calif.) in 2016.
David Sills played quarterback at the junior college and threw for over 1,600 yards and 15 touchdowns. He returned to WVU in 2017, but as a full-time receiver rather than a quarterback.
The positional change paid off. Sills earned All-American honors in 2017 when he registered 60 receptions, 980 yards, and 18 touchdowns in 12 games.
A year later, Sills totaled 65 catches, 986 yards and another 15 touchdowns for the Mountaineers. At 6-foot-3 and 210 pounds, Sills had the size to potentially make an NFL roster.
David Sills now plays receiver in the NFL
Surprisingly, David Sills went undrafted in 2019. He nonetheless earned an opportunity with the Buffalo Bills and played with them throughout the preseason, although Buffalo cut him that August.
David Sills signed with the New York Giants in September and spent the year on their practice squad. New York promoted Sills to the active roster in mid-December, but he didn't play in a game.
Sills is still listed on the Giants' active roster as of May 2020.
David Sills never lived up to the expectation he'd become a Heisman Trophy-winning quarterback. But Sills thrived after a positional change and is earning NFL paychecks. That in itself is a win for himself and Lane Kiffin.