What Happened to NFL Quarterback Jamarcus Russell?
Jamarcus Russell has not played in the NFL in over ten years. After three seasons with the Oakland Raiders, the former 2007 No. 1 pick was wondering what he next move would be.
In 2013, Russell attempted to make a comeback to the NFL, but that plan did not fall through. The same thing happened in 2016, as no team wanted to give the former LSU star a shot.
Even though Russell is not playing anymore, he still found a way to be part of the game.
Jamarcus Russell: A star at LSU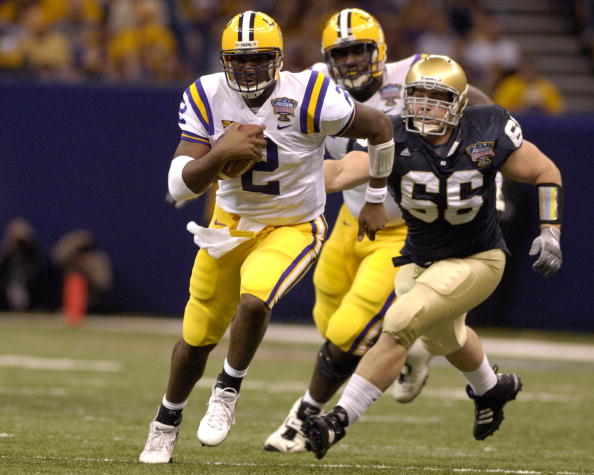 Jamarcus Russell can easily be argued as one of the greats in the history of football at LSU. He had some memorable moments down in Baton Rouge.
Russell played in a combined 36 games at LSU in three years. He finished with a 25-4 record as a starting quarterback, which is the third-highest total in LSU history.
He is ranked second all-time in career completion percentage (61.9) and career touchdown passes (52). When LSU came on, you made sure you wanted to see the show that Russell was going to display.
Russell was the recipient of the Manny Award (the best college quarterback in the country, including their postseason performance) in 2006 and was a semifinalist for the Davey O'Brien Award (best quarterback in college football).
Anyone watching college football during those three years would tell you that Russell was the best quarterback out there.
Sugar Bowl performance leads to No. 1 pick
In the 2007 Allstate Sugar Bowl game, Jamarcus Russell had over 350 yards of passing and rushing yards combine. Scoring three touchdowns, he led the Tigers to a 41-14 win over Notre Dame, where he was named the Most Valuable Player.
His performance in the Sugar Bowl caught the eye of Oakland Raiders owner Al Davis.
Ultimately, that game led Russell to be the No. 1 pick in the 2007 NFL Draft. Even though Oakland Raiders head coach Lane Kiffin didn't think Russell was ready, Davis had his mind set.
"This is nothing against JaMarcus," Kiffin said. "It was midnight the night before the draft. I said, 'We're going to pay this guy $63 million and he's not ready for it.' I said I wouldn't be ready for it at 21. He's not ready for that and hasn't played very much. And Mr. Davis is obsessed with the Sugar Bowl game when he beat Notre Dame. He watched that game on TV so he was just obsessed with that."
Kiffin wanted to go after star receiver Calvin Johnson, who ended up going No. 2 to the Detroit Lions.
If you take a look at Johnson's career and Russell's career in the league, it's no argument who should have went No. 1.
Jamarcus Russell's woes in Oakland
In his three years with the Raiders, Russell played in 31 games throwing for 4,803 yards while throwing more interceptions than touchdowns at 23-18.
There seemed to be no progression for the former No. 1 pick during his time at Oakland and fans thought, when will the LSU Jamarcus Russell come to life?
Unfortunately, Russell did not have the same success in the NFL that he did in college.
And that caused him to have a quick career in the league.
What is Jamarcus Russell doing now?
Jamarcus Russell made his way back to his high school alma mater in Alabama. He is the quarterback coach at Williamson High School.
Russell still holds the the Alabama high school record for passing yards (10,774).
Russell can share his knowledge of the game to the next up and coming generation of quarterbacks. His experience playing at a high level will be beneficial to the high school players.