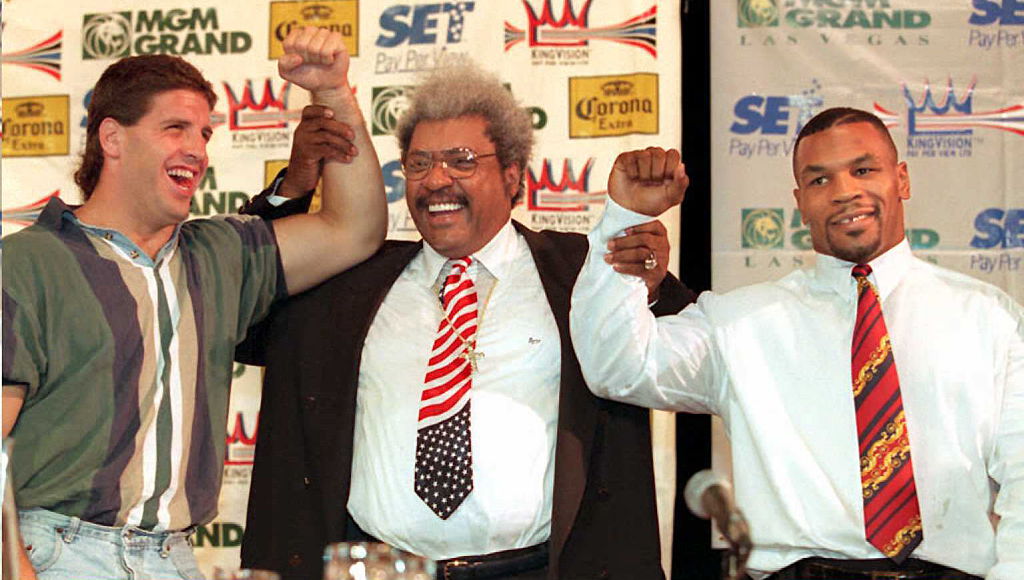 What Happened to Peter McNeeley, Mike Tyson's Comeback Opponent in 1995?
A look back at Peter McNeeley, the man chosen to take on Mike Tyson in his comeback fight in 1995, and what happened after his biggest fight.
When Mike Tyson was released from prison in 1995 after serving three years on a rape conviction, he almost immediately announced that he would return to the boxing ring. He obviously wasn't ready to reclaim the heavyweight championship of the world just yet and simply needed a decent comeback opponent. Tyson and promoter Don King needed someone crazy enough to know that he was being used but still had no problem jumping in with Iron Mike for a decent paycheck in front of a worldwide audience. Enter Peter McNeeley.
Peter McNeeley's career before the biggest fight of his life
In 1995, Peter McNeeley wasn't a well-known fighter but had actually cracked the top 20 in the WBA rankings the year before. After a decent amateur career, McNeeley, whose father was once a heavyweight contender, turned pro in 1991. Known for his punching power, Peter McNeeley won his first 24 pro fights, mostly local bouts in Massachusetts. He would fight six-rounders or eight-rounders but would win a majority of his fights with early-round knockouts. He fought for the New England heavyweight title on February 18, 1994, but lost via TKO in the eighth round to Stanley Wright.
By the time he was announced as Mike Tyson's comeback opponent, "Hurricane" Peter McNeeley had a record of 36-1 with 30 knockouts, 21 of those coming in the first round.
The fight with Mike Tyson
Peter McNeeley relished the limelight in the build to his fight with Mike Tyson on August 19, 1995. Never before had he been put in such a position and he ran with it. He appeared on talk shows and gave numerous interviews ahead of the biggest bout of his life. He talked of his respect for Iron Mike but said that he was coming for a real fight. He was easily getting the biggest paycheck of his life at $700,000 while Mike Tyson brought in a cool $25 million. But nobody gave him a chance and it was clear before the opening bell ever rang that he was overmatched.
Once the bell did ring that night at the MGM Grand in Las Vegas, you certainly had to give Peter McNeeley credit for not backing down. The atmosphere was electric in the moments leading up to the showdown as fans hadn't seen Mike Tyson in the ring since June 28, 1991. McNeeley charged right at the former champion in the opening seconds, swinging wildly at Iron Mike. But Tyson was able to dodge the onslaught and caught McNeeley with a right hand that sent him to the canvas less than 10 seconds into the fight. McNeeley jumped right back up and took the standing eight count as he ran around the ring.
It was a straight brawl from there. McNeeley actually did land a few shots but Tyson was never hurt by them and was throwing big shots of his own. The former champion sent McNeeley back to the canvas with 1:42 remaining in the first round with a big uppercut. McNeeley was certainly hurt that time and it showed on his face. He looked extremely dazed and could barely stand. It looked as if he wanted to continue but his corner jumped in and stopped things before any further damage could be done. In total, he lasted 89 seconds, just two seconds shorter than Michael Spinks had in 1988.
What happened to Peter McNeeley after the Mike Tyson fight?
After his fight with Mike Tyson, Peter McNeeley used his name to string together a few commercials, cashing in on his 15 minutes of fame. As far as his career was concerned, he returned to Massachusetts and won the small-time USBF heavyweight crown in October 1995, knocking out Mike Sams in the second round. He continued his in-ring career until 2001 and once squared off with Butterbean, losing via first-round TKO in June 1999. Peter McNeeley had a career record of 47-7.
Unfortunately, following the Tyson fight, Peter McNeeley also had a problem with drugs and alcohol, which got him into trouble on more than one occasion, even at the end of his career. When his in-ring career was over, he got himself into more trouble. In March 2006, he was arrested for punching a man at a bar and stealing his wallet. Later that year, he was arrested again for driving the getaway car in a drugstore robbery.
Years after his fight with Mike Tyson and his legal troubles, Peter McNeeley gave an interview to "Sports Illustrated" saying how grateful he was for the opportunity to fight one of his heroes. He told stories of how he and Tyson stayed in touch and that he was content with his career and was simply enjoying being a father to his daughter, Nadiya Gabrielle.