What Happened to Star Dolphins Running Back Ricky Williams?
When it came to running the football, there wasn't much Ricky Williams couldn't do. An All-American running back in college who flashed with speed and elusiveness, Williams looked ready to become the NFL's next legendary running back. Although substance-abuse issues derailed his career, Williams left a favorable legacy in Miami and has transitioned well into his post-playing career.
Just how good was Ricky Williams, and what is he doing in retirement? Let's remember one of the NFL's most electric running backs of this century.
Ricky Williams ran through the NFL when he was with the Miami Dolphins
A Heisman Trophy winner at Texas, Ricky Williams signed with the rapper Master P's organization, No Limit Sports, before the 1999 NFL Draft. New Orleans traded all of the Saints' 1999 draft picks, as well as first and third-round picks in 2000, for the rights to select Williams at No. 5. Unfortunately for Williams, Master P negotiated a largely incentive-laded contract that led to Williams parting ways with the agency.
Although Williams showcased why he was worthy of the No. 5 overall pick, it wasn't until New Orleans traded him to Miami that Williams became a star. Ricky Williams led the NFL with 1,853 yards and 16 touchdowns in his first year with the Dolphins and added 1,372 yards and 10 total touchdowns a year later. The "Run Ricky Run" concept quickly made Williams a fan favorite in Miami Gardens.
Ricky Williams had a successful comeback after overcoming personal issues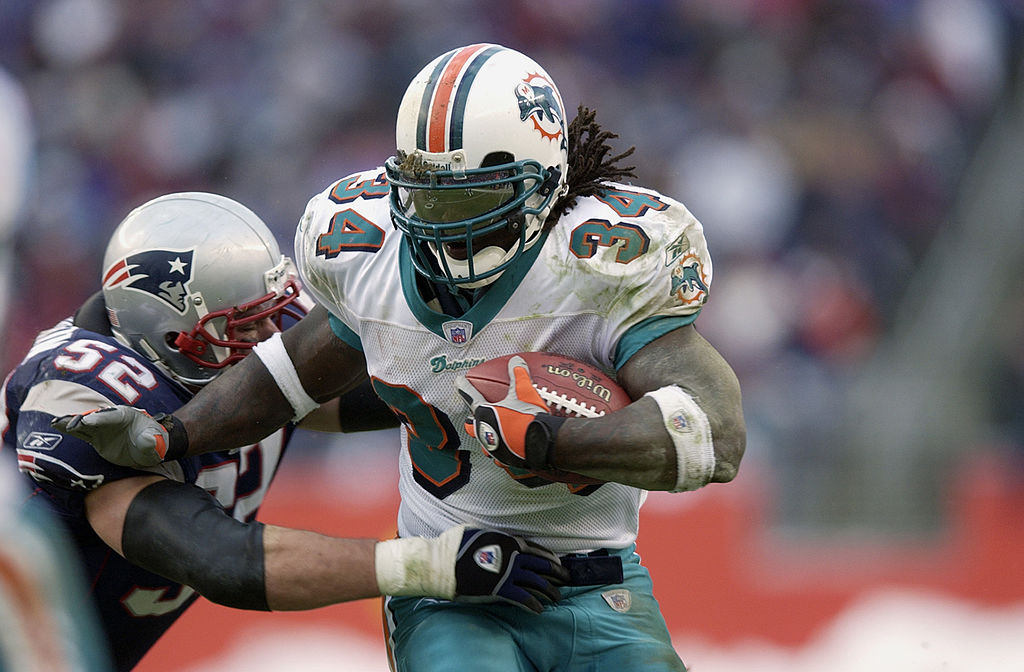 While Ricky Williams had no problems eluding tacklers, the same couldn't be said for the NFL's substance-abuse policy. Williams tested positive for marijuana twice, the second test resulting in a four-game suspension at the start of the 2004 season. Rather than serve the suspension, Williams instead retired and spent the year studying medicine.
Williams returned in 2005 and ran for six touchdowns as part of a 1-2 punch with top draft pick Ronnie Brown. Unfortunately, Williams was suspended for the 2006 season after violating the NFL drug policy again.

After spending 2006 with the CFL's Toronto Argonauts, Ricky Williams suited up for the Dolphins once again in November 2007. Williams was injured in his first game back, however, but re-signed with the Dolphins.
With Brown and Williams running the Wildcat formation, the 2008 Dolphins stunned the NFL and went 11-5. Williams totaled 659 yards that year and topped 1,121 rushing yards a year later at age 32. The six years between Williams' 1,000 yards seasons set an NFL record.
Ricky Williams ran for another 673 yards for Miami in 2010 and spent his final season with the Baltimore Ravens. While in Baltimore, Williams hit 10,000 career yards and ended his career with 66 touchdowns on the ground.
Ricky Williams now works in herbal medicine
Although he hasn't played an NFL down since January 2012 and never went into coaching, Ricky Williams has stuck around football. Williams has served as a football analyst on the Longhorn Network and was featured in an episode of NFL Network's popular docu-series, A Football Life.
A longtime cannabis advocate, Ricky Williams co-founded a herbal wellness company, Real Wellness, with his wife in 2018. Real Wellness sells herbs that treat mental and physical health problems. Williams told CNBC he viewed himself as a "healer."
"I feel like with my unique background as a football player, having to deal with a lot of pain and a lot of stress [and] anxiety — and the path that I've been on, most importantly my education over the past 10 years — has put me in a unique position where I have a niche, an expertise to offer the world."