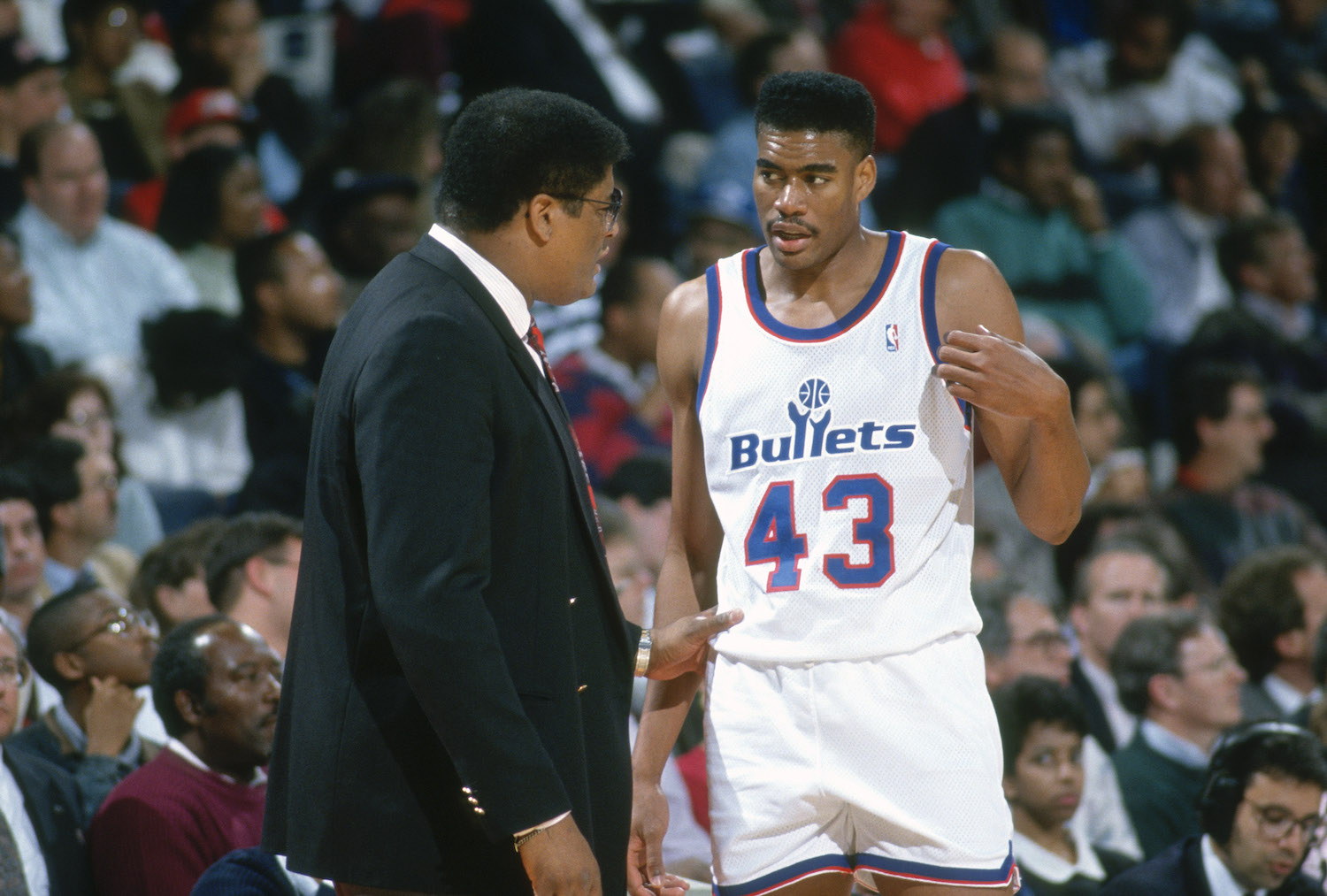 What Happened to the No. 1 Overall Pick from the 1989 NBA Draft 'Never Nervous' Pervis Ellison?
Pervis Ellison stole the show as a freshman at the 1986 NCAA Tournament. He was the No. 1 overall pick in the 1989 NBA Draft. Where is 'Never Nervous' Pervis today?
The 1986 NCAA men's basketball tournament was March Madness defined. The Louisville Cardinals made an improbable run through the field of 64, led by freshman sensation "Never Nervous" Pervis Ellison. The Cardinals upset the Duke University Blue Devils for the national title, and Ellison earned tournament most outstanding player honors. Three years later, Ellison was the No. 1 overall selection of the Sacramento Kings in the 1989 NBA Draft. Where is "Never Nervous" Pervis Ellison today?
Pervis Ellison becomes a star his freshman season at Louisville
After being a McDonald's All-American at Savannah High School in Georgia, Pervis Ellison signed to play with Denny Crum and the Louisville Cardinals. His first season in Louisville was one to remember.
The lanky 6-foot-9 freshman had a solid season his first year in Louisville, averaging 13.1 points, 8.2 rebounds, and 2.4 blocks per contest. However, during the NCAA Tournament, and in particular, the title game against the Duke Blue Devils, Ellison became a star. He finished the contest scoring 25 points, hauling in 11 rebounds, and blocking a pair of shots as Louisville held on for a 72-69 victory in Dallas. Ellison was named the tournament's most outstanding player.
Pervis Ellison played three more years in Louisville, where he was a three-time All-Metro Conference player. His senior year, he earned the Metro co-player of the year and consensus first-team All-American honors.
Pervis Ellison taken No. 1 overall in 1989 NBA Draft
The Sacramento Kings selected Pervis Ellison with the No. 1 overall pick in the 1989 NBA Draft. Due to injuries, which would dog him throughout much of his career, Ellison played sparingly during his only season with the Kings, averaging 8.0 points and 5.8 rebounds per contest.
Ellison spent the next four seasons with the then-Washington Bullets, three of which were the most productive years in his career. His best season came in 1991-92 when he started in 64 games and finished the year, averaging 20 points and pulling in 7.9 boards per contest. He won the NBA's Most Improved Player award. 
Pervis Ellison spent six years with the Boston Celtics, but injuries limited his minutes, including the 1998-99 season, which he missed in its entirety due to injured ankle. He played his final season in 2002-03 with the Seattle Supersonics and saw action in just nine games. 
For his NBA career, he averaged 9.5 points, 6.7 rebounds, and 1.6 blocks per game.
Where is Ellison now?
After his 11 seasons in the NBA, Pervis Ellison followed a similar path of former players and joined the coaching ranks. Eventually, when his children got old enough, he taught them the game. 
While coaching at the Life Center Academy in New Jersey, he coached his son Malik, who went on to play at St. John's, before transferring to Pittsburgh, and then Hartford, where he played last season and averaged 18.7 points per game.
Ellison's daughter Aja was a top recruit and played at Maryland for three seasons before finishing her career at Texas A&M in 2018-19, where she averaged 1.2 points per game. 
In addition to his kids, Ellison has coached and mentored players Lamarr Kimble, who was a senior last year at Louisville and Lance Ware, who is a freshman this year at Kentucky. 
While Pervis Ellison's NBA career never quite equaled his success at the college level, he never gave up on the game. And thankfully for those players he's worked with through the years, including his own children, he decided to give back to the game that gave him so much.