What is Alabama's All-Time Record Against Georgia?
The College Football Playoff title game has arrived. What do we get? An SEC showdown, Georgia against Alabama.
While some might not be thrilled with the two schools playing one another again, it was pretty clear these were the two best teams in college football all season long. Alabama handled undefeated Cincinnati in the semifinals while Georgia embarrassed Michigan in what might be Jim Harbaugh's final game in Ann Arbor if he does decide to head to the NFL.
As Georgia and Alabama face off again, it's worth asking: what is the record between these two powerhouses?
Alabama has won the last seven matchups with Georgia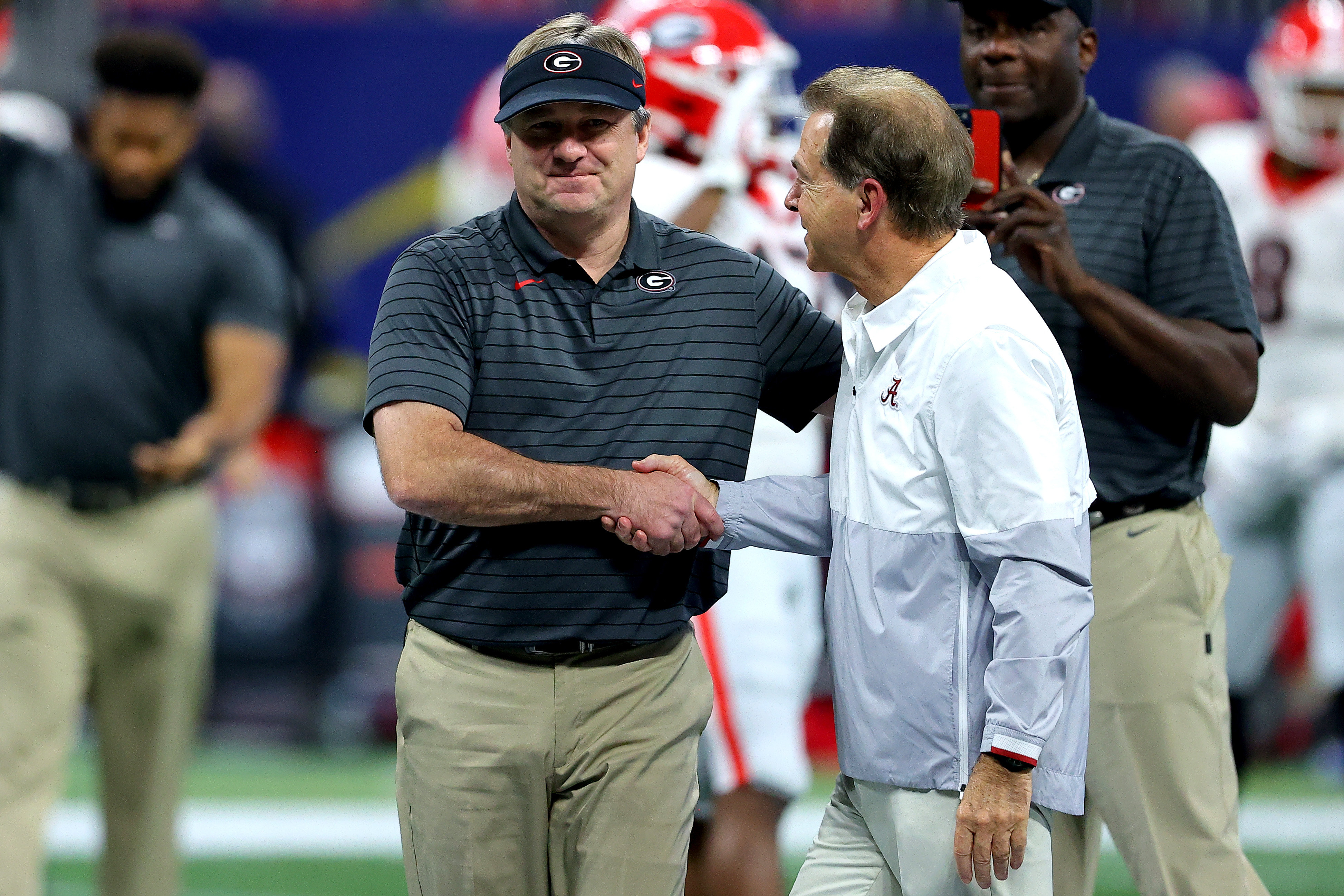 Recently, Alabama has dominated Georgia. The Crimson Tide have won the previous seven games between one another, including three SEC title games and, of course, the 2018 National Championship.
However, in those games, Georgia has hung around quite often but failed to achieve the victory.
Can the Bulldogs overcome and find a way to defeat Alabama once and for all?
It won't be easy, but this Bulldogs team is talented and features a ton of NFL Draft prospects, including superstar Jordan Davis.
The last few matchups haven't been pretty, and the overall record between the two schools heavily favors Alabama.
The Crimson Tide dominate the series history against Georgia, which started all the way back in 1895
The first time these two programs played was in 1895. Really.
Nonetheless, the series belongs to Alabama, which holds a 42-25-4 record against Georgia. Before Alabama's seven-game win streak, Georgia won three in a row from 2002-2007.
Plain and simple, the Crimson Tide dominates the series history against essentially everybody, especially since Nick Saban has taken over as head coach.
The championship game is a rematch of the SEC title game
These two teams met earlier this season in the SEC title game.
The Crimson Tide then handed Georgia its first loss of the season, 41-24. Bulldogs quarterback Stetson Bennett threw three scores and a pair of interceptions, but Heisman Trophy winner Bryce Young tossed for 421 yards with three scores and zero turnovers.
Jameson Williams exploded for 184 yards and two scores on seven catches, and Brian Robinson Jr. had a mediocre 55-yard game on the ground.
But Robinson just torched the Bearcats defense for 198 yards on 25 carries on New Year's Eve. On the other hand, the Georgia run defense is stout and impressive, especially with Davis clogging up the middle of the line.
Can Alabama capture win No. 43 against Georgia and No. 8 in a row while taking another championship?
Stats Courtesy of Sports Reference