What Is Bengals WR A.J. Green's Net Worth?
Over the years, one of the most underrated, but certainly most talented, wide receivers in the NFL has been A.J. Green. While the Cincinnati Bengals have had some excellent seasons and some awful seasons with Green, he has been one of the most consistent NFL wide receivers every time he steps foot on the field.
Green's play has ultimately earned him a decent amount of money over the years too. So, how much is he worth? Here's a look at Green's career at the net worth he has racked up over the years.
A.J. Green was a stellar wide receiver at Georgia
Green's college football career took place in the SEC with the Georgia Bulldogs. He ultimately became a superstar while he was there.
Even though he was only a freshman, Green was a stellar pass-catcher from the jump in 2008. He caught 56 passes that season for 963 yards and eight touchdowns in 13 games. He also had the luxury of playing with an excellent quarterback that season in Matthew Stafford, who threw for 3,459 yards, 25 touchdowns, and 10 interceptions.
Georgia ultimately went 10-3 that year and won the Capital One Bowl over Michigan State.
Green did not have the same excellent quarterback play in 2009 and 2010, but he still played well in those seasons. He caught 53 passes for 808 yards and six touchdowns in 10 games in 2009, and then 57 passes for 848 yards and nine touchdowns in nine games in 2010.
After the 2010 season, Green entered the 2011 NFL draft.
He has been a top NFL receiver for the Cincinnati Bengals
Green was a top prospect in the 2011 NFL draft. The Cincinnati Bengals then selected him with the fourth overall pick.
In his first seven seasons in the NFL, Green was as reliable as they come. He gained over 1,000 receiving yards in six of his first seven seasons. The year that he didn't reach 1,000 yards, Green still gained 964 in just 10 games.
So far, Green's best season statistically came in 2013 when he caught 98 passes for 1,426 yards and 11 touchdowns, which were all career highs. The Bengals have had a lot of nice seasons with him too, as they made the playoffs in each of his first five seasons and even went 12-4 in 2015.
However, Green only played in nine games in 2018 due to injury, catching 46 passes for 694 yards and six touchdowns. He then didn't play at all in 2019. For his career, Green has caught 607 passes for 8,958 yards and 63 touchdowns as of Sept. 16, 2020. His receptions are 11th among active players, while his receiving yards are seventh and his receiving touchdowns are sixth.
Wanting to stay in Cincinnati
In the offseason prior to the 2020 season, Green said that he wants to keep playing in Cincinnati.
"I love being a Bengal. I always envisioned myself retiring with one team," Green said, according to Bengals team reporter Marisa Contipelli.
He also said that he believed he had several years left.
"I have at least four — four great years left in me," Green said, according to Bengals.com. "Great years. I mean, I always said I wanted to play 15 years, but coming now, I am like, 'Man, maybe I can play more.' I've got my body where I feel good, so we'll see. We'll take it year by year. When I'm done playing, when I seem like I'm retiring, I don't love the game anymore. I still love the game. I still love the practice so when that goes away, then I'll be done."
What is A.J. Green's net worth?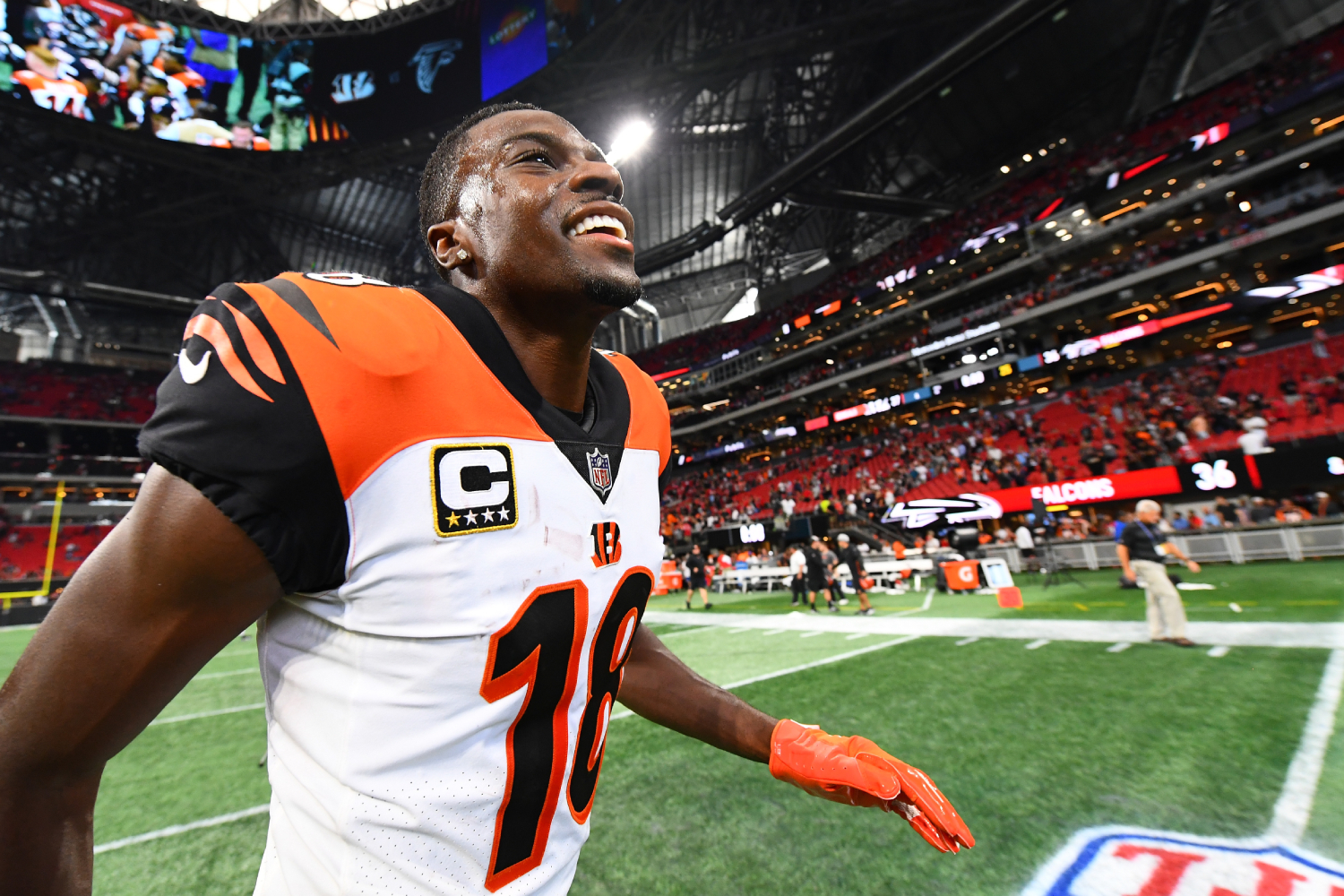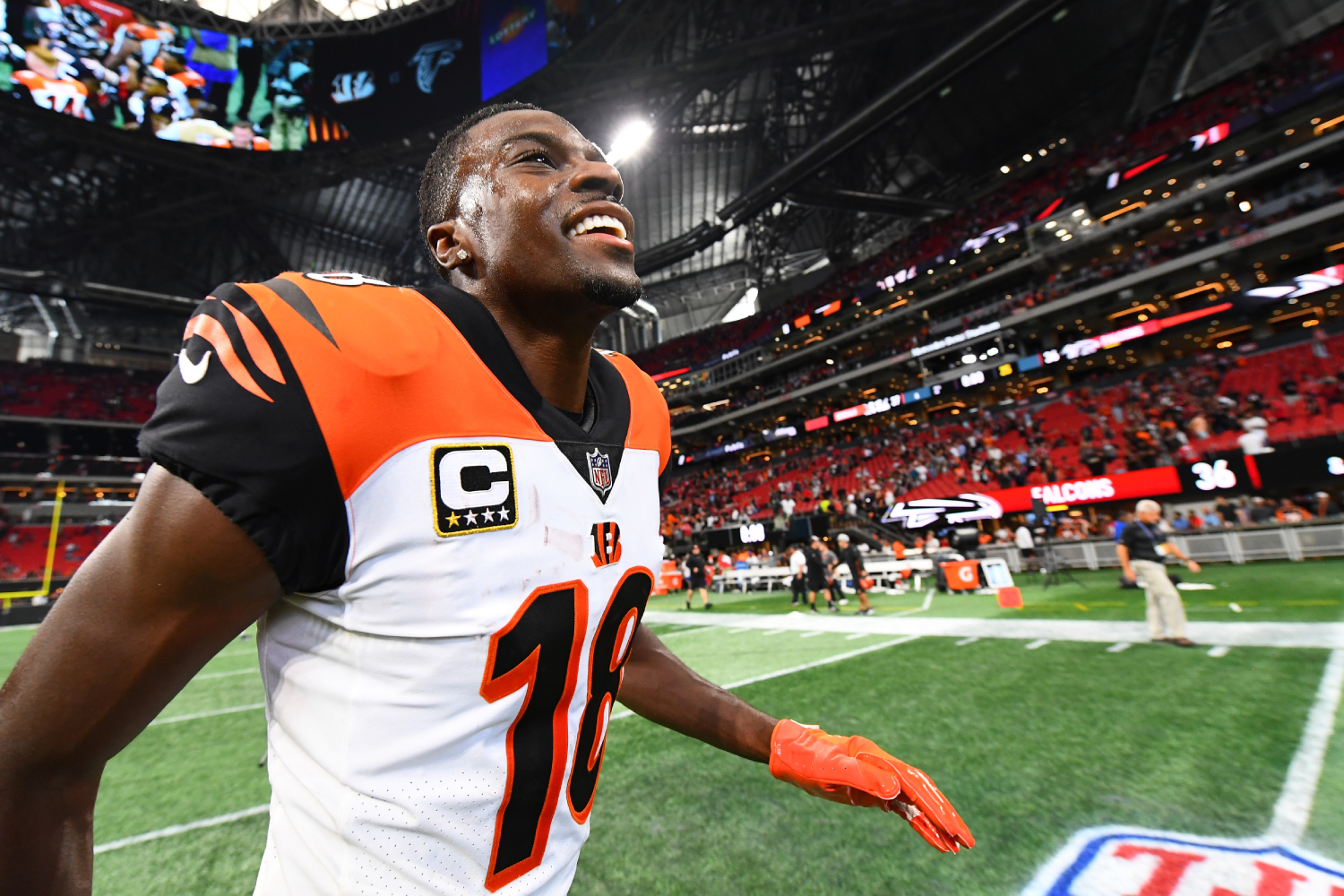 Green's play has ultimately helped him make a lot of money in his career. According to Spotrac, Green has earned an estimated $108.03 million. So, what is his net worth?
Celebrity Net Worth reports that he is worth $18 million. 
A.J. Green has been one of the best wide receivers in the NFL in his career. His play with the Cincinnati Bengals has certainly paid off.
Stats courtesy of Pro Football Reference