What Is Bill Belichick's Salary and Net Worth?
Ask anyone associated with the NFL — players, coaches, fans, front office execs or media — who the best head coach in the league is. The majority of their answers will invariably come back the same: Bill Belichick. Since taking over as head coach of the New England Patriots, Belichick has quite simply redefined what head coaches are capable of.
As Belichick approaches the (likely) later stages of his career, it makes sense to take a look back at not only his on-field accomplishments but also the wealth he's been able to build. Let's take a closer look at Belichick's salary and net worth.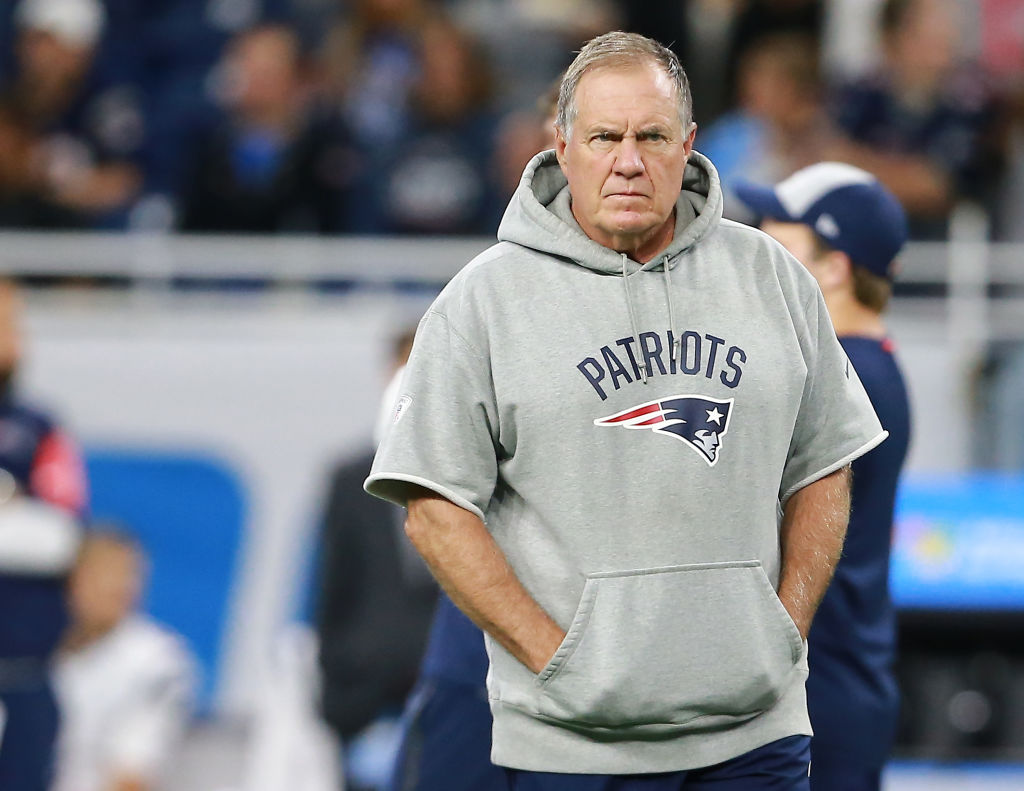 Bill Belichick's pre-Patriots career
Prior to becoming the head coach of the Patriots, Belichick had a long and accomplished career as (mostly) an assistant. In 1975, he joined the Baltimore Colts as a special assistant.
He then spent time with the Detroit Lions and then the Denver Broncos before joining the New York Giants in 1980. Belichick led the linebackers and special teams until the 1985 season, at which time he was promoted to defensive coordinator. 
It was as the Giants' defensive coordinator under head coach Bill Parcells that Belichick began to make a name for himself. Aided by great defensive players like Lawrence Taylor, Carl Banks, and Pepper Johnson, Belichick built the Giants into a truly formidable defense that helped the team win two Super Bowls.
Belichick's scheme in Super Bowl XXV to shut down Buffalo Bills' running back Thurman Thomas is now regarded as one of the great defensive game plans in Super Bowl history.
Record as an NFL head coach
Fans today (and particularly fans born after the year 2000) may have a hard time associating Belichick with any team other than New England. But it wasn't Belichick's first head coaching stop. He began his head coaching career with the Cleveland Browns, where he coached from 1991-1995. Belichick had only one playoff appearance in Cleveland before being fired. 
After that, he linked back up with Parcells for his first stint in New England before leaving with the Big Tuna to head to the Jets. Belichick again served as the defensive coordinator. Parcells named him his heir apparent, but after Parcells stepped down Belichick spurned the Jets and took the New England job.
It was in New England that Belichick came into his own. Along with quarterback Tom Brady, Belichick has appeared in nine Super Bowls and won six of them. No other head coach in league history has come close to either of those totals. He'll no doubt one day be in the Hall of Fame.
What is Bill Belichick's salary and net worth?
According to TheStreet.com, Belichick reportedly has a net worth of $35 million. He's obviously made quite a bit of money during his coaching career. He's likely the coach with the most job security in football — after winning as many games as he has, there aren't many coaches who can be that confident in their standing within their organization. 
Belichick also has a high (and well-deserved) salary. CNBC reports that Belichick makes around $10 million a season. It's a far cry from his humble beginnings as an apprentice with the Colts. There, Belichick worked for free at first before getting a raise to $25 a week. Belichick didn't care about the low pay, however:
"I got three meals, a bed, and a lot of football and that was all I really wanted at the time."
Belichick's dedication to becoming a football coach is probably what helped him make it as far as he has. While Belichick is no doubt a talented play-caller and talent evaluator, the simple fact of the matter is that he's also willing to outwork just about anyone.