What Is Blaine Gabbert's Net Worth?
Blaine Gabbert might not be a starting-caliber quarterback regularly, but that doesn't mean he's playing for peanuts. Nearly a decade into his NFL career, Gabbert is still a reliable option as insurance off the bench. Now backing up Tom Brady in Tampa Bay, Gabbert remains a hot commodity. So what's his net worth?
Blaine Gabbert's college football career
RELATED: What Tom Brady Really Thinks About Every Backup Quarterback He's Had
A star out of Missouri, Gabbert was once one of the most promising young QBs in the 2011 NFL draft. During his first three years, he went from inconsistent bench quarterback with only 13 passes to one of America's best quarterbacks. Gabbert's breakout season, in 2009, the young star threw for almost 3,600 yards and 24 touchdowns on only nine interceptions. It was his best year at the college ranks. 
After showing a slight regression after the 2009 season, Gabbert was still a hot commodity in NFL circles. At the time, the Jacksonville Jaguars sought a spark plug to reinvigorate their struggling offense. Gabbert had all the tools. After going 10th overall in the draft, he was set to prove his worth. 
Welcome to the NFL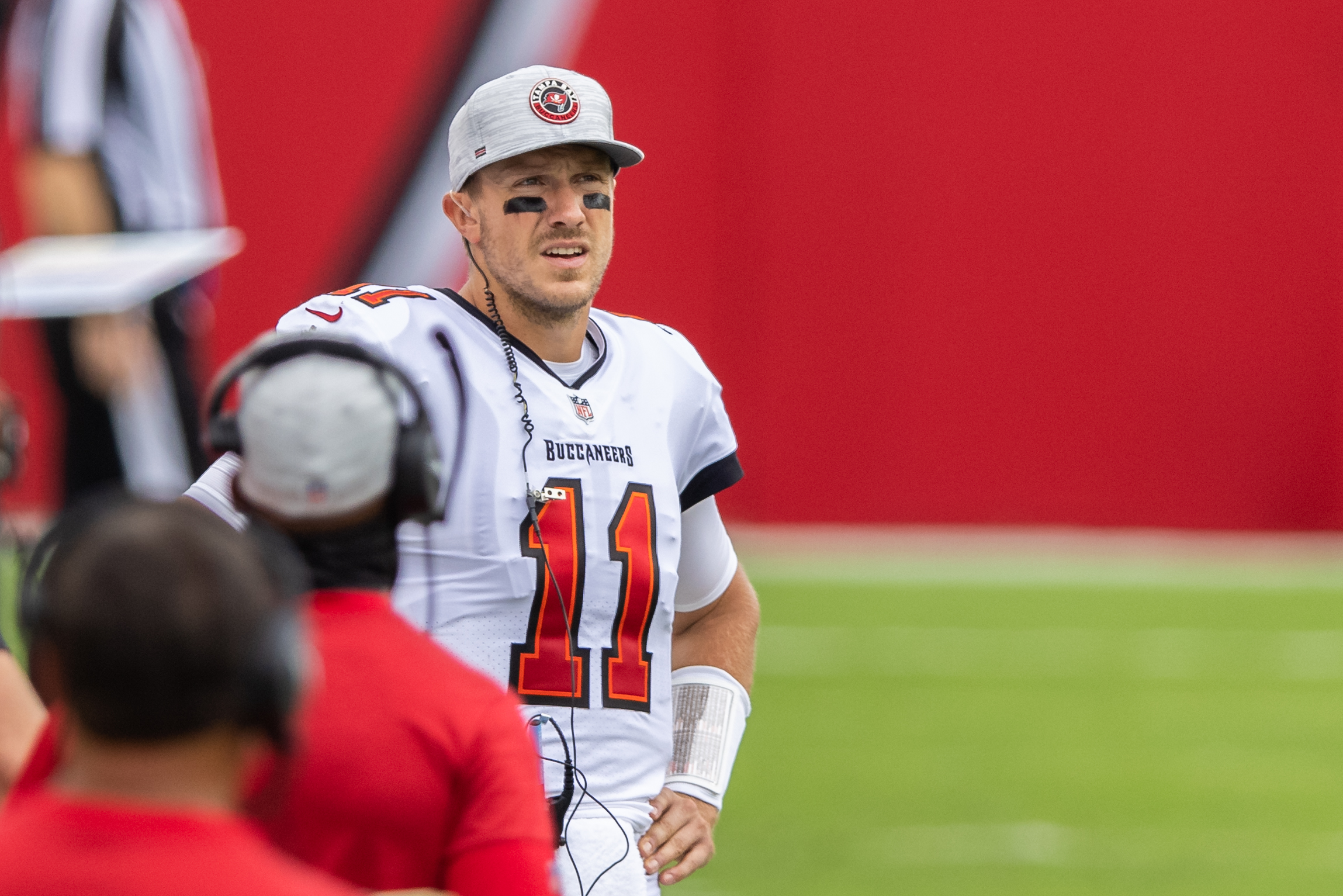 RELATED: Who Did Colin Kaepernick Lose His Starting NFL Job To?
Gabbert entered the Jaguars starting lineup almost instantly. However, his numbers as a rookie left a lot to be desired. He threw for over 2,200 yards and 12 touchdowns but nearly matched those TDs with 11 interceptions. And it didn't get any better. As a sophomore with the team, Gabbert started 10 games, threw for nine touchdowns and six interceptions, and led the team to a 1-9 record. 
After going 0-3 during the 2013 season, Gabbert's career in Jacksonville was over. He spent the next three years in and out of the 49ers' rotation. His 2015 campaign may have been his best as a pro, even if it was limited. During his second season, Gabbert threw for 2,000 yards in only eight games for 10 TDs and seven interceptions. However, he's spent most of the years since on the bench, starting in just 13 games since 2015. 
Gabbert spent the entire 2019 season watching Jameis Winston throw for the Buccaneers. Now, with Tom Brady on the team, Gabbert's likely to continue this streak for the foreseeable future. Despite limited success in the NFL, however, Gabbert has amassed a comfortable living thanks to his willingness to sneak into the background. 
While he might not make star quarterback money, he's able to live his greatest life away from the game he loves.
What is Blaine Gabbert's worth?
Gabbert's salaries in his first decade in pro football were small by NFL standards but more than the average person makes. He started on a $12 million deal with $7 million in signing bonuses, details Spotrac. His contracts since have not been as bountiful.
Gabbert has gotten by on near-minimum deals since his first NFL years. He signed a pair of two-year, $4 million deals with San Francisco and Tennessee before ending up in Tampa with a pair of one-year deals. 
In all, Gabbert holds a net worth of over $3 million, according to The Richest. It may not seem like a lot, but for a player who rarely sees the field, there are worse ways to make a million bucks. Gabbert's lifestyle doesn't require Mahomes-like money. He enjoys fishing and the outdoors.
Likely near the end of his NFL career, Gabbert's carved a niche as a reliable option off the bench. Being dependable is one of the keys to longevity on an NFL roster regardless of someone's talent level. He might not have reached his full potential, but 10 years on, Gabbert remains in a league where many fizzle out.