What Is Chris Paul's Net Worth?
Chris Paul is still playing in the NBA, but he's on a different financial path than many pro athletes. According to Sports Illustrated, about 60% of former NBA players go broke within five years of retiring. Paul has made a lot of money from his salary and endorsements, but he also focuses on financial awareness. Here's a look at Paul's net worth and career.
Chris Paul's NBA career
Paul was born on May 6, 1985, in Lewisville, North Carolina, although some sources list his birthplace as Winston-Salem. In 2003, the high school senior led the West Forsyth basketball team to a winning season of 27–3. That same year, Paul was named a McDonald's All-American and North Carolina's Mr. Basketball.
After playing two seasons at Wake Forest University, Paul was chosen No. 4 overall by the New Orleans Hornets in the 2005 NBA Draft. The point guard went on to earn the 2006 NBA Rookie of the Year award. Paul played for the Hornets from 2005-11 before moving to the Los Angeles Clippers from 2011-17. Then, he represented the Rockets for two seasons before Houston traded him to the Oklahoma City Thunder in 2019.
Paul has been an NBA All-Star 10 times; he earned the 2013 NBA All-Star MVP award and won Olympic gold medals in 2008 and 2012. He also led the NBA in assists four times and steals six times. In addition, Paul has served as president of the National Basketball Players Association since 2013.
Paul's many endorsements
As Forbes reports, Paul's endorsements have included Spalding, Nike's Jordan Brand, State Farm, Panini, FanDuel, Kaiser Permanente, Tencent, and Walt Disney. His work with the Jordan Brand includes his own sneaker line, the Jordan CP3.
Paul's current worth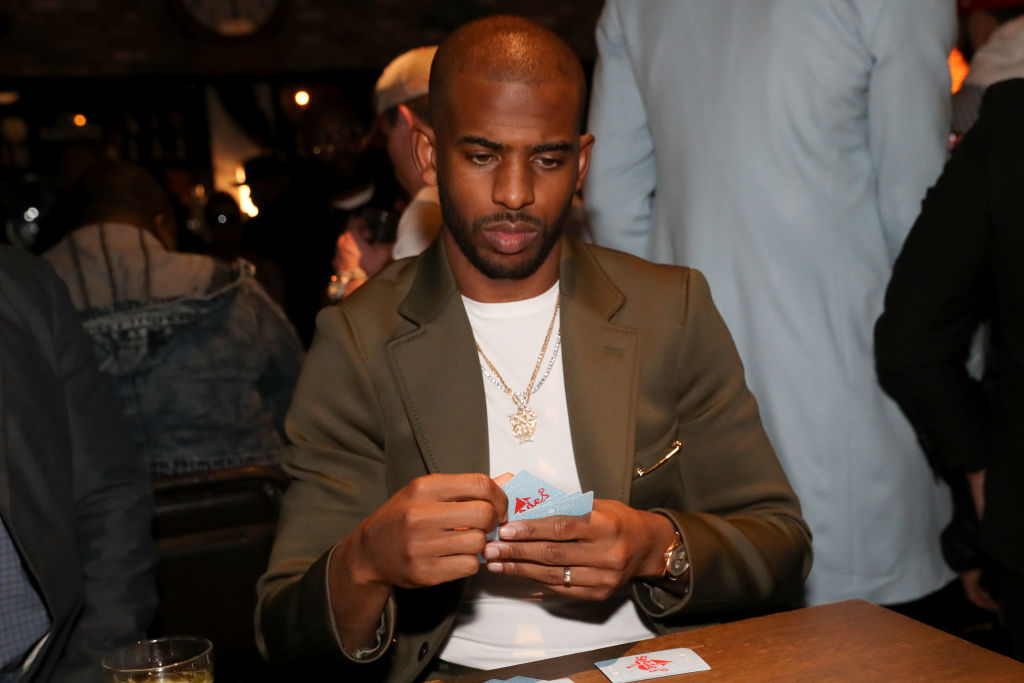 According to CelebrityNetWorth.com, Paul makes a salary of $24 million and has a net worth of $120 million. His salary in his first NBA season was around $3 million. Paul earned nearly $160 million from his salary in his first 10 years in the NBA.
He signed a contract extension with the Rockets for $159.7 million, As Forbes explains, it pays $38.5 million for this season (with the Thunder), $41.3 million for next season, and $44.2 million for 2021–22.
In one year, between June 2017 and June 2018, he earned $30 million from both his salary and endorsements. This rose the following year when he earned $43.8 million from his salary and endorsements between June 2018 and June 2019. Of that, $35.8 million was from salary and $8 million was from endorsements. According to NBC Sports, in 2019, Paul was one of the top 10 earners in the NBA.
Paul will likely hold on to much of his fortune since he has good financial habits now. He told CNBC Make It that when he declared for the NBA draft during college, his agency offered a $100,000 advance, but his parents asked to have that lowered to $25,000.
While the 34-year-old does use credit cards today, it took him some time to get used to the idea. He said, "I just never liked the whole premise of having a credit card and being able to spend money that you don't have."
Paul bought jewelry and an Escalade and wasn't frugal in his early years of playing, but he explained that today he's aware of his spending. "I'm not cheap but I'm frugal, so I'm very conscious of any and everything that I spend money on," he says.
The point guard prefers to spend his wealth on experiences for his family. He strives to ensure his two children understand the value of money. And he also works with the players' union to educate current athletes on financial literacy.
Follow more updates from Sportscasting on our Facebook page.