What Is Clemson Coach Dabo Swinney's Net Worth?
Dabo Swinney is one of the best coaches in all of college football. He has put himself up there with names like Nick Saban and Urban Meyer, as his Clemson Tigers are almost always one of the best teams in the country. So, since Swinney has become one of the most popular names and faces in college football, how much is his net worth? Spoiler alert: he is worth a lot of money.
Dabo Swinney played college football for the Alabama Crimson Tide
RELATED: Is Ezekiel Elliott on Ohio State Football's Mount Rushmore?
Believe it or not, Swinney actually played college football for the school his team has played multiple times in the national championship game: Alabama.
According to his bio on Clemson's site, Swinney lettered three years at Alabama from 1990 through 1992. He was also a part of the 1989 team. Swinney wasn't a premiere player at Bama, but he was a part of some great teams while he was there. Alabama went 10-2 in 1989 and 11-1 in 1991. Then, in 1992, the Crimson Tide ultimately went 13-0 and won a national championship.
During his time at Alabama, he also earned Academic All-SEC honors and was an SEC Scholar-Athlete Honor Roll member. He ultimately ended up getting a degree in commerce and business administration before getting his masters in business administration.
He has become a top coach for the Clemson Tigers
RELATED: Why Does Ohio State Put Stickers on Its Football Helmets?
Swinney started his coaching career at Alabama, where he was a grad assistant from 1993 through 1995, per his bio on Clemson's site. He was then a wide receivers/tight ends coach at Alabama before becoming the wide receivers coach at Clemson from 2003 through 2006.
Swinney was the assistant head coach/wide receivers coach at Clemson from 2007 until October 2008, when he then became the interim head coach/offensive coordinator. Swinney has since been the full-time head coach at Clemson since 2009.
The Clemson Tigers were just decent in Swinney's first few seasons. The Tigers went 9-5 in 2009 before going 6-7 in 2010. However, they have not won fewer than 10 games since 2011.
During the 2011 season, Clemson went 10-4 before losing in the Orange Bowl. The Tigers then went 11-2 each of the next two seasons and even won the Orange Bowl over Ohio State in 2013.
Then, after going 10-3 in 2014, Clemson was one of the country's best teams in 2015. The Tigers went 14-1 and reached the national championship game before losing to Alabama. They then got their revenge over Alabama, though, when they faced them in the championship again in the 2016 season and ended up winning it all.
The Tigers went 12-2 and lost in the Sugar Bowl in 2017 but went to the championship game again in 2018. Clemson went 15-0 that season and ended up winning the national championship again. The Tigers then reached the national championship game yet again in 2019 but lost to LSU.
So, all in all, in five seasons from 2015 through 2019, Clemson reached four national championship games under Swinney and won two national titles. They made it to the College Football Playoff in each of those five seasons, too.
Through 2019, Swinney had an overall record of 130-31 at Clemson.
What is Dabo Swinney's net worth?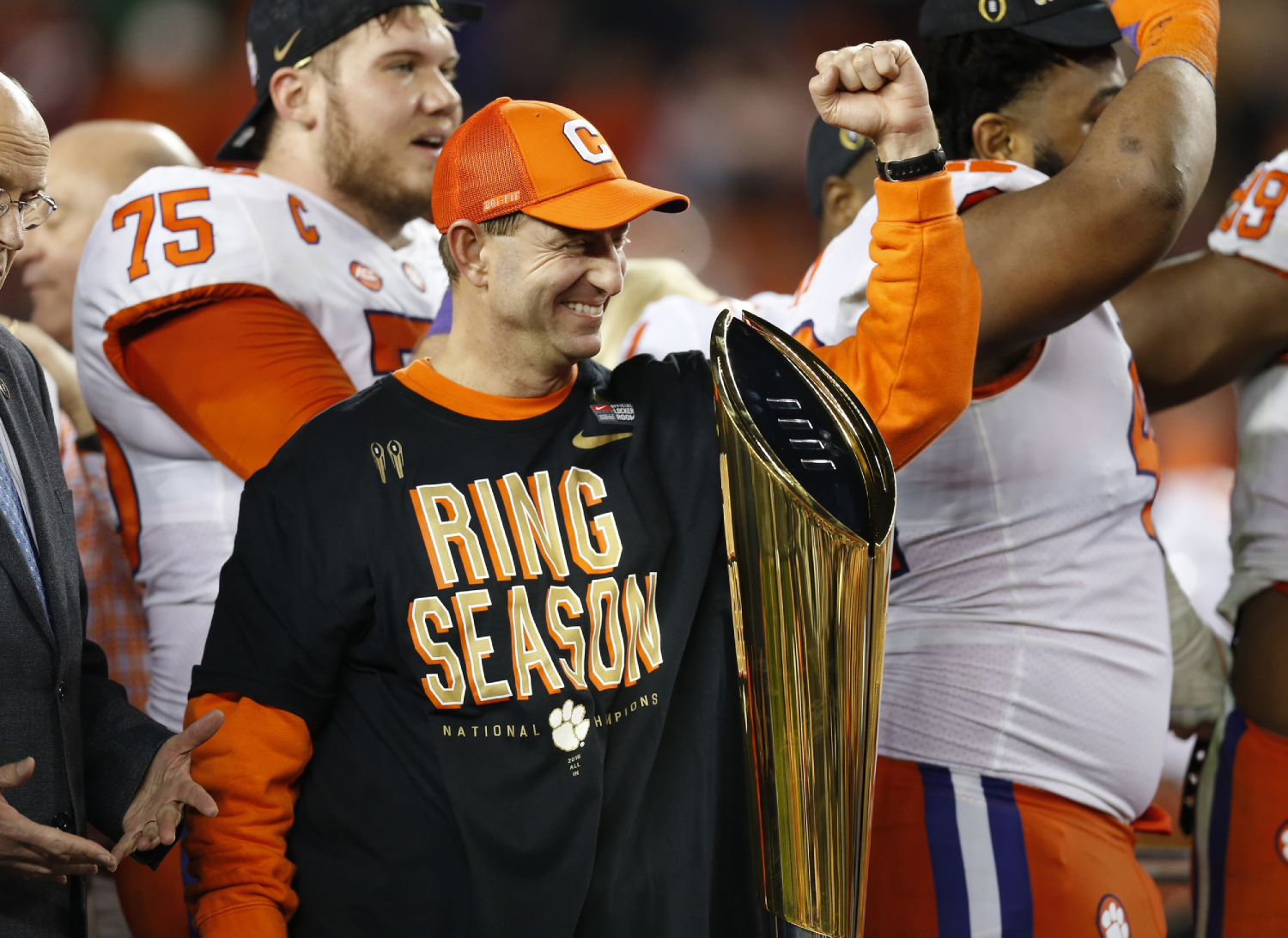 RELATED: Dabo Swinney Would Never Actually Leave Clemson Over Fair Pay to Play
Swinney's success at Clemson has helped him become one of the highest-paid coaches in college football.
According to USA Today, Swinney is earning $8.31 million in 2020 but took a $1.25 million pay reduction due to the COVID-19 pandemic. His salary is the third-most among college football coaches, just barely behind Alabama coach Nick Saban and LSU coach Ed Orgeron. 
So, how much is Swinney worth? Celebrity Net Worth reports that he is worth $20 million. That's a ton of money.
Dabo Swinney has had a lot of success as a college football coach. His work has paid off, too.
Like Sportscasting on Facebook. Follow us on Twitter @sportscasting19.