What is Former NBA Commissioner David Stern's Basketball Legacy?
The NBA and the sports world at large lost an important man on January 1, 2020. David Stern, the NBA Commissioner of 30 years, died at the age of 77 as a result of the sudden brain hemorrhage he suffered on December 12, 2019. Stern underwent emergency brain surgery to try and lessen the bleeding, but he ultimately succumbed to his injuries. Stern will not be forgotten, though, and with such a long-spanning career as commissioner, he leaves a legacy that will live on long after him.
How David Stern became NBA Commissioner
Stern had been in the basketball world long before he became NBA Commissioner, starting when he took on the role of outside counsel to the league in 1966. He worked his way up to General Council by 1978 and then moved on to be the executive vice president of the NBA in 1980. In 1984, Stern took over for Larry O'Brien as NBA Commissioner, where he remained until 2014.

David Stern retired 30 years to the day that he took the job, and passed the reins to current commissioner Adam Silver. Stern didn't go away entirely. He continued in the role of commissioner emeritus and stayed involved with the NBA machine he helped create.

David Stern led the NBA to new heights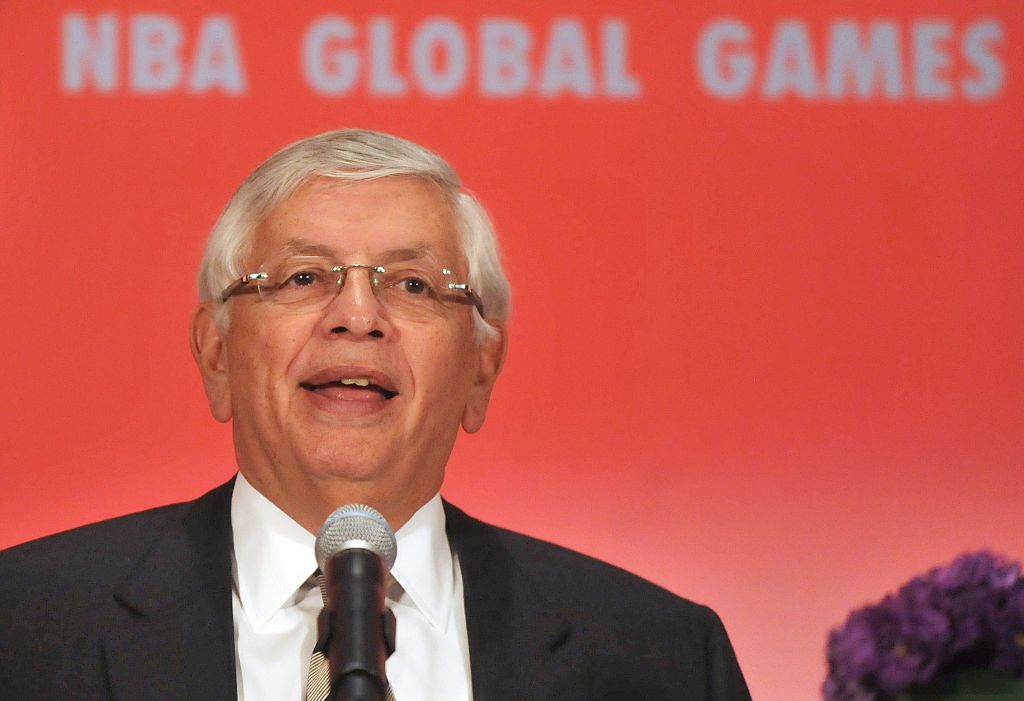 International expansion was a result of Stern's efforts along with a strong presence at the 1992 Olympics. The electric personalities on the 1992 Dream Team helped, but Stern was the one who greenlit NBA players participating in the Olympics.

While the draft lottery may be controversial, it is part of his legacy. He led team expansions, newsworthy press conferences with his stars, like when Magic Johnson announced he was HIV positive, and even saved a team from being sold out from under a city again by having the league buy it.

Perhaps one of the biggest reasons he may have had more highs than lows is because he saw less overall, and certainly less damaging, lows. He didn't have the steroids, head injuries, or publicity issues to deal with that other sports leaders did. That allowed him to focus on the NBA brand as a whole instead of always averting the next crisis. He promoted the league ad nauseam, which gave it popularity that stretches across oceans. At the end of his tenure, he entered the Naismith Memorial Basketball Hall of Fame (2014) and the FIBA Hall of Fame (2016).
The league survived some lows during Stern's tenure
David Stern didn't come out of his time as commissioner all roses. There were problems he had to deal with, but overall, one could accurately say he had more highs than lows. He made some controversial moves in an effort to make the league more widely known, such as a harsh dress code meant to improve the league's image. He also moved the league to Canada.

Under Stern, only eight of the 30 NBA teams won championships, which is less than any other American professional sport during his tenure, and it makes his efforts to create a unified team versus star player model less successful. He also helped create the WNBA, which struggled for attention during his tenure and still comes up for air with mixed results. And let's not forget the scandal that erupted from ref Tim Donaghy betting on his own games, which temporarily stained the league.

But his highs were extremely high. He helped clean up the NBA's well-known drug problem almost as soon as he took over. He also gave the league a media presence, which gave teams and players a face and helped increase the popularity of the game even more. Tape-delayed TV broadcasts gave way to live coverage of basketball games, including the NBA Finals.

David Stern leaves quite the legacy
During David Stern's time leading the NBA, basketball took off in popularity. Whether it was Stern or big names like Magic Johnson and Michael Jordan leading the charge, the changes couldn't be denied. During Stern's tenure, the number of people watching the NBA would see a rise that more than quadrupled in size. His time didn't come without some big ups and downs, as any great leader would expect, but they certainly made a lasting impact on the sport. As the longest-tenured commissioner in not only basketball but any major American sport by almost a decade, he was a powerhouse of a figure that wasn't afraid to exert his influence.

Stern certainly had many memorable moments as commissioner, which foreshadows the larger legacy he should leave behind. From adding live broadcasts of the finals to bringing basketball to an international stage, Stern knew what he was doing. He helped grow the game beyond a niche market to the booming popularity it sees today. All of those things helped make the NBA what it is today and revived the economy and popularity of basketball as a whole.

Last but not least, Stern also earned the respect of the superstar players who were so instrumental to the league's growth. Michael Jordan, Magic Johnson, and Shaquille O'Neal were a few of the many stars who admired David Stern and the way he grew the game to what it is today.