What is George Foreman's Net Worth?
George Foreman's status as a legendary boxer might be his second claim to fame for a younger generation who never saw him fight. Years before he cooked meat on TV with a grill bearing his name, Foreman was knocking out opponents and earning huge paychecks. Now, years removed from the ring, the boxer is worth a lot of money. 
George Foreman's rise to greatness
According to Britannica, Foreman grew up in Texas but learned to fight at Job Corps camp in Oregon. He first burst onto the scene as a 19-year-old at the 1968 Olympic Games in Mexico City. The 6-foot-3, 218-pound boxer used his size and power to seize the gold. From there, he faced some of the biggest names in the sport. 
Foreman captured his first of two heavyweight titles by knocking out Joe Frazier during a fight in Jamaica. This happened in the middle of one of his most impressive boxing feats, a 40-win streak, including 24 consecutive knockouts, to begin his career.
As one of the best boxers in the world, however, Foreman eventually faced off with another juggernaut, Muhammad Ali. 
Foreman's peak
The Rumble in the Jungle, the legendary fight that took place in Kinshasa, Zaire in 1974, was one of the biggest matches of all time. Unfortunately for Foreman, reports the Telegraph, he lost; Ali knocked him out after eight hard-fought rounds.
Foreman returned to his winning ways before retiring in 1977 to become an evangelist. He returned 10 years later as he neared 40 years of age. Despite this, the Texan won every fight during the first three years of his comeback. 
In 1994, after losing a few bouts the previous year, Foreman won the heavyweight title at 45 years of age, a world record, reports History.com. The win came against Michael Moorer, who was 35-0 entering the fight. Foreman defended the title in 1995 against Axel Schulz. In 1997, he retired with a 76-3 record, although he remained in the spotlight. 
The George Foreman Grill
The George Foreman Grill originated as an idea in 1994 when Foreman was still fighting. While some presume that the boxer was in a lab inventing the grill, he simply served as the face of the product. A man named Michael Boehm of Illinois invented the device, which he designed to cook both sides of the food at an angle that lets fat drip off. 
With Foreman being a hot commodity amidst his comeback, he was approached with the idea of putting his name on the grill. Despite some concerns, he decided to do it after tasting a burger his wife cooked on the grill.
George Foreman's Lean, Mean, Fat-Reducing Grilling Machines were born in 1999. The grill was a success. To this day Foreman's likeness can be found on the grills and all of the offshoots. It's among the best endorsement deals an athlete has ever signed. 
What is Foreman's net worth?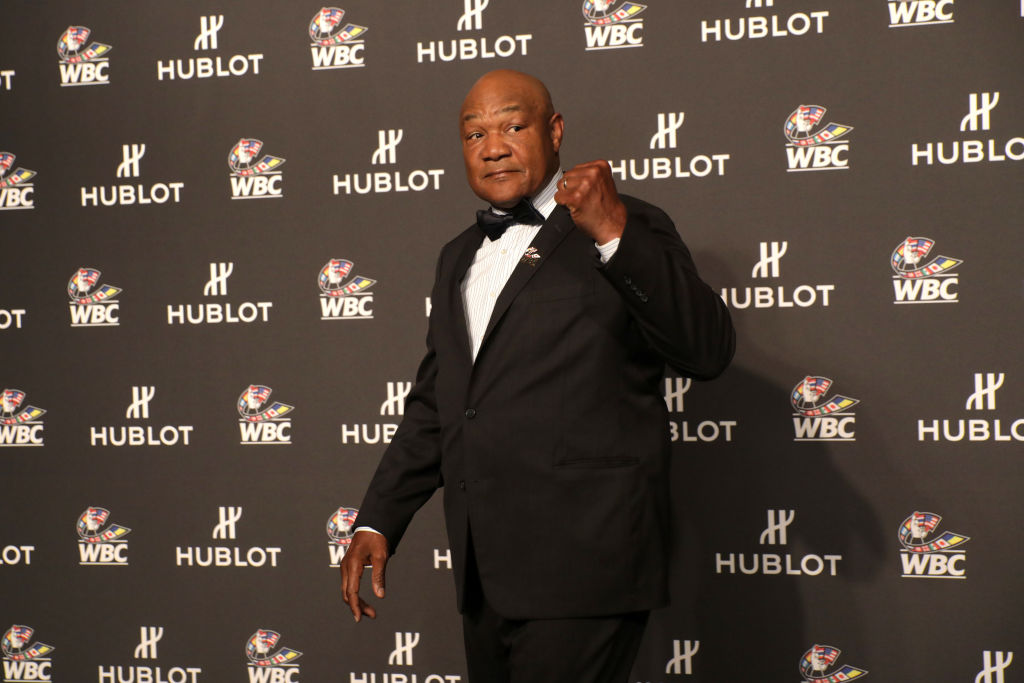 Foreman won about $5 million in his first stretch of fights. By the time he came back in the late '80s, this money was all gone. He earned more during his comeback, as he was still one of the biggest names in the sport. With Foreman reportedly making 40% off of what's become a standard household appliance, he's more lucrative than he ever was as a boxer.
Foreman reportedly made $138 million for the use of his name on the grill in 1999, reports Money Inc. Through over 20 years of growth, he's now believed to be worth over $300 million and counting. Foreman can thank his boxing career for his name. But it's safe to say he's made far more off of burgers and chicken than he ever did throwing punches.
Follow more updates from Sportscasting on our Facebook page.