What is Jerry West's Net Worth?
He is the man affectionately known as "Zeke from Cabin Creek," a name the great Jerry West was given when he joined the Minneapolis Lakers in 1960 as the second pick in that year's NBA draft. Shy and withdrawn, The West Virginia-born West let his court presence speak for him over his 14-year, 932-game career in which he averaged 27 points per game and made the All-Star team each season.
Jerry West wins gold and NBA immortality
In his three varsity years at West Virginia University, West was named All-American twice, averaging 29.3 points and 16.5 rebounds per game while shooting more than 50% from the floor. He was named, along with Oscar Robertson, the top pick in the 1960 NBA draft, co-captains of the gold medal-winning U.S. Men's Basketball team in the Rome Olympics.
Despite his introverted demeanor, Jerry West was a force to be reckoned with on the court from the outset. Paired with Hall of Fame forward Elgin Baylor, West and his teammate earned the nicknames "Mr. Inside and Mr. Outside." West averaged 17.8 points in his rookie year, which stood as the only season where he averaged less than 20 points per game.
Jerry West: the logo
Looking for an identity to differentiate itself from the fledgling American Basketball Association, the NBA hired a brand consultant to create an image for the league. A silhouette of Jerry West was chosen as the NBA logo as a way to show that the senior league had players of greater skill and athleticism. More than 50 years later, West, who has never received a penny for his likeness, remains as the symbol of pro basketball.
Three years ago, West told USA Today he would prefer the league move on and select another player for its logo:
"I don't like to do anything to call attention to myself, and when people say that, it's just not who I am, period," West said. "If they would want to change it, I wish they would. In many ways, I wish they would."
West's riches come as a coach and GM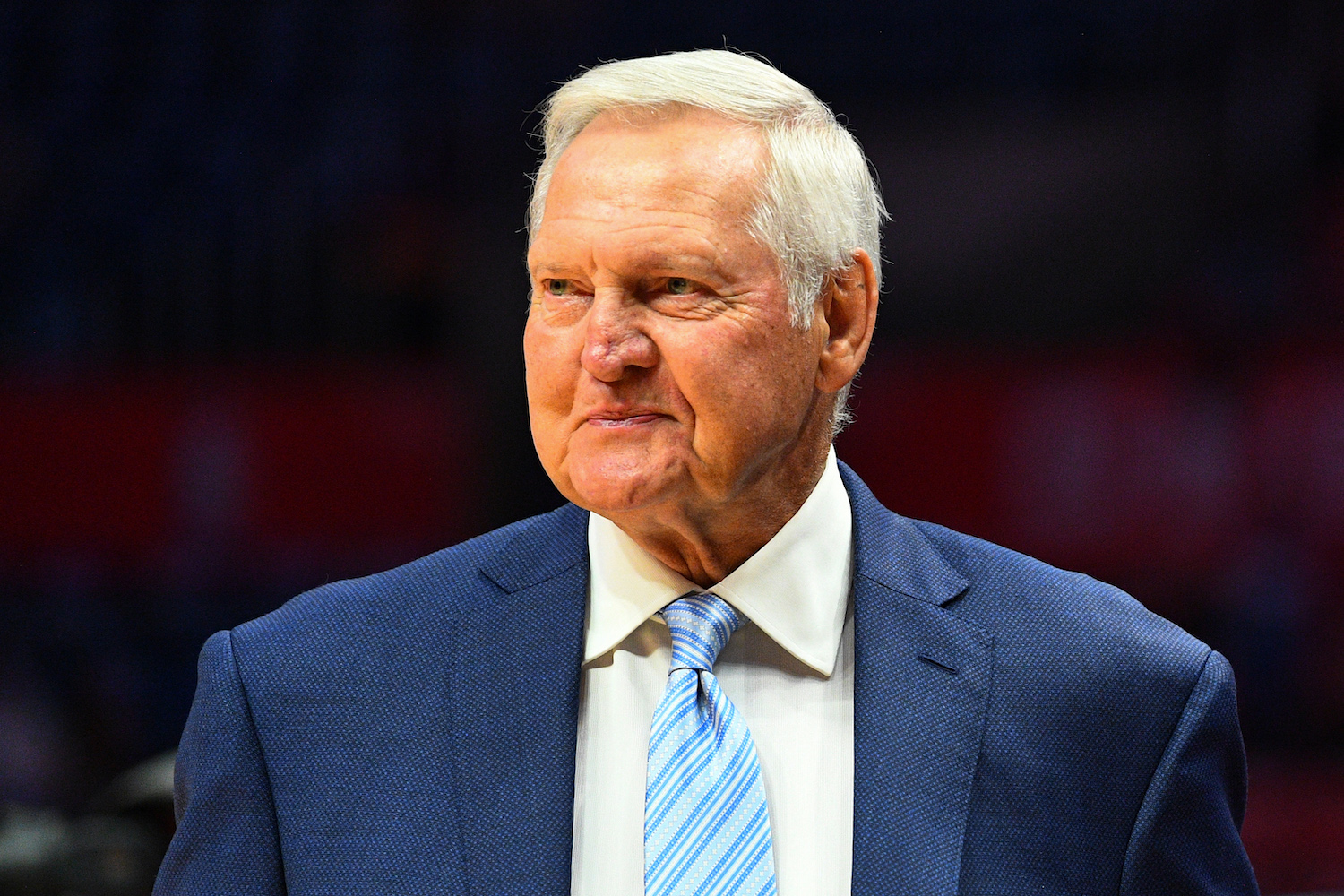 After ending his playing career following the 1973-74 season, West became the Lakers' coach, taking the team to the playoffs three consecutive years and to the NBA Finals in 1977. He then became a scout for the Lakers before being named GM before the 1982-1983 season. Under his guidance, he named Phil Jackson head coach, drafted Kobe Bryant, and traded for Shaquille O'Neal. He skillfully created a team that won the NBA championship three consecutive years, from 2000 to 2002.
Jerry West moved on from the Lakers to become GM of the Memphis Grizzlies for five years. While the Grizzlies did not experience the same success as the Lakers, West turned the franchise in a playoff-caliber squad. Offered a minority stake in the Golden State Warriors in 2011, West joined the team as an executive board member. During his tenure, the Warriors won two NBA titles.
In 2017, West became an executive board member of the LA Clippers. In his current role as a consultant with the Clippers, West earns between $4 million and $5 million a year, according to Real GM.Despite only earning $90,000 for his best season, according to NESN, West has a net worth of $55 million from his post-playing career as a coach and team executive, Celebrity Net Worth reports. During his playing career, West had no significant endorsement deals.