What Is Joseph Benavidez's Net Worth?
There have been many great UFC champs, but at the same time, there have been many great fighters who have never won the belt. Joseph Benavidez is one of those fighters, and he's had a great run in the UFC's flyweight division. Here's a look at Benavidez's career and his net worth so far. 
Joseph Benavidez before the UFC
RELATED: What Is Catchweight in UFC?
Born in Texas but raised in New Mexico, Benavidez's life before the UFC looked like many other fighters' personal lives. Like many of the best fighters in the UFC, Benavidez was a great wrestler.
He wasn't an Olympic gold medalist, but he was successful in high school level wrestling. However, wrestling isn't the most lucrative sport out there, and so he eventually started mixing it up by learning other martial arts.
Eventually, it was clear that he was a cut above his training partners, and so he started fighting professionally. He made his debut in 2006 and, like Ranked Wiki wrote, it didn't take him long before he joined the big leagues. In 2008, he joined the WEC, which was, at the time, the best place in the world for fighters in the lighter weight classes. 
He was extremely successful in the WEC, as he had a record of 13-2 by the time that the WEC merged with the UFC. His only losses were both against Dominick Cruz, who'd later become the UFC's bantamweight champ.
Joseph Benavidez's UFC career so far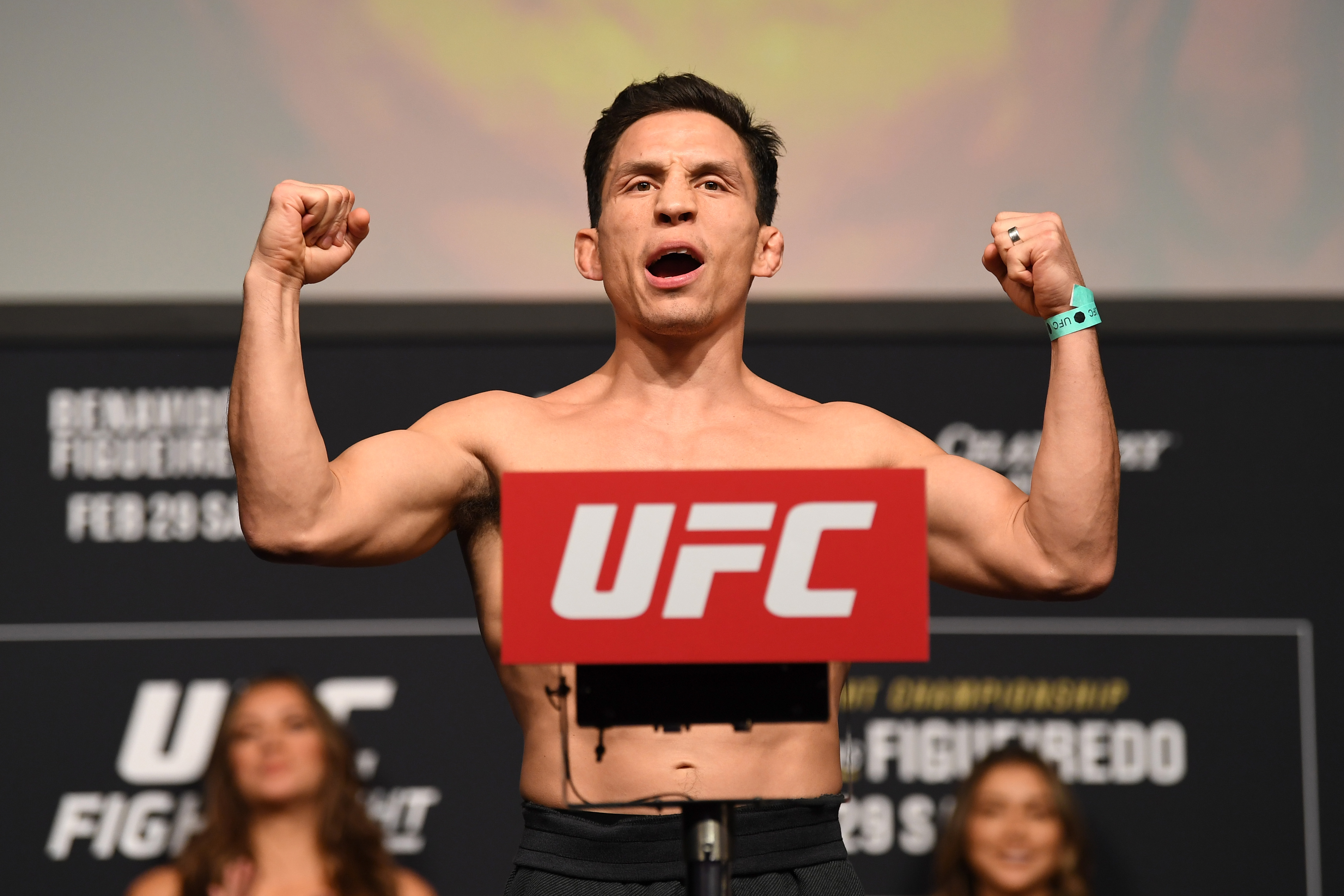 When he joined the UFC, the UFC didn't have a flyweight division yet. The UFC wanted to start it though, and so the UFC hosted a flyweight tournament that would crown the inaugural champ.
Benavidez was part of that tournament, and, with a record of 16-2 at the time, he fought and lost to Demetrious Johnson for the belt. 
This was his first loss in a title fight in the UFC, and it wouldn't be his last. Benavidez won three more fights in a row before the UFC gave him another title shot, and this time, he still fell short.
Johnson was simply one of the most dominant champs in the UFC, and Benavidez had no hope of winning the title so long as Johnson held it. 
After this loss, Benavidez fought 10 times, and he won 9 of those fights. He even won a fight against Henry Cejudo, who'd later beat Johnson and become the champ himself.
But, before Benavidez could fight Cejudo again, Cejudo retired. And so, the UFC decided to give Benavidez another chance at winning gold, this time against Deiveson Figueiredo, who had a record of 17-1 at the time.
Unfortunately for Benavidez, Figueiredo beat him not once, but twice. These setbacks, while painful, haven't put a damper on Benavidez's legacy as one of the best fighters to never win the belt. 
Joseph Benavidez's net worth
RELATED: Jorge Masvidal Revealed the Hardest Puncher He's Ever Faced
The flyweight division isn't the most lucrative division, but Benavidez has been well-paid for his many fights in the UFC. He's won four performance bonuses, and that equals to at least $200,000 in extra cash in his pockets.
All said and done, Ranked Wiki said that he has a net worth of $2.5 million right now. However, since he's not retired, his net worth may keep rising. Furthermore, he's a fan favorite fighter and he's also married to Megan Olivi, who also works for the UFC. This means that, when he eventually retires, he'll have a nice retirement gig set up for him. 
Plus, since he does have a win over Cejudo, if Cejudo makes a comeback, Cejudo might decide to give Benavidez a rematch so that they could settle the score. This fight would be a big payday for Benavidez, as Cejudo is another popular fighter.