What Is Legendary Running Back Eric Dickerson's Net Worth?
Eric Dickerson's career had its oddities, but he's still one of the best running backs in NFL history. He rolled over defenses in a way rarely seen before. The Hall of Fame eventually rewarded his efforts, and he's kept working after retirement. So what is Eric Dickerson's net worth looking like these days?
Controversy couldn't obscure Dickerson's greatness in college
Eric Dickerson stood out on the football field from a young age. After excelling as high school player in Texas, Dickerson decided to attend SMU for school. The move made sense at the time because SMU was in the middle of the best era in decades. It made even more sense when it was revealed that Dickerson was one of several players who received payments from boosters who wanted them at the school.
When the NCAA realized what was happening, SMU received "the death penalty" that wrecked the program for decades. Regardless of how he got there, Dickerson was brilliant for the Mustangs. Playing as part of "The Pony Express" alongside fellow recruits Craig James and Charles Waggoner didn't stop him from breaking and setting several records at the school.
He broke Earl Campbell's Southwest Conference record for yards (4,450 yards) and carries (790). He also tied Doak Walker's school record for career touchdowns with 48. His senior year earned a spot on the Heisman Trophy ballot, finishing third behind Herschel Walker and John Elway. 
Should his NFL career have been longer than it was? 
Dickerson was drafted second overall by the Los Angeles Rams. Just like in college, he immediately stood out against the competition. He established records for the most rushing attempts (390), yards (1,808) and touchdowns (18) for a rookie. These numbers earned him a place on the All-Pro and Pro Bowl teams, and the Offensive Rookie of the Year award.
He continued to cement his place in history in the forthcoming seasons – the single-season rushing record he set in 1984 still hasn't been broken – but a contract dispute compelled the Rams to trade him to the Indianapolis Colts after four years.
Dickerson maintained his level of play in new surroundings. He was the Colts' catalyst for their first playoff berth in ten years in his debut season and led the league in rushing the year after. In 1989, he became the fastest player to accrue 10,000 yards in their career by reaching the mark in 91 games.
But that was the last year Dickerson gained over 1,000 yards in a season as injuries began to take their toll. Repeated arguments about his contract got him suspended twice by the Colts before being traded to the Los Angeles Raiders in 1992.
Dickerson's struggles show that running backs have always struggled to get paid what they feel they deserve. All of the hits he took during his career likely shortened his peak. Just four years after that great '89 season, Dickerson exited the league for good. His talents also didn't translate to winning, especially in Indy, where they only finished above .500 twice during his tenure.
Dickerson got the most out of his talent. The organizations he played for did not. He was elected to the Pro Football Hall of Fame in 1999.
What is Eric Dickerson's net worth?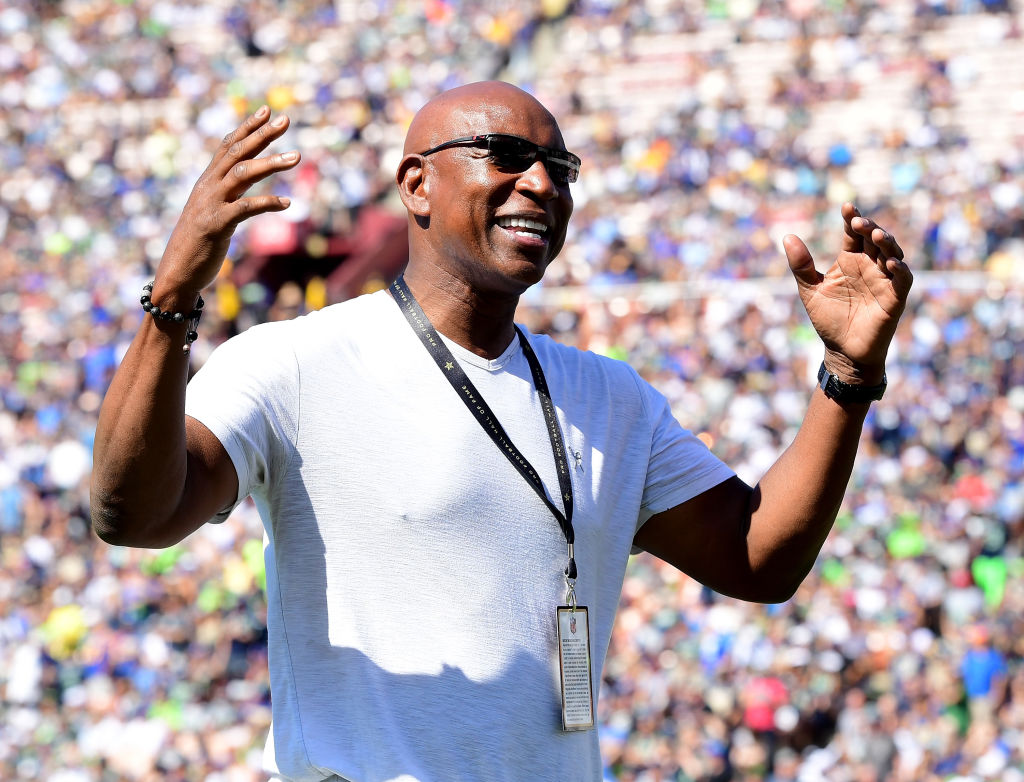 Dickerson's expanded his horizons after his retirement. He's acted on a few occasions in shows such as S.W.A.T. and a reboot of Hawaii Five-0. He also competed in The New Celebrity Apprentice hosted by Arnold Schwarzenegger. Dickerson was the third contestant eliminated, a week before Snooki of Jersey Shore fame.
But the football industrial complex is still where Dickerson is most valuable. He worked as an analyst for local LA television for the 2007 and 2016 seasons. He is currently, he's an NFL analyst on Fox Sports 1. Dickerson also started a sports memorabilia company called Original Mini Jerseys that sells miniature replica jerseys. His career and his business ventures have given Dickerson a net worth of $10 million.