What Is Michael Strahan's Net Worth After 2 Super Bowls and 2 Talk Shows?
In the NFL world, there are three ways to become a celebrity. You can be so incredibly good at football that, though your personal life is boring, you're a household name. Second, you can make headlines off the field for not-so-great reasons, like O.J. Simpson. Finally, you can take the Michael Strahan approach — a solid career and highly skilled player. But his relevance today is mostly due to his successful post-NFL entertainment career.
Michael Strahan's NFL career
Following a successful college career in which he developed into a high-level NFL prospect, Strahan was drafted by the New York Giants in 1993. It took him a few years to acclimate to the NFL, but he managed 14 sacks in 1997 to break out and become one of the best defensive ends in the league.
In 2000, he provided critical defense for the Giants' Super Bowl run. They would be defeated by the Baltimore Ravens, but Strahan was seen as one of the league's best defensive players. In 2007, Strahan returned for his final year in the NFL. The Patriots reached the Super Bowl at 18-0, but Strahan and the Giants pulled out a miracle victory.
After winning the big game, Strahan finally retired. As he transitioned out of the pro football world, Strahan immediately found his way into broadcasting. His first position after his playing career was on the Fox NFL Sunday pregame show. He later moved to work on Fox NFL Thursday once Thursday Night Football began on Fox.
Strahan's move to broadcasting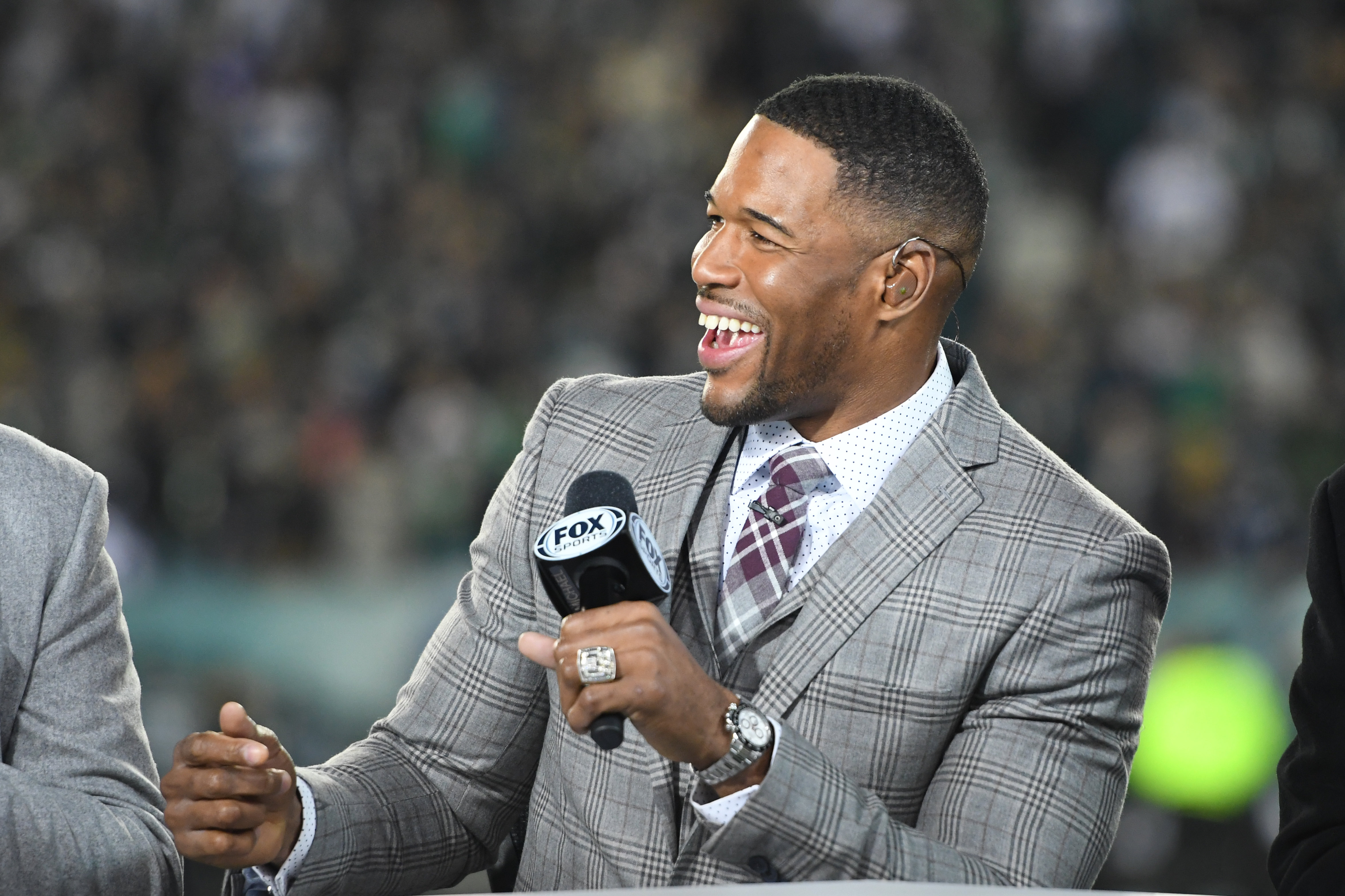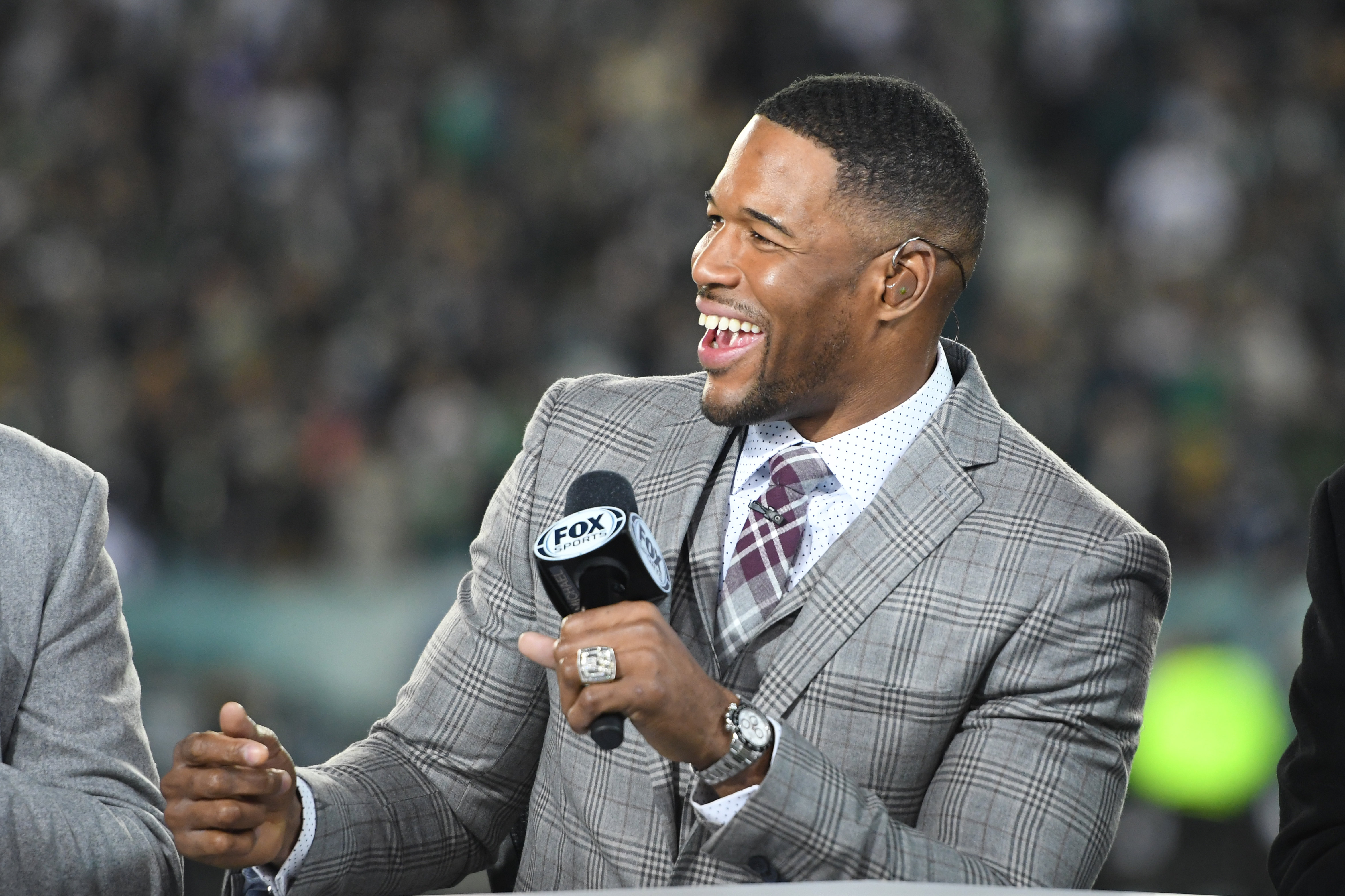 Outside of football, Strahan replaced Regis Philbin on Live!, alongside Kelly Ripa. For four years, Live! with Kelly and Michael was a massive hit and earned Strahan two Daytime Emmy awards. He later moved to Good Morning America and hosted The $100,000 Pyramid as well. Strahan is a common face on TV, day or night. But how much did he make from his NFL career and does he make more as a TV personality?
According to Over The Cap, Strahan earned just under $77 million throughout his career. As one of the most dominant players in the game, it makes sense that he was highly compensated. Even by today's standards, that's a hefty total for a defensive player.
Per year, Strahan made about $5.1 million. It was definitely enough to keep him comfortable throughout his career. But many players falter as they make the transition into retirement, leading to bankruptcy. Strahan has avoided those pitfalls with a lucrative second career.
Strahan's net worth
Most estimates put Michael Strahan's net worth at between $65 and $75 million. However, it's likely that his Good Morning America salary boosts his numbers higher–potentially even into the eight-figure range. GMA contributes $17 million a year to Strahan's pockets, potentially increasing his lifelong net worth even more.
Strahan's net worth isn't a public number, but the final total is likely somewhere between $75 million and $100 million. It's quite rare to see someone transition so successfully from one career to another. Strahan was an all-time great defensive end, and he's an all-time great TV host.
He's found a way to move from a career where the lucky players get 15 years to something he could potentially do for another 50. But whether he hosts Pyramid or GMA for the rest of his life or quits tomorrow, Strahan has a comfortable net worth. His success in multiple industries has gone a long way toward keeping him comfortable.